Consuming facts without flavours
A reflection on research funding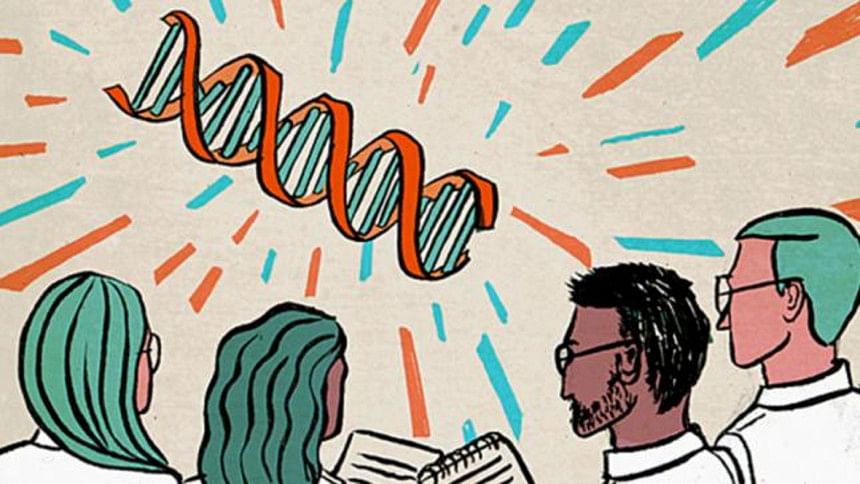 A national newspaper ran a story on January 10 featuring the research expenditure of public and private universities of Bangladesh. Based on the information submitted to the University Grants Commission (UGC), the report exposed the dearth of funding in academic research, mentioning, "125 public and private universities in the country altogether spent only Tk 153 crore—an average of Tk 1.22 crore each—on research activities in 2019, which is only 1 percent of their total expenditure." There is a lot more to it than meets the eye.  
According to the UGC report, 34 public universities spent Tk 53 crore on research (an average of Tk 1.40 crore) while 87 private universities spent Tk 100 crore (an average of Tk 1.15 crore) in 2019. In other words, public and private universities in Bangladesh on average spent 1.14 percent and 2.96 percent of their total budgets on research, respectively. The report charts the public private divide by highlighting the operational expenses including staff salaries: the figures for the public universities stand at Tk 4,643 crore against those of Tk 3,631 crore for the private universities.
Without getting into the validity of these figures submitted to the UGC, the report calculated that the top 10 private universities together accounted for more than half of the country's research allocation in higher education. They spent Tk 82 crore to surpass the expenditures of the top 10 public universities, which stand at a meagre Tk 32 crore.
Brac University leads the private universities with an investment of Tk 37.9 crore followed by the University of Liberal Arts Bangladesh (ULAB) with an investment of Tk 12.48 crore. The research has been translated into 179 and 158 publications for these top two universities with research alignment. In contrast, the country's oldest university—Dhaka University—has spent Tk 5.2 crore and produced 472 publications. DU trails BSMAU (Bangabandhu Sheikh Mujibur Rahman Agricultural University) and BAU (Bangladesh Agricultural University) to rank third among the public universities in terms of research allocation.
The report, however, does not mention the total number of university teachers, to put things in perspective. As per the UGC report, the country has 15,524 teachers (11,476 male, 4,057 female) engaged in the public universities and 16,070 teachers (11,200 male and 4,870 female) in the private ones. The total number of teachers shown in the report include: DU 2,387, BRAC 722, ULAB 342. If you tally these figures, then the number of research publications per faculty are far from satisfactory. The healthiest publication figure belongs to North South University. It has 885 teachers who produced 1,135 publications against their allocated budget of Tk 6.3 crore. The list also does not credit universities that attract foreign/external funds.
If I may be blunt, from the figures available in the UGC report, not more than five universities have the qualifying number of publications to be considered for world rankings. The figure will further go down if we take indexed publications into consideration. For instance, QS requires 300 Scopus indexed publications simply to be considered for world ranking. So we need to take these facts with a grain of salt, especially when some of these universities are known to have crept into the ranking list.
The twin pistons that move a university forward are teaching and research. Both are important not only for creating a labour force but also for fostering new discoveries that improve our lives and the lives of others around the world. Another important goal of a university is to create an educated citizenry that is empowered to keep on learning even after their graduation and make informed choices as participants in a democratic society.
Students are the direct beneficiaries of the academic research conducted by their teachers. They receive first-hand knowledge, and often become associates in the research projects of their teachers. The symbiotic relationship between a teacher and a student is indicative of a healthy research culture. While it is important to keep a tab on research funding, it is more important to ensure that such investments are done to promote and create a research culture. The race for facts is symptomatic of the neoliberal milieu in which we are thriving. Neoliberalism tends to measure success in quantifiable entities. The data given above, for instance, can perhaps help us map the academic directions and devise strategic interventions needed for goal oriented improvements. Then again, such investments are stark reminders of the fact that knowledge is fast becoming a commodity. In order to "profit" from knowledge, we are forced to make it "profitable". A traditional public university teacher never felt the urgency to publish more than 20 papers in his/her entire 25-year career. Now, private university teachers are expected to publish at least 2-3 papers a year in addition to their overwhelming teaching load. The universities know that unless they invest in research, it will be difficult for them to stand out from other universities and hang onto a ranking ladder and earn a badge of honour to attract students.
To use research and money in the same breath highlights one simple facet of our contemporary life. Money that was once created to serve humans has become a source of absolute power and authority. One factor for such a paradigm shift involves our over-emphasis on turning everything into assessable and measurable data. We are translating quantity into quality by benchmarking ourselves against various international standards devised by ranking and accreditation agencies. These agencies follow a business model that does not often accept immeasurable human values, ethics, and morals.
Before we get carried away by the research facts and figures, we need to take a step back to decide what we really need for our national enterprise. What role do we really want our universities to play? Do we really want all our universities to become research universities or do we incentivise certain institutions to become our spearheads?
Without a clear idea on research, figures aligned with money will simply encourage the academic brokers to lobby for more funding without any concrete results. And then they will be investing on building buildings, visiting foreign countries to learn about things that can be Googled. Given our limited resources, it is more important to create a research culture in which we learn to collaborate. Instead of pitting one system against the other, we need to create an academic platform where we come together to aid the national enterprise. Say for instance, we can have a private pharmaceutical company investing in the creation of a vaccine involving the pharmacy departments of several universities. This is a common practice all over the world—and I am sure there are some examples of such partnerships in our country too. If a private company invests in its R&D, its motivation will be profit driven. However, the moment we introduce an academic collaboration, the nature of research investment will change; we will move into the realm of impact and integral investments. One glaring example is when Ganoshasthya and Jahangirnagar wanted to create Covid test kits, there was serious resistance from the health ministry as they were more interested in importing the devices from abroad rather than encouraging local home grown knowledge. The same thing happened when Dr Asif Mahmud was trolled for trying to create Covid vaccines.
All recent scholarships suggest that profit-only oriented activities are harmful to society as well as to the entire ecosystem. Impact investing in research ensures that there is a transparent and corruption free environment for research. Integral investing goes a step further to include issues of ethics, morals, and personal values. Integral research is motivated by the desire to address global problems not through competition, but through cooperation. The building block for such desired cooperation is mutual trust, which can be attained only when high ethics, morals, and values are maintained. Profit can still remain a priority, but not at the expense of sustainability.
Let us rethink our investments in education and research that do not simply benchmark one against the other; let us think of investments that envision a crucial role for the academics in establishing a sustainable future.
Shamsad Mortuza is the Pro-Vice-Chancellor of ULAB.