Opinion: Playful pugilist with a purpose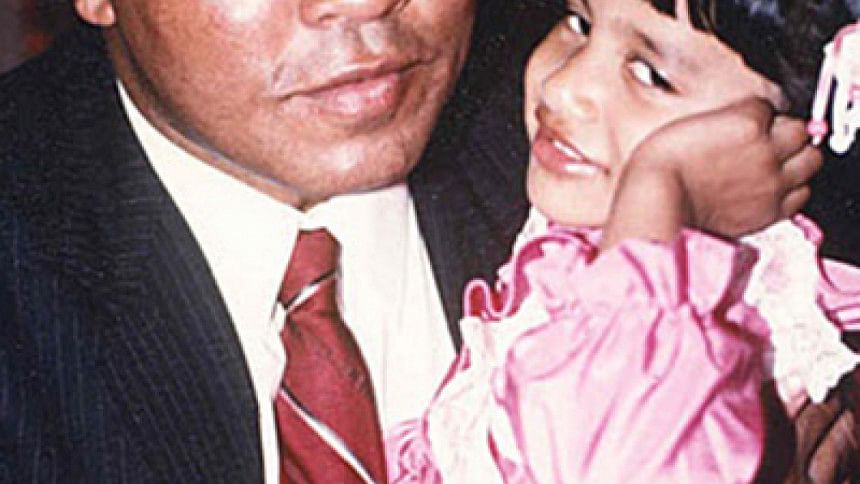 In May of 1989, Muhammad Ali made a surprise appearance at a community dinner of the South Bay Islamic Association of San Jose, California. It took us about three seconds to change the program and make him the keynote speaker for the evening. Ali spoke slowly, between a rasp and a whisper, and although time has dimmed my memory of the details, I can still recall the essence of his message: Take it easy. Enjoy life. Don't take yourself too seriously but don't forget you have a purpose in life as well.
Those who knew Ali only through his hyperbolic self-promotion would have found his mix of play and purpose strange but that was Ali. Beneath the bluster was a serious soul who thought deeply about race, responsibility and justice and how they shaped him into who he was.
Aware that he was blessed in the sweet science, Cassius Clay (later to give up his "slave name" to become Muhammad Ali) was determined to make it his ticket to success but on his own terms, a daring dream in the Jim Crow South of the '60s. When he beat Sonny Liston against all odds in February of 1964 (eighteen days after the Beatles first landed in America) to become the heavyweight champion of the world, white America was stunned but a wide-eyed world embraced the genius of a fast-talking, fleet-footed heavyweight with lightning-fast hands.
For the following two decades, Ali would take us on an emotional roller-coaster ride. When he won, we won; when he lost, we lost. Fight fans will forever debate who the "greatest of all time" is but can anyone dispute that Ali at his best will remain peerless? Even past his prime, Ali could summon that rare intestinal fortitude to beat the fearsome Foreman and Frazier, although at a terrible physical cost.
The confluence of the civil rights movement and the Vietnam War convulsed America but transformed Ali into an icon. He spoke truth to power long before politicians turned the phrase into a platitude. From "I have seen the light and I am crowing" to "I ain't got no quarrel with them Viet Cong," Ali opened raw wounds in the psyche of America, provoking hate and anger that in the end proved cathartic for our nation.
Ali's unique brand of humor eased his acceptance. His punchy poems made us laugh at a time when laughter was scarce. After he had won the light heavyweight gold medal in the Rome Olympics in 1960 and received a hero's welcome in Louisville, Kentucky, Ali and a friend walked up to a restaurant in his hometown one rainy day.
Waitress: "We don't serve Negroes."
Ali: "Well, we don't eat them either."
Drawn by the teachings of Elijah Muhammad, leader of the Nation of Islam, Ali had become a Muslim in 1964. Following a falling out with Malcolm X that he was to regret later, Ali gradually gave up on the supremacist ideology of the Nation and settled on mainstream Islam.
Ali found strength, serenity and purpose in his faith but he wasn't immune to vice. He could be cruel inside the ring - Floyd Patterson, Ernie Terrell - and unfaithful outside. Ali never sought to idealize his life, however, and publicly acknowledged his moral failings. He was as devoted to his two out-of-wedlock daughters as he was to his nine children from four marriages.
On the morning of September 11, 2001, as Ali watched the terrorist attacks unfold on TV at his home in Berrien Springs, his confidant Howard Bingham asked him how he felt about different religions. Replied Ali: "Rivers, ponds, lakes and streams. They have different names, but all contain water. Religions have different names but all contain truth." In my three decades of attending prayer services in mosques throughout America, I never heard an Imam summarize our common humanity in such compelling words. He would later affirm: "I wouldn't … represent Islam if it were the way the terrorists make it look."
Today's generation, weaned on social media and celebrity idiosyncrasies, may find Ali's legacy hard to fathom. That's a pity. Ali was the real McCoy. He transcended boxing by standing up for his belief even though it cost him the best years of his career. Racism scarred his soul, traumatized as he was at 14 by the fate of another fourteen-year-old named Emmett Till. But his intolerance was for the sin, not the sinner. Meeting with both triumph and disaster, he came as close as anyone to treat the two impostors just the same.