Muhammad Ali, forever the Greatest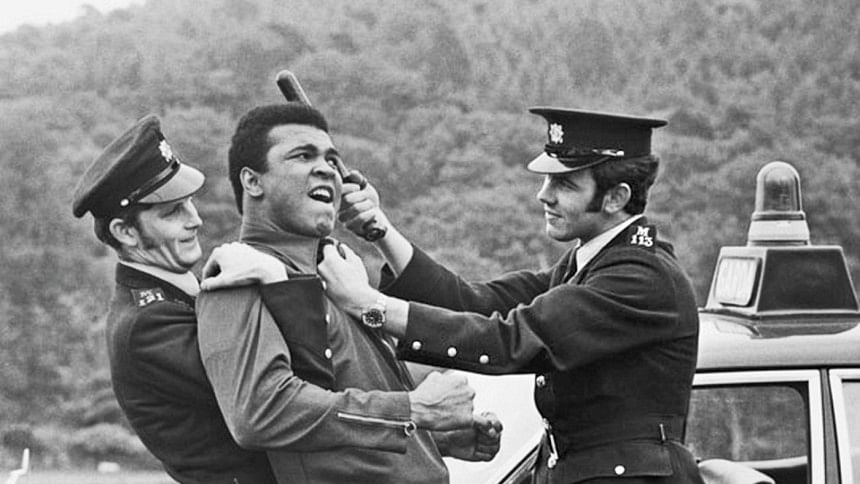 In eulogising a hero, as Muhammad Ali was to me, the danger is that one may get carried away and heap undeserved superlatives on the deceased. But, superlatives always adorned Muhammad Ali's life. A genius in the ring, Ali is considered the greatest heavyweight boxer ever. Born Cassius Marcellus Clay, Ali transcended sports en route to becoming an iconic figure, and the most famous man on earth. Let us celebrate his life, not mourn his death.
In a sport known for brawn, Ali stood out for using his brain. Ali made boxing cool, an art form, and a legitimate entertainment. Celebrities flocked to his fights. Ali pioneered self-promotion. His braggadocio, "I am the Greatest," was a marketing ploy to draw spectators to his fights. Ali made sure that the fighters got hefty prize money. All the megabucks that the elite sportsmen earn today can be traced back to the trail Ali blazed.
Ali was the first athlete to transcend sports and become a force for social change. He championed civil rights for the blacks in the 1960s. The day after dethroning Sonny Liston as the world heavyweight champion in February 1964, with his mentor Malcolm X by his side, Cassius Clay notified the world that he had converted to Islam and taken the name Muhammad Ali, .White America was outraged! 
Ali had received a failing classification, 1-Y, in the US Armed Forces qualifying test in 1964.  Standards were lowered and in February 1966, Ali was reclassified as 1-A, eligible for draft. ("First they called me dumb; now they call me a genius!" Ali mocked.) Ali declared that, as a conscientious objector, he would refuse to serve in the US Army, adding: "War is against the teachings of the Holy Qur'an. I'm not trying to dodge the draft. We are not supposed to take part in no wars unless declared by Allah or The Messenger." He also said: "I ain't got no quarrel with them Viet Cong ... They never called me nigger."
Ali refused induction into the US Army in Houston on April 28, 1967.  This time white America went ballistic!  Ali was convicted of draft evasion, sentenced to five years in prison and fined USD 10,000. He was arrested, and released on bail. Ali was immediately stripped of his heavyweight title, and banned from fighting in all fifty states. Ali's passport was confiscated. From March 1967 to October 1970–his prime boxing years between 25 and 29–Ali was banished from boxing. We will never know how much greater he could have been.
The brave stand that made Ali a pariah among white Americans, made the persecuted champion a hero in the rest of the world. As Vietnam War became unpopular, Ali became more popular in America, especially on college campuses, where draft-averse white kids found a champion in him. In 1971, the US Supreme Court unanimously overturned Ali's conviction, 8-0, with Justice Thurgood Marshall recusing himself.
Cassius Marcellus Clay was born in Louisville, Kentucky on January 17, 1942. At age 12, a thief stole his bicycle. Clay wanted to "whup" the thief! A policeman, Joe Martin, who was also an amateur boxing coach, told Clay to learn boxing first. Clay trained with Martin for the next six years, until he won the Light Heavyweight boxing Gold Medal at the Rome Olympics in 1960.
Returning home, like the white Gold Medalists, Clay expected to be treated as a hero.  Instead, he was refused service at a Louisville restaurant. That life-altering experience fuelled Clay's activism for the rest of his life. Disgusted, Clay threw his Gold Medal in the Ohio River. (The IOC replaced Ali's Gold Medal at the 1996 Atlanta Olympics.) 
The world began noticing Clay in the early 1960s for the speed of his hands and feet in the ring, and his mouth outside it. With his typical doggerel, he began predicting the round in which his opponent would fall. ("I am not talking jive/Cooper falls in five!") He was dubbed "The Louisville Lip." TIME magazine put him on its cover in 1963–the first of six! Ali talked his way into a title fight with Liston in Miami in1964 and against all odds won, mostly because of the lightening speed of his hands and feet. In the rematch in Lewiston, Maine in May, 1965, Ali knocked Liston out in the first round. That fight will forever be remembered for one iconic photograph–Ali towering over a sprawling Liston.  That photograph showcases Ali's physique in all its splendour.
Fear of getting hit made Ali, "float like a butterfly and sting like a bee." After the forced hiatus, Ali was slower and less averse to getting hit. Ali had three epic fights against Joe Frazier, he lost the first to Champion Frazier in March 1971, and won the next two, including "The Thrilla in Manila" in 1975, absorbing enormous punishment in the process. Although he would defeat Champion George Foreman in "The Rumble in the Jungle" in Zaire in 1974 employing the famous "rope-a-dope" tactic–leaning against the ropes in a defensive posture, while letting Foreman punch himself out, before knocking Foreman out - once again he took too many blows. Ali would win the Heavyweight title for the third time by defeating Leon Spinks in a rematch in 1978. 
All those blows took their toll. Ali was diagnosed with Parkinson's disease in 1984. The world first saw Ali with the disease as he lighted the Olympic flame in Atlanta in 1996.  The last time the world saw Ali was at the London Olympics in 2012. Recently, Ali's condition had deteriorated so much that he was shaking violently. It was painful to see the Greatest suffer. Thank God, it is now over. 
When historians write Muhammad Ali's epitaph, they will struggle to choose between the glittering array of his  accomplishments. Ali would hand out USD100 bills to sick children at hospitals on visits abroad. Ali was named the "Sportsman of the Century" by Sports Illustrated and BBC. Ali won the Amnesty International's lifetime achievement award, and UN Messenger of Peace award. President George W. Bush awarded Ali the Presidential Medal of Freedom in 2005.
Ali's greatest achievement is that those Americans who had demonised him fifty years ago, are now extolling him! Ali did not change; America changed, and followed his lead.  Muhammad Ali made America and the world a better place. Rest in peace, Champion!
The writer is a Rhodes Scholar.