Facts, disputes, and Bangladesh's game plan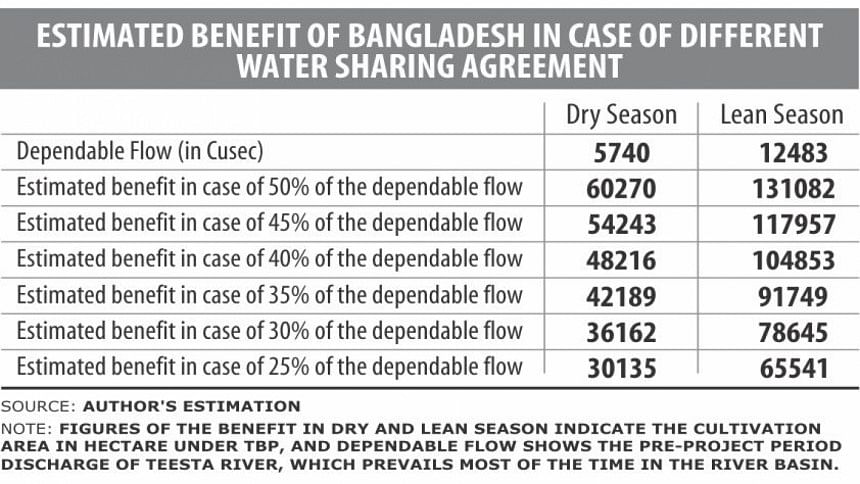 After passing the Land Boundary Agreement in the Indian parliament, many had seen hope for the most awaited Teesta water sharing agreement during Prime Minister Narendra Modi's visit to Bangladesh. However, these expectations seem to have been crushed after Sushma Swaraj declared that the deal will not be signed during the Indian PM's stay in Bangladesh.
The Teesta agreement is required to sustain the relationship between India and Bangladesh and to ensure larger regional gains from this common river. It is important to evaluate the water discharge scenario of Teesta River and to provide a clear outline of Bangladesh's economic gains from different water sharing agreements. In Bangladesh the Teesta River is considered a solitary supplier of water resources in larger North-west region specifically, Rangpur, Lalmonirhat, Nilphamari, Dinajpur, and Kurigram districts and also branded as a prominent water supplier of Jamuna River.
Since there are not such big rivers in the North-Western region of the country, people from these districts are dependent on this river – the fourth largest trans-boundary river for irrigation and fishing activities. Specially, 1,11,406 hectares of agricultural land under the Teesta Barrage Project (TBP) is extremely reliant on the water of the Teesta river for surface water based irrigation. When water flow is reduced in Teesta by India, the livelihood and socio-economic circumstances and ecosystem of the entire region will be terribly affected.
Besides, the major food production of the country comes from the northern part which is at larger risk due to scarcity of water (Arfanuzzaman and Ahmad, "Assessing the Regional Food Insecurity in Bangladesh Due to Irrigation Water Shortage in the Teesta Catchment Area" Water Policy, Vol. 17). There is an abundant water flow available in the Teesta River, which can easily meet the irrigation demands in both countries but in the dry season, water flow appears to be very squeezed from India, which lowers water availability in the entire Teesta river floodplain, thus agriculture is put in a particularly vulnerable state.
Since India has a barrage in the upstream, it can withdraw the dry season flow to meet its own demands. Thus, the volume of water received by Bangladesh, after water demands are met in Indian regions, is insufficient as this barely fulfills half of the irrigation demands of our country. It should also be mentioned that India uses Teesta's water for agriculture and to generate hydropower. However, Bangladesh uses the water only for agriculture purposes.
In 1996 water flow of Teesta was recorded at just about 6,500 cusecs in the Bangladesh region during the dry season, which was severely trimmed down to 1,380 cusecs in 2007 and further went down to 794 cusecs in 2014. This led to massive economic loss in Northwest Bangladesh in the form of irrigation failure, production loss, crop damage and socio-economic downturn in river-dependent areas.  Simultaneously, there is an ecological disturbance also in the Teesta basin area, the costs of which are unaccounted for.
Apart from people who get the benefit of direct irrigation from the Teesta River, the drastic fall of ground water levels also affects a large number of people from other areas adjacent to the Teesta basin. Groundwater levels are falling by 1.2m per year in many parts of the river basin area due to excessive withdrawal by tube-wells along with low recharge, poor management and land use change (M.S. Mondal and A.F.M. Saleh, "Evaluation  of  some  deep  and  shallow  tube well  irrigated schemes  in  Bangladesh  using  performance  indicators",  Agricultural  Water  Management).
Many of us believe that the Teesta agreement will wipe out water scarcity but actually the Teesta water sharing agreement (TWSA) can only diminish crop damage and protect the investment of subsistence for farmers and help to set irrigation targets effectively in the TBP area. In order to provide irrigation facility in the entire irrigable area of TBP, India and Bangladesh require 43,905 and 25,714 cusecs water respectively. The virgin or pre-project (1973-1985) flow, however, was recorded at only 6,984 cusecs in Teesta river during dry seasons. Thus, the total demand of water in the Bangladeshi barrage area cannot be met in dry seasons if we receive the entire volume of the virgin flow.
In future at the negotiation table, Bangladesh should raise the estimated cost of loss and damage of the post-Indian barrage period and claim the compensation. Bangladesh should continue meetings with the higher-ups in India and re-open the negotiation until India agrees for an optimum water sharing agreement. An equitable agreement is hundred times better than the unequal and environmentally unsustainable water sharing agreement. 
Modi's visit was a grand opportunity for Bangladesh to represent the cost of water scarcity as well as convey the concern of regular people. Bangladesh also needs to emphasise people-to-people communication as well as state-to-state relationship and try to build a good liaison with the Indian bureaucracy. This will accelerate the pace at which the equitable water sharing agreement is met. Finally, Bangladesh needs to go ahead with four core agendas such as: compensation for reduced water flow after constructing Gazaldoba barrage, equitable water sharing, sufficient environmental flow during critical climate moments (extreme dry season) and joint river basin management to ensure maximum economic and environmental gains.
The writer is researcher, Bangladesh Centre for Advanced Studies.