Kuakata's red crabs return to the beach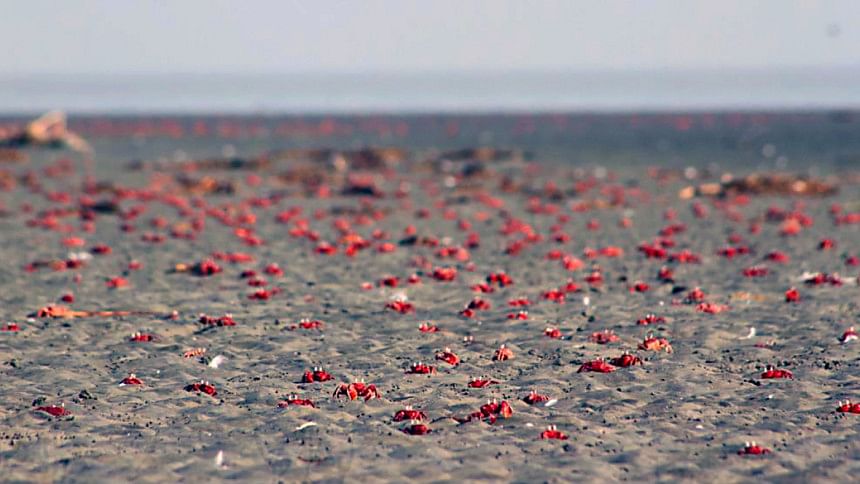 A shut-down is being enforced across the country to prevent the spread of coronavirus and tourist spots, including Kuakata's beaches, have also been closed. With human activity at these spots grinding to a halt, nature has found ways to flourish.
TV reports have shown dolphins swimming around the Cox's Bazaar seashore, and in Patuakhali, a huge number of nomadic crabs can now be seen traversing Kuakata and Gangamoti points on Kuakata beach.
The Patuakhali district administration banned tourist traffic in Kuakata since March 19 due to the coronavirus threat. Since then Kuakata beach traffic has dropped significantly.
Gangamoti fisherman Al Amin said that because of the absence of tourists, red crabs could be seen across a vast area within 18 km of the beach in the morning and afternoon, the beaches awash in red and thousands of scurrying feet carrying the crabs on the sand.
When the water recedes from the beach during the low tide at dusk, numerous red crabs are seen drawing enormous red lines all across the entire beach. To an onlooker, it seems the crabs are relishing the freedom to roam around the land that had been taken away from their lives for so long due to human activity.
There was no such scenario a few days ago. They hid in the holes on the beach as tourists -- thousands of people and in hundreds of vehicles -- and the things they left behind, drove the red crabs away from their natural habitats. Some were buried in the holes they had dug. Many crabs died on the beach under the feet of tourists and locals.
But the shut-down gave them another chance.
Afzal Hossain, field officer of the Kuakata Zone, said that three species of crab -- a crustacean arthropod -- have been identified on the beaches of Kuakata.
"Red crabs work to protect the health of the soil. They work separating sand and soil twice daily, once in the morning and in the afternoon. It is up to us to protect them. It is necessary to make sure no one is harming their habitat," said Professor Ainun Nishat, a prominent environment expert.