Visa Embargo for Covid: Migration to South Korea in limbo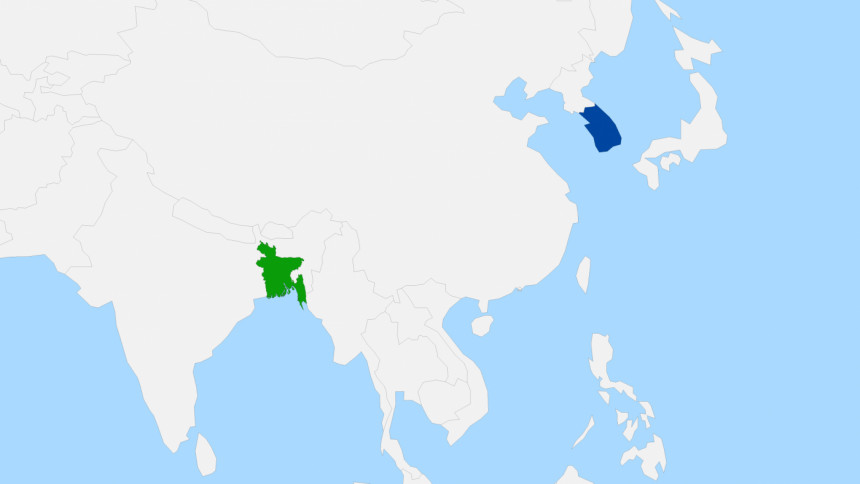 A visa embargo imposed by South Korea on Bangladesh for the last four months has left potential migrant workers wishing to work in the East Asian country under its Employment Permit System in limbo.
South Korea first put an embargo on Bangladesh and several other labour-sending countries in June last year amid the global surge in coronavirus cases, according to an official of the Bangladesh Embassy in Seoul.
South Korea withdrew the embargo on Bangladesh in February this year following an improvement in the Covid-19 situation. However, a fresh visa embargo was imposed in April after positive cases were detected among newly-arrived Bangladeshis there, the official said.
In July, three such Bangladeshis tested Covid-19 positive after they arrived in South Korea, the official said, adding it is unlikely that South Korea will lift the visa embargo if such positive cases continue to be found.
In the meantime, South Korea has been taking workers under the EPS from at least five other sending countries -- China, Timor-Leste, Cambodia, Vietnam, and Thailand.
A total of 21,260 Bangladeshi workers have been employed in South Korea under EPS from 2008 when it started till January 2020.
Under the EPS, South Korea has been recruiting foreign workers from 16 countries including Bangladesh, according to the 2019-2020 annual report of Bangladesh Overseas Employment and Services Limited (BOESL).
The countries are China, Thailand, Indonesia, Vietnam, Philippines, Mongolia, Cambodia, Pakistan, Bangladesh, Nepal, Myanmar, Uzbekistan, Sri Lanka, Timor-Leste, Kyrgyzstan and Laos, says EPS' official website.
BOESL, owned by the government, is the lone agency sending workers from Bangladesh to South Korea under EPS.
Billal Hossain, BOESL's managing director, on Monday said the visa embargo put by South Korea on new EPS workers is still in place.
However, following negotiations, the Bangladesh government was able to resume re-entry of some old workers, he told this newspaper over the phone.
He said they held a meeting with the director of the Human Resources Department of South Korea recently to get the visa embargo lifted. Besides, they were negotiating through the Bangladesh foreign ministry.
If necessary, the BOESL MD said, they are ready to intensify any measures including a quarantine facility, which is already in place.
The overall visa embargo that South Korea put on Bangladesh was due to the Covid-19 situation while BOESL's concern is regarding the migrant workers under the EPS, he further said.
Mokima Begum, first secretary at the labour wing of the Bangladesh Embassy in Seoul, recently said they have kept all sorts of efforts ongoing to have the visa embargo lifted.
She said the embassy has already sent a note verbale to the South Korean authorities concerned for withdrawal of the embargo.
As workers are unable to get jobs due to the visa embargo at present, this has left many of them in frustration, Mokima told this newspaper via WhatsApp.
According to BOESL's 2019-2020 annual report, Bangladesh signed a memorandum of understanding with South Korea in 2007 for the recruitment of Bangladeshi workers under EPS and started sending workers through BOESL the next year.
The age range for workers wanting to migrate under EPS is 18-39 years while the total migration cost is $1,115 including airfare, states the report.
Such workers usually earn about Tk 2 lakh a month, including overtime. Sometimes, employers provide free accommodation and food for workers, it also states.
Before 2006, Bangladeshi workers migrated to South Korea under the Industrial Trainee Scheme (ITS) at a higher migration cost.