Malaysia to pick recruiting agents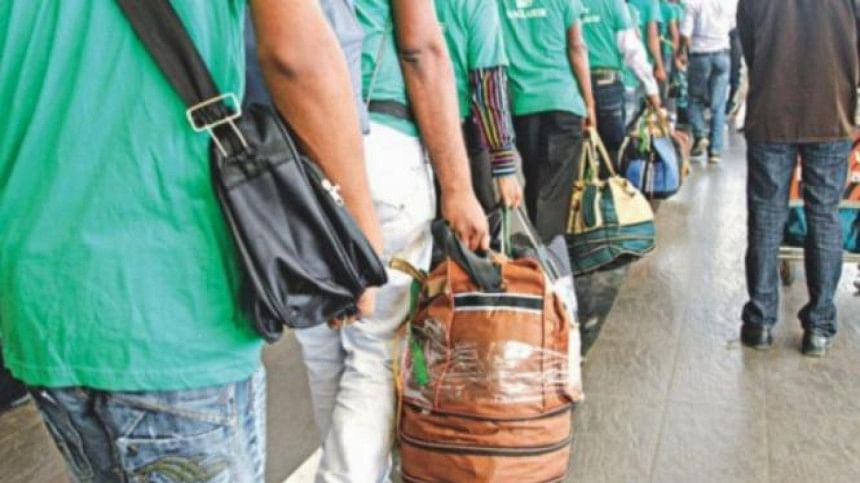 The Malaysian government will decide which Bangladeshi recruiting agencies it will pick when hiring workers from the country, Expatriates' Welfare Minister Imran Ahmad said yesterday.
The countries yesterday had their first Joint Working Group (JWG) meeting on the implementation of the memorandum of understanding (MoU) on recruitment signed in December last year.
Speaking after the meeting at the expatriates' welfare ministry, Imran Ahmad said he had earlier sent a list of 1,520 valid recruiting agencies to Malaysia and Bangladeshi workers would be recruited through those agencies.
The Malaysian government will select the agencies as per the MoU, he said.
"You talk about 25, 50 or 100 individuals [agents to be selected by Malaysia]. However, it is nowhere in the MoU and such figures were also absent in today's record of discussion," he added.
Visiting Malaysian Human Resources Minister M Saravanan also said that picking recruiting agencies from Bangladesh will be his country's decision.
"That is dependent on Malaysia … usually the receiving country will decide," he said, responding to a query.
Saravanan added that the selection process will be conducted according to the decision of his country's cabinet.
Malaysia needs workers and Bangladesh have workers to send to Malaysia, he added.
Both ministers' comments came amid allegations from recruiting agencies that a "syndicate" of 25 agencies were trying to create a "market oligopoly" by getting approval for themselves while depriving others.
Between 2016 and 2018, Malaysia hired workers from Bangladesh through 10 selected recruiting agencies. However, the then Malaysian government in September 2018 suspended recruiting Bangladeshi workers amid allegations of irregularities and high recruitment costs for workers of up to Tk 4 lakh.
The maximum official migration cost for a Bangladeshi migrant worker heading to Malaysia is Tk 1.6 lakh.
The December MoU signing essentially lifts the previous moratorium. However, migration of fresh workers is yet to start.
While attending the signing ceremony of "recording of discussion" of the JWG meeting at InterContinental Dhaka yesterday, Saravanan said both countries have in principle agreed that there should be "zero cost of migration" for workers who go to Malaysia.
He said he will cancel permits of Malaysian employers if they are found charging additional from workers.
He added that the Bangladesh government expressed its concerns about the wellbeing of Bangladeshi workers and he had given his assurances in response.
While briefing reporters, Imran Ahmad said he is hopeful about sending fresh workers to Malaysia by June, and the ministry will soon publish a circular in this regard.
Talking about the outcome of the JWG meeting, Ahmed Munirus Saleheen, secretary of the expatriates' welfare ministry, said as per the meeting decision, the minimum wage of a Bangladeshi worker in Malaysia will be 1,500 ringgit.
Saleheen also said Malaysia will select Bangladeshi medical centres from a list provided by the expatriates' welfare ministry.
According to the ministry, under the new MoU, Malaysian employers will bear costs incurred in that country.
SARAVANAN PAYS COURTESY CALL ON PM
BSS reports that Prime Minister Sheikh Hasina yesterday expressed her optimism that both sides would be able to devise ways to ensure safe, regular, inexpensive, and orderly employment of Bangladeshi workers in Malaysia.
"The prime minister gave assurance of her government to send Bangladeshi workers to Malaysia maintaining all necessary protocols, including vaccination and other formalities," said a release of the Prime Minister's Office (PMO) press wing.
She made the remarks when M Saravanan paid a courtesy call on her at the Gono Bhaban.
Sheikh Hasina expressed deep satisfaction over the holding of the first meeting of the JWG under the auspices of the MoU on the employment of workers signed in December 2021 between the two countries.
The premier appreciated the decision of the Malaysian government to recruit Bangladeshi security personnel for non-military civilian use, BSS report says.