Female migrants in Saudi Arabia: Lure of good days lands them in nightmare
When Julekha Begum left the country in mid-February for a housekeeper job in Saudi Arabia, she promised her seven-year-old son of better days.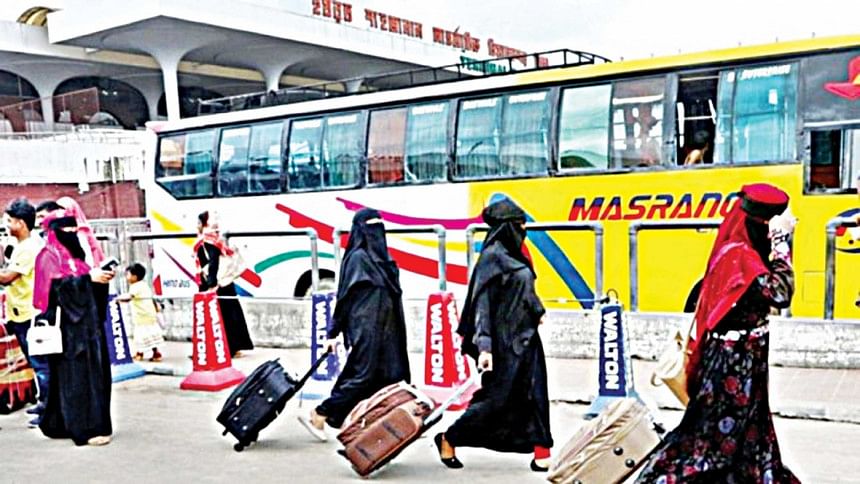 When Julekha Begum left the country in mid-February for a housekeeper job in Saudi Arabia, she promised her seven-year-old son of better days.
The wage of 1,000 Saudi riyals (about Tk 26,000) for two years seemed attractive to her poor family in Kamolganj, Moulvibazar.
"But I returned home empty-handed four months later, barely able to walk as my employer beat me up with a rolling pin and fractured my leg," the 40-year-old woman told The Daily Star.
Julekha said she was treated in Riyadh for a month before the family of her employer sent her home to avoid a lawsuit. "When I worked there, my female employer would beat me up over trifles and they paid me in full only for two months."
Like Julekha, many Bangladeshi women return home after enduring torture and abuse at the hands of their employers in the Gulf state.
The Obhibashi Karmi Unnayan Programme (Okup) which provided reintegration support to Saudi-returnee women migrants between April 2020 and July 2022 found that 80 of the 156 women returned home before completion of the two-year contract while 50 of them returned within a year.
A 2019 expatriates' welfare ministry report found that 102 women returned from Saudi Arabia before completion of their two-year contract and 84 of them returned in less than one year. Only 16 returned on completion of the full tenure.
The report, submitted to the parliamentary standing committee on the expatriate welfare ministry, identified nine causes for female migrants' early return from Saudi Arabia with irregular payment (48 cases) topping the list followed by physical and sexual abuse (38 cases), inadequate food supply (23 cases), physical illness (10 cases), and being forced to work in more than one homes (seven cases).
Migrant rights activists say recruiting agents in both Bangladesh and Saudi Arabia should be held accountable for such abuse.
"In many cases, women workers who go to Saudi Arabia are not properly informed about their employer and work conditions," Okup Chairperson Shakirul Islam said.
The women also lack the skills for the jobs and orientation to the food habits and language of the host country, he added.
There should be a system ensuring that the Saudi employers report to the Bangladesh mission before sending back the workers, he said.
Shariful Hasan, chief of Migration Programme at Brac, said abusive Saudi employers must be blacklisted.
The recruitment agencies often select vulnerable women migrant workers through intermediaries without properly evaluating whether the worker has the skills or whether she is ready to migrate, he added.
The Bangladesh government and its mission in Saudi Arabia should keep in touch with the workers, he said.
In 2019, the government directed that the women undergo a medical check up when they enrol for training, there should be a 30-day residential training, and the recruitment agent should provide the worker with a smartphone before the flight.
Shariful said the directives should be strictly implemented.
Shameem Ahmed Chowdhury Noman, secretary general of the Bangladesh Association of International Recruiting Agencies (Baira), claimed that most of the women return home early because of homesickness.
The women who are sent back before the end of their contract do not get compensated on the logic that such workers do not have to pay the migration cost.
Contacted, Ahmed Munirus Saleheen, secretary of the expatriates' welfare ministry, said the government and the Bangladesh mission in Saudi Arabia provide legal support to the migrants.
He added that the ministry was working to make the upskill programme to two months' from one month.
Moreover, the government is negotiating with the Saudi authorities to set the monthly minimum wage at Saudi Riyal 1,500, he further said.
According to the Bureau of Manpower, Employment and Training, Saudi Arabia employed 4.49 lakh Bangladeshi female migrants between 1991 and July this year.