Ensuring safe female migration
National-level alliance formed to empower women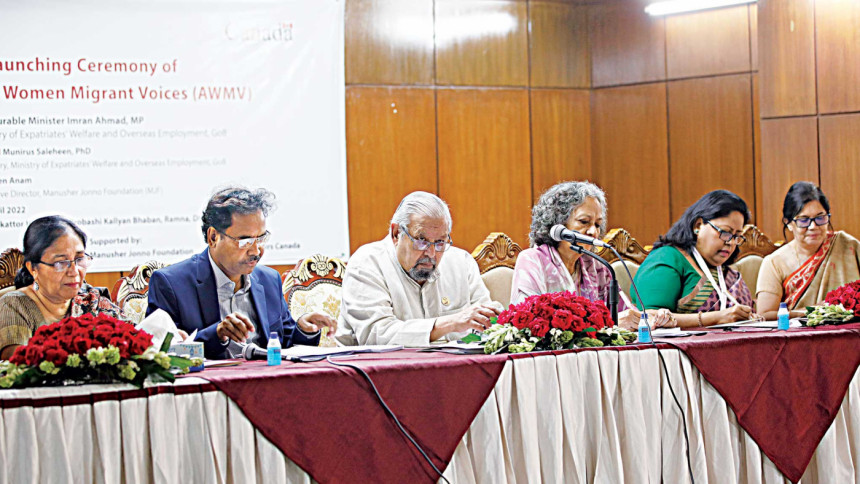 To establish equal rights for female migrant workers, a national-level alliance of rights groups working on women empowerment was launched yesterday.
The Alliance for Women Migrant Voices (AWMV) will strengthen networking among women's rights organisations for taking a proactive role in ensuring safe female migration and addressing issues of discrimination and violence in their workplaces.
Besides, it will advocate for new laws and policies upholding female migrants' rights and build awareness among them to voice their needs and demands.
Supported by Manusher Jonno Foundation (MJF) and funded by Global Affairs Canada, the alliance was launched at a ceremony held by Centre for Women and Children Studies (CWCS) at the capital's Probashi Kalyan Bhaban.
Initially, AWMV comprises 22 members-- seven national-level and 15 local NGOs.
Inaugurating the alliance, Expatriates' Welfare Minister Imran Ahmad hoped that by working collaboratively, it will be possible for the ministry and AWMV to successfully ensure safe migration and skills training of female migrant workers.
The minister also said there is a need for providing female migrants with proper language training to create opportunities for them as caregivers in different countries, including Germany and Japan. He urged AWMV members to conduct research-oriented activities and implement those successfully.
MJF Executive Director Shaheen Anam said the alliance's launching is an "important" step.
Shaheen Anam said there are lots of challenges in female migration, while the government has different initiatives to promote and strengthen it.
She said female migration will face challenges if different issues in the field are not identified and resolved.
It is expected that alongside males, females will migrate as per law, they will have proper contract paper, be able to work and get due wage as per the contract, and stay safe in the host country, she said.
"However, the reality is largely different," she said, adding that many female migrant workers have faced exploitation, discrimination and violence and returned home.
Secretary of the expatriates' welfare ministry Ahmed Munirus Saleheen urged rights groups to build a "positive narrative" regarding female migration and work for their rights.
AWMV Chair and CWCS President Prof Ishrat Shamim and AWMV Secretary General Advocate Farida Yeasmin, among others, spoke at the event.