Technical glitch: Biman plane makes emergency landing
Probe opens over Boeing 787's collision with boarding bridge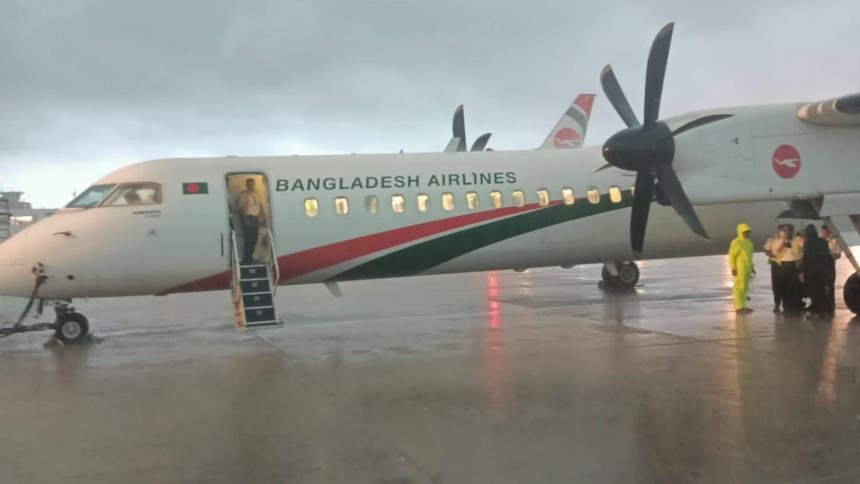 A Dhaka-bound domestic flight of Biman Bangladesh Airlines yesterday made an emergency landing at Hazrat Shahjalal International Airport due to technical glitch in its main landing gear.
Passengers of the flight of the Dash-8 aircraft were unhurt, said airport sources.
Meanwhile, the Biman authorities yesterday formed a two-member investigation committee following a Boeing 787-8 Dreamliner's collision with the boarding bridge at the airport on Thursday.
DASH-8
Sharmin Sultana, a resident of the capital's Uttara who was on the Dash-8 aircraft, told The Daily Star that the flight was scheduled to leave Barishal Airport at 12:15pm yesterday, but it left for Dhaka at 1:30pm due to torrential rain.
She added that the aircraft hovered in the Dhaka sky for over half an hour before making an emergency landing at HSIA around 2:30pm.
Sharmin added that after landing the aircraft,the pilot announced that its main landing gear went out of order.
Group Captain Kamrul Islam, executive director, HSIA, told this correspondent that the Dash-8 aircraft suffered a "technical issue" and made a technical landing safely. No passengers were hurt, he added.
BOEING 787
Biman sources said a Boeing 787-8 aircraft landed at HSIA from Riyadh at 4:15pm on Thursday.
After landing, the aircraft was brought to the boarding bridge no 4. When the aircraft was being taken to the hangar after the passengers had disembarked, it collided with the boarding bridge.
The Biman authorities said the damaged boarding bridge has been repaired.There was no damage to the aircraft and it wasready to fly to Riyadh from HSIA at 2:30am today, they added.
The two-member probe body, led by Biman Chief Engineer Kaiser Zaman, has been asked to submit its report within three working days, said Tahera Khondoker, Biman's general manager (public relations).