Biman Hiring Scam: Carrier's probe fails to be a thorough one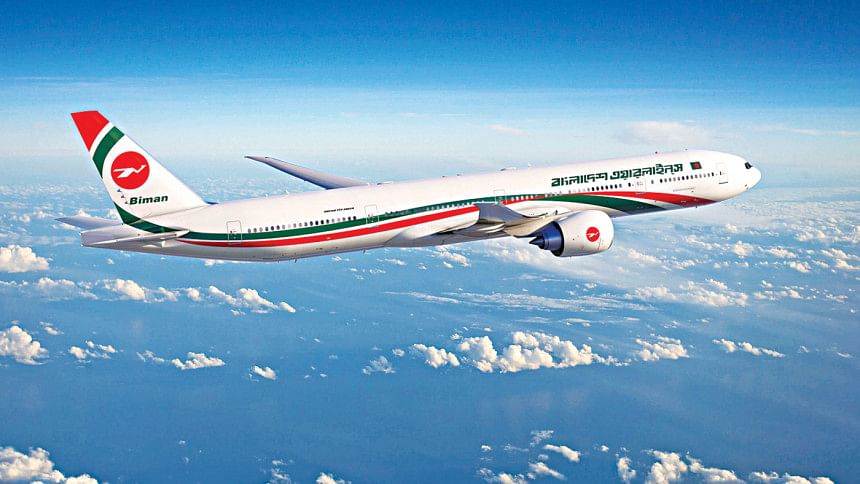 A three-member Biman body investigating irregularities in hiring pilots for its Boeing 777-300ERs did not probe allegations that under-training cockpit crew members were paid hefty salaries breaching Biman's rules.
Interestingly, the head of the probe committee and Director of Flight Operations Capt Siddiqur Rahman is one of the three signatories to an office order instructing that the under-training pilots be paid salaries.
This paper on March 1 ran a report on the irregularities in the recruitment of pilots, how many who do not qualify had been recruited, how Biman lost money attempting to train them, and how it illegally paid them hefty salaries.
The report said pilot Sadia Ahmed, wife of then chief of training Captain Sazid Ahmed, had forged her SSC and HSC certificates claiming that she was in the science group.
Biman formed the probe body after the report came out and the committee yesterday submitted a preliminary report confirming that Sadia had indeed forged her certificates.
"We have checked her marksheet online in the Ministry of Education bearing roll 300106 and found that she passed SSC and HSC from the humanities group," said the report submitted by the investigation committee.
The Civil Aviation Authority of Bangladesh rulebook mandates that all commercial pilots must have an educational qualification of HSC (Science) or equivalent with physics and mathematics.
According to a directive, the terms of reference of the committee included investigating the irregularities alleged by this paper's report, including, but not limited to the allegation about Sadia.
Training expenses are directly under the purview of the Director of Flight Operations (DFO). In this case, the head of the probe committee is the DFO Capt Siddiqur.
A document signed by Capt Siddiqur shows that he and Capt Sazid had endorsed the under-training pilots receiving salaries. The Daily Star has a copy of the office note.
The Daily Star obtained three pay slips and two pay vouchers of first officers Sadia Ahmed, Syed Muhit Rezwan, and Mohammed Atiqur Rahman, who are under training, as well as Captain Nasim Ebne Ahmed, whose training has been halted.
According to the pay slips, Nasim earned from Biman Tk 8.20 lakh before tax and Atiqur earned over Tk 6.40 lakh before tax in July 2022.
That month Sadia Ahmed earned over Tk 12.63 lakh.
Two pay vouchers from May and June 2022 show that Razwan was paid over Tk 2.20 lakh and Sadia Ahmed was paid over Tk 5.63 lakh.
Biman's Managing Director Shafiul Azim said that it is a preliminary report.
"There is still the management which will see to the report. There can be detailed reports in the future," he said, requesting that speculations be held at bay.
Captain Sazid was removed from the post of chief of training three days ago.