Send us weapons, stop Russia trade
Zelensky tells Davos as Ukraine holds off latest assault in east; Russian soldier handed life sentence for war crimes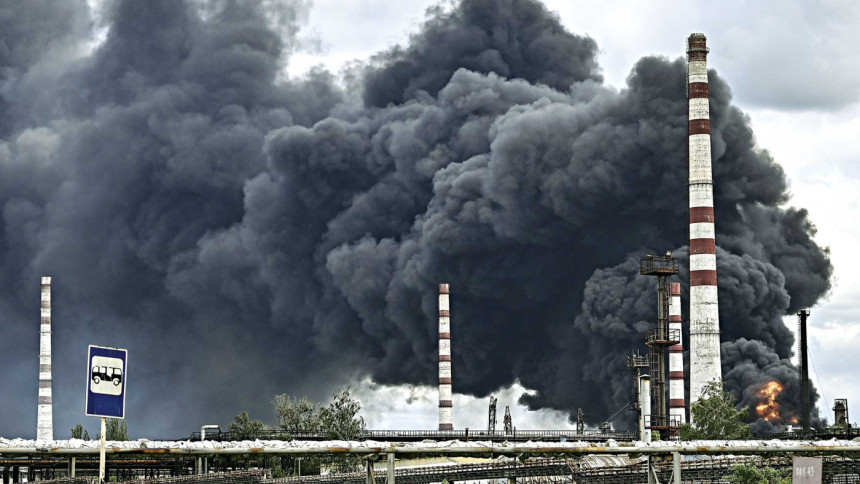 Ukrainian President Volodymyr Zelensky used the Davos summit to appeal for more weapons and "maximum" sanctions against Russia, lamenting that tens of thousands of lives would have been saved had countries acted faster.
Appearing by video link yesterday, Zelensky delivered the headline speech to the first World Economic Forum (WEF) to be held in the Swiss Alps in more than two years after the Covid pandemic derailed the event.
The conflict shows "that support to the country under attack is more valuable the sooner it is provided: weapons, funding, political support and sanctions against Russia," said Zelensky, who received a standing ovation.
"If we would have received them by 100 percent of ours needs at once back in February, the result would have been tens of thousands of lives saved," said Zelensky, flanked by Ukrainian flags and wearing an olive-green T-shirt.
"This is why Ukraine needs all the weapons that we ask for, not just the ones that have been provided," he said, adding that 87 people were killed in a May 17 Russian strike on a military base in northern Ukraine.
Zelensky called for an oil embargo on Russia, punitive measures against all its banks and the shunning of its IT sector, adding that all foreign companies should leave the country.
"There should not be any trade with Russia," he told the gathering. "I believe there are still no such sanctions against Russia -- and there should be."
While the United States, Britain and Canada have moved to ban Russian oil and gas, the European Union has been divided over imposing similar measures, reports AFP.
In the latest fighting at the battlefront, Ukraine said yesterday it had held off a Russian assault on Sievierodonetsk, an eastern city that has become the main target of Moscow's offensive since it finally seized Mariupol last week.
Russian forces tried to storm Sievierodonetsk but were unsuccessful and retreated, Zelensky's office said.
In Kyiv, a court handed down a life prison sentence on a Russian soldier who had pleaded guilty to killing a Ukrainian civilian at the first war crimes trial of the conflict. The Kremlin complained that it was not permitted to defend its citizen.
In Mariupol, where hundreds of Ukrainian fighters finally laid down their arms last week after a nearly three-month siege, Russian mine clearing teams were combing through the ruins of the giant Azovstal steel plant, reports Reuters.
Ukraine has been trying to secure a prisoner swap for fighters who surrendered at the steel plant last week. The leader of pro-Russian separatists in control of the area said they would be tried by a tribunal, but a Russian deputy foreign minister was quoted as saying Moscow could discuss a swap.