The trees and forests of projonmno chottor
Yamin Tauseef Jahangir
As I sat down to write this piece nearly a hundred people had died during Jamaat-called hartals in protest against the verdict of death penalty handed down to Delwar Hossain Sayeedi by the International Crimes Tribunal (ICT). TV news showed how many parts of the country resembled a war zone. Aggressive-looking Jamaat men activists with their sticks and women activists carrying sholar jhatas (I'll not comment on the gendered aspect of these symbols here) demonstrate in various parts of the country opposing the death sentence verdict on their leader Delwar Hossain Sayedee. Subsequent video footage showed groups of young men vandalizing public vehicles, business institutions, TV offices, homes and temples of Hindus while police fire tear-gas, rubber bullets and live rounds at the activists. BGB too joined in the shooting. Jamaat activists die. Journalists die. Police die. Innocent bystanders including little children who have nothing to do with any of this, die. A train has been torched and a bomb has gone off near Sonargaon Hotel. Insane violence leading to unjust loss of lives.
Bangladesh is of course not unfamiliar with political unrests of the violent kind. We are a generation who has come to equate politics with violence; we have come to equate democracy and freedom of expression with violence. The last time when a situation of uncertainty and fear spread was when the military-backed caretaker government came to power in 2007. That happened before an impending elections and dispute between the two leading parties BNP and Awami League. There have already been a lot of protests by the BNP over AL's refusal to conduct elections under a caretaker government and political violence was something that was expected in this final year before elections. And just at such a critical time the ICT started giving out its verdicts and Shahbagh erupted.
1971 is a wound that has been festering in the hearts of Bangladeshis for far too long. The Pakistanis systematically used rape and sexual violence on the civilian population as part of its genocide plot. The evidence of war crimes and crimes against humanity had been languishing all over the country for years 40 when the ICT was finally established set up on March 25 2010. A wait too long. Much of the evidence has been destroyed and many of the witnesses dead. But as many of the posters in Shahbagh rightfully point out, "Justice delayed is not justice denied" in this case.
But what do we understand by fair justice. The importance of a transparent and independent judiciary to form a democratic nation cannot be undermined. Although there is said to be a separation of judiciary from the executive, partisan behavior from the judiciary has been part of our overall corrupt system -- this includes political bias in the appointments to the High Court, controversy over appointment of Chief Justices and public prosecutors, arbitrariness in judicial action, refusal of bail of opposition leaders, withdrawal of cases on political considerations, presidential pardons of party-affiliated people etc. The nature of functioning of the International Crimes Tribunal has also not been above controversy.
Shahbag has been an admirable movement. It has brought together people from all walks of life together under the same sky asking for justice. People's feelings were driven by nationalism, as it has been much through the history of this country, as one blogger pointed out: We have not seen 1971, but today sitting at Shahbag Square I felt what people in 1971 must have felt.
But the main thrust of the movement has been the call for the death penalty to be given to all accused of war crimes, not a call for due process. David Bergman writes in his article, "In Bangladesh, the flawed path to accountability" published in the Hindu:
The men currently before the tribunal may well be guilty of the offences for which they have been charged. Jamaat-e-Islami did collaborate with the Pakistan military and atrocities were committed in which some its leaders are likely to have been involved. But a fair process of justice is crucial to determining whether this is the case -- and certainly before putting men to death. This is all the more important now that 40 years have passed.
The Children of Projonmo Chottor
The protests in Shahbagh have been mostly peaceful, for a call to bring to account those accused of war crimes in 1971, and for a secular political space. It has the potential to bring about a complete change in the politics of violence, so that we are no longer a generation who equate democracy and politics with violence. However, Projonmo Chottor which took its size and shape through the spontaneous attendance of the mass people has not been free of its own problems. First is the use of violent imagery and the basic demand of 'fashi' instead of 'due process', that many have also pointed out. The imagery and slogans that I'm talking about, and which have resonated from Shahbagh over and over again, include:
Rajakarer chamra, kutta diya kamra (Make the dogs bite the skins of the rajakars)
Ekta ekta shibir dhor, shokal bikal nasta kor (Get hold of the shibirs and eat them for breakfast and tea)
Sujan Dutta also talks about the use of children in the movement. In his article for the Telegraph India, "In throes, girl to Gandhi Ashram - Bangla's young seek death for old atrocities, purported targets loot shops" he writes about a nine-year old girl Ipsita who has been handed over with a microphone and put on centre-stage and very rhythmically chants, calling for the hanging of all rajaakers. He comments:
No one here has thought her too young to be introduced to the idea of executions. Such is the paradox in Bangladesh's resurgent new politics that children demand death over a public address system and the men who feel targeted loot and plunder in fearful panic.
Many asked why the question of legitimacy of the death penalty was being raised now, and not when Bangla bhai, for example, was put to death. A very fair question. I guess one does not really think about a topic until it is thrown at one's face. Just like it took the "V" sign from Kader Mollah to wake people up about the fairness, or lack thereof, of the trial process, it took the images of 500,000 people chanting 'death' for those who oppose the death penalty to come down and say, 'hang on, is that what we really want?' It took the image of a two-year-old toddler, still in her diapers, with a bandana on her head saying "fashi chai" to make me halt and wonder what we were really asking for. Do I want this child, or my child to ask for death? How could my son, or this little girl, stand there and ask for death? Do they know what they are asking for?
Shahbagh has not been a homogenous movement and has not been entirely free of party politics. There has been an overwhelming presence of Awami-League supporters at this movement, Chattra League leaders have been given space to make speeches, police have given protection to the protestors, many Awami League MPs have supplied food for the protestors and Sheikh Hasina herself, has expressed public solidarity to the movement. We tend to forget that it is not only the BNP who has forged alliance with Jamaat, Awami League too has forged alliances with Jamaat in the past to gain political gains.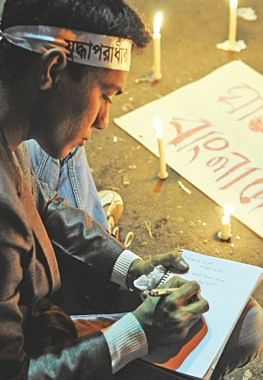 Yamin Tauseef Jahangir
Two things have been of much concern to me about Shahbagh -- one is the unanimous call for the death penalty with of all those who have been accused and the shrinking space for public debate within those who claim to be part of a democratic movement. Facebook especially has turned into a medium of expressing what my friend Fariha Sarawat pointed out was "passive aggressive" behaviour from bloggers -- anyone saying they oppose the death penalty is a "chagu" (the goat-like beard to symbolise Jamaatis) and any critical discussion is labelled "tana pechani" (wringing and stretching). Historian Afsan Chowdhury writes:
"1978 jokhon ami muktijuddher dolilpatra niye kaaj shuru kori, ekjon prothisthito O kehtab prapto joddha bolen, "apnader kaaj hobey emon itihash lekha jeta porey manush ujjibito hoy. Objectivity prodhan noy. " (In 1978 when I started working with the 1971 files, an established and award-winning fighter told me, "Your work will be to write such a history that when people will read it, they will be awakened. Objectivity is not the most important thing here.
Itihas bidder sthan koi taholey? (So where is the position of the historians?)
The revolution that was televised live on BTV
My first memory of watching television in Bangladesh after we came back from Libya in 1987 was BTV and the larger than life omnipresence of General Hussain Mohammad Ershad. Having just come back from Gaddafi's Libya, my nine-year-old self was fully familiar with the face of dictatorships and was conditioned to believe that that was what politics was all about, that a nation needed a patriarchal man to run a country and news meant that us, Chomsky's 'bewildered herd', were meant to keep up with what this patriarch was doing throughout the day -- meeting world leaders, distributing saris to poor women, taking a boat to a flood-affected village, caressing the heads of 'pothokoli' street children and writing poems. Ershad fell in 1990, but the nature of BTV remained, as the mouthpiece of the ruling party in power. Along with all other TV channels, BTV too showed live telecast of the Shahbagh protests. I have been involved with a lot of protests, most recently at a protest to demand justice for the more than 100 garment workers who were killed in a factory fire because of negligence from the factory-owners. Although many TV channels showed up and showed snippets of the protests on their news program, BTV never showed up.
I have to quote Afsan Chowdhury's Facobook status again: Should media take sides?
This issue comes up again and again. A young journalist talking to me said, "I would not report on the killing of the Biharis in 1971 because it would be not be in the best interest of the country."
I said, "The Pakistan army attacked Dhaka on March 26 in the best interest of the country called Pakistan. All genocides happen in the best interest of someone." Media must report facts no matter whom it pleases or not.
Collateral Damage
This title is from a post in Alalodulal blog about how the government failed to protect the Hindu religious communities from the expected backlash from Jamaat activists. The Hindu communities have to bear the brunt and become collateral damage again and again during any political turmoil in the country. These kinds of attacks go back to before 1971 and to as recent times as the attacks in Ramu. Zia Hassan also writes about the institutional failure of the police in his piece published on the alalodulal blog.
Yamin Tauseef Jahangir
I find it even more alarming that so many protesters have died at the hands of the police. The police is a state institution. And as an institution the police must never take sides in any debate or situation. The role of the police is to maintain law and order. Thus if the police is to shoot at someone, they must be 100 percent certain that this is the last, last, last, last resort.
From the very beginning of the indigenous communities wanting to show solidarity in their calls for justice for war crimes, have felt somewhat alienated by the language of the movement:
Tumi ke, aami ke? (Who are you? Who am I?)
Bangali! Bangali!
In 1971 this was a powerful slogan to mobilise people in solidarity. It made sense then. The West Pakistanis were making every effort to marginalise the Bangali community of East Pakistan. That state of marginalisation no longer exists. We are very much the overwhelming majority in the country and no force within or outside the country can threaten our right to call ourselves Bengali. The time has come now to recognise the adibashis of this country, who are struggling for their right to be recognised in the constitution, for having fought side by side with their Bengali sisters and brothers for an independent country.
Even at Projonmo Chottor, adibashis have participated in overwhelming numbers, asking for justice for war crimes. Those who are from the Chittagong Hill Tracts (CHT) hope that once justice is served for war crimes in Bangladesh, perhaps from this same Chottor everyone together will also be able to ask for justice for the massacres and mass rapes carried out in the CHT during the insurgency.
The stunt by Jamaat supporters of photoshopping Sayeedi's photo on the moon should not be shrugged off as a joke. It is an alarming development. And one can't help but be reminded of the possibly photoshopped photo used during the Ramu attacks in September of 2012. These forces are clearly out to destroy peace and harmony for the followers of other religions. They have tried to project the image of Shahbagh supporters as "atheists" and tried to make it into an Islam vs atheist battle in an attempt to cover up war crimes. Thankfully they have failed. The moon photo came right after and managed to mobilise people before they too hopefully understood the scam. There will possibly be other provocations. But if the central theme of Projonmo Chottor remains to seek justice and fair trials much can be achieved through the power of the people.
........................................................................
This is a writer who formerly worked with The Daily Star and can be reached at: [email protected]