"Swat" draws full house in Chittagong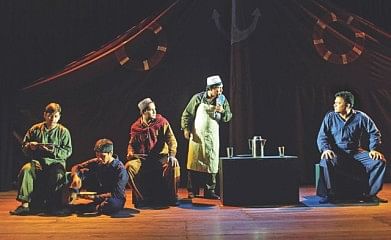 Photo: Anurup Kanti Das
The play "Swat", staged by Tirjak, a prominent theatre troupe of the Port City, drew a full house at the auditorium of Theatre Institute, Chittagong (TIC) on Sunday evening.
March 24, 1971: 'Swat', a ship with a Pakistani flag, anchors at Chittagong port. With the evil intention of killing unarmed Bengalis, the vessel bears a cache of arms. But labourers with the help of the people wage a movement, obstructing unloading of the weapons. Battle begins. Chittagong sparks as the symbol of resistance at the dawn of the Liberation War.
This is the story of the play "Swat", penned by noted playwright and theatre personality Mamunur Rashid. It depicts the history of Chittagong during the Liberation War.
The play is being staged at the three-day festival titled 'Swat Natya Utshab' that started on March 24. Theatre Institute Chittagong organised the festival.
When asked about the play, Ahmed Iqbal Haider, director of the play, told The Daily Star that the show is the third production of TIC, supported by Chittagong City Corporation.
"'Swat' is not only a play; rather it would help the audience learn the facts and background of the Liberation War," said Haider, also the director of TIC.
"Swat" relates to contemporary reality when the younger generation is trying to learn the real history of Bangladesh by waging a massive movement," said Haider referring to the ongoing youth movement of Gonojagoron Mancha.
"Many workers and people from Chittagong port sacrificed their lives in the battle and we have tried our best to narrate the story through our performance, lighting and sound," he added.
"Swat" is a play that has no specific protagonist. "Swat" itself and its characters of crew, captain, port labourers -- all are the heroes of the play, said Haider.
Many local songs like "Chhodo chhodo dheu tuli", "Utto meghe meghe meghe", "Bador bador heiyo", "Ghum jaare tui bachha", were used in the play.
"We have used the local dialect and songs to represent Chittagong," said Haider who also designed the stage and directed music of the play.
In the play, some scenes were innovatively created by the subtle use of lighting and through waves fashioned from cloth.
Ramiz Ahmed, Priankar Debnath, Md Ali Titu, Abdul Hadi, M Shahin Chowdhury, Mahbubul Islam Rajib, Ripan Barua, Alliur Rahman, Jewel Chakma, Amit Chakraborty and Ahmed Iqbal Haider enacted the important roles in the play.