NewsCred on a mission to revolutionise content marketing
With traditional marketing approaches being replaced with new models, the majority of marketers are now using content marketing; a process that involves using content to attract the audience.
NewsCred, a content marketing firm, owns some of the leading brands as their clients. Microsoft, Twitter, and IBM are a few to name. This year at NewsCred's event, ThinkContent New York 2018, 400 senior-level marketers from all over the world gathered to network and learn about content marketing.
Following the theme, "ThinkContent: Transform Business," the event portrayed how content is one of the core elements of every marketing activity. 
The article aims to share a few of the most impactful teachings delivered by some of the most leading marketers at ThinkContent New York 2018:
1.

Collaboration is the key
Shafqat Islam, NewsCred's CEO and Co-founder, thinks that, marketing firms would be more effective with their activities if they were organised into "teams of teams," which happens to be a framework developed by retired US Army General Stanley McChrystal. Instead of developing hierarchies within the organisational structure, it's better to be divided into smaller teams to work in proper
collaboration, and thus, be able to take an enhanced approach towards content marketing. This method will ensure shaping up the strategy with proper justifications.
2.

Emotion plays a great role 
Jenn Eldin, SVP, Global Head of Content, Citi, suggested to emphasise on emotions when content is a key module. "Draw on the art and science," she says. To handle the emotional side, focus on the brand impact of the content and share inspiring examples from publishers and other brands. For the rational side, show how content marketing can improve operational efficiency and help achieve the goals they have to meet.
3. Reshape the model
Dusty DiMercurio, Director, Content Marketing and Social Media, Autodesk, says, "It's time to retire the funnel. The old model that starts with awareness and ends with conversion doesn't accurately reflect the customer's journey of today." DiMercurio also shared his new framework for a unified customer experience strategy that uses content to provide value at every step of the way.
4. Storytelling is the future 
Dominique Delport, President International and Chief Revenue Officer of Vice, believes that the word "storytelling" takes on a whole new meaning with the counter-culture media brand, Vice. He shares how the combination of the advancement in technology and storytelling together can have a great impact on content marketing.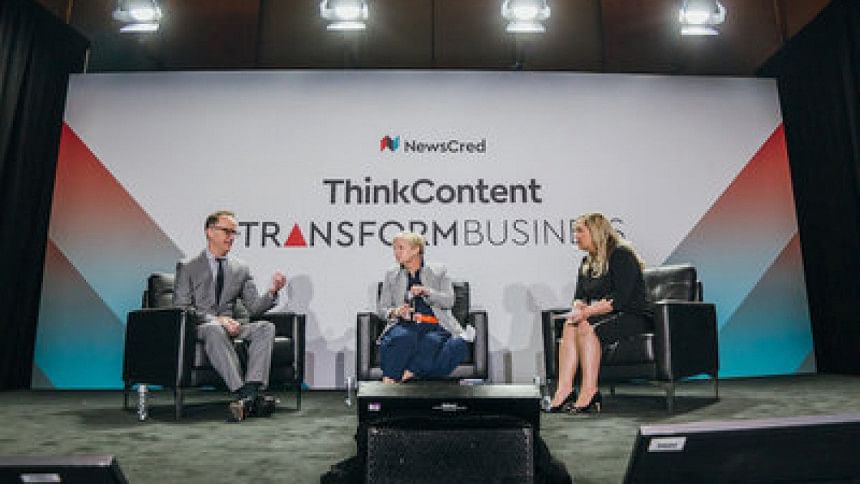 5.

Time to focus on Artificial Intelligence (AI)
Dennis Mortensen, CEO and Co-founder, x.ai, believes on the strong effect created between consumers and content and also on the role AI plays in forging an instant and enduring connection between the two. 
As Shafqat Islam mentions in his speech, "Content marketing has taken a long time to emerge and develop, but, it's here now. As an industry, we're pretty good, but, we can be great." NewsCred surely has launched its mission to revolutionise content marketing in the present and coming eras.
The author is the Head of Marketing of The Daily Star.