Bruised and battered
18-year-old Faisal Mahmud, a student of class XII, was injured when a truck ran over him near Shanir Akhra on August 1, while he and his friends were checking the licences of vehicles on that road.
Faisal was a student of Government Tolaram College in Narayanganj. "That morning, I had told him to go to classes and given him that day's pocket money. But he didn't listen to me and went instead to Shanir Akhra with his friends. While checking licences, a truck driver refused to show his licence and continued to advance. Faisal fell in front of it and it ran over him," states Faisal's father Shamsul Huq.  
"Soon after the accident, his friends carried him to a nearby hospital because the roads were blocked and they could not find a vehicle to take him elsewhere. But the doctors referred him to Dhaka Medical College Hospital (DMCH) because he was suffering from urinary bladder hemorrhage. He has also fractured his leg," says Huq. "He cannot walk even now. The doctor hasn't yet told us how long it will take him to recover fully."
Faisal's father works as a cashier at a petrol pump in Motijheel. Faisal is the eldest of three siblings and his father is hard up to bear the family's expenses let alone the added burden of medical bills. "Already, I have spent more than Tk 50,000 in these few days. I cannot bear the expenses anymore. No one has contacted me to know about my son's health condition," says Huq.
In the following days, protests spread across school and university campuses, leading to clashes with the police and unknown miscreants earlier last week. Students were injured in droves and taken to nearby hospitals by their fellow protesters.
A private university student is currently in the ICU of a private hospital since Monday, says his friend T. Alam. "He was leaving campus for home when police beat him in the head with rods, fracturing his skull. He had a severe head injury and developed a blood clot,  which was removed in an operation." His friends have already taken up a collection as the injured student's family is looking at very high medical bills. According to his doctors, he may have to stay in the ICU for another month or so.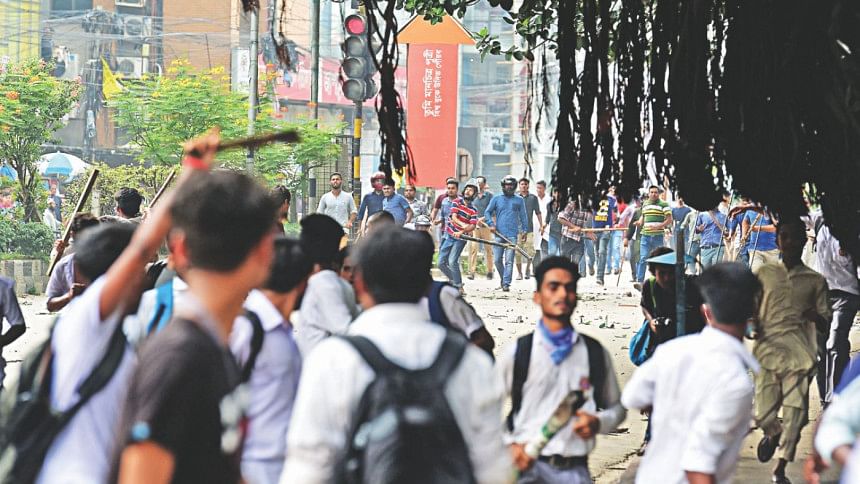 Under attack
Another NSU student, a 23-year-old injured protester, was awaiting treatment in the triage area of the emergency room of Apollo hospital in Bashundhara on Monday evening. He had injuries to his legs and was hit by one rubber bullet near his right eye and another to his arm. Apollo treated student protesters from NSU as well as from IUB and AIUB, on Monday.
Earlier, he had been inside the NSU campus. The gates were then shut and the proctor warned the students not to leave, he said. Unheeding, this protester had climbed over the gate to join those outside. He, among other protesters, were then on the road in front of GP House. This was around 1pm.
"Police were firing tear gas shells and rubber bullets." The protester said that only the police were firing at the student protesters, but there were others there armed with rods, sticks, and stones.
Soon after Star Weekend talked to him, two members of his family rushed into the emergency room looking for him.
Beside him, another final year student at NSU, injured in the violence in Bashundhara, was lying in bed with bloodied bandages on multiple parts of his body. He had been brought to the hospital earlier after being injured by rubber bullets and tear gas shells fired by the police. He had left campus for a bit in the morning and was outside when the attacks started.
"I faced five teargas attacks near me," he states. After he fell down injured, he was also beaten by police with sticks. He was bleeding from cuts on his forehead, by his left eye, to the back, hand, right knee, and left leg. "We were unarmed, we had no lathis before the attack from the police started. We were gathered there peacefully when they started attacking."
It was the first time he has faced such a thing. On Saturday, he had given a midterm and had classes. He had gone to join the peaceful protests at East West University's campus in Rampura on Sunday.
Two friends of his hover near his hospital bed, buying medicines he needed. I ask if his family was coming to see him. He shakes his head, saying quietly, "I haven't told them what happened." Tonight, he will stay at a friend's as he tries to recover from his injuries.
"Students came in the afternoon with minor injuries, which were treated with primary aid and then were released," says Dr Arif Mahmud, senior general manager of medical services at Apollo hospital. Three students with eye injuries were referred to an eye institute, he adds. Among these, is a 24-year-old private university student who suffered a gunshot injury to his right eye.
There were clashes in Mirpur 13 on Thursday (August 2) and then in Jhigatola on Saturday (August 4), where at least 150 student protesters were injured during a face-off with the police and unknown miscreants. 22-year-old N. Khan, a first responder at the scene, says she treated more than 50 students there. All the injured she treated were schoolboys, with uniforms and ID cards on.
"The type of injuries we saw were mainly bruises, especially on the arms and legs. There was also severe bleeding from cuts, sprains, and a fracture," she informs us.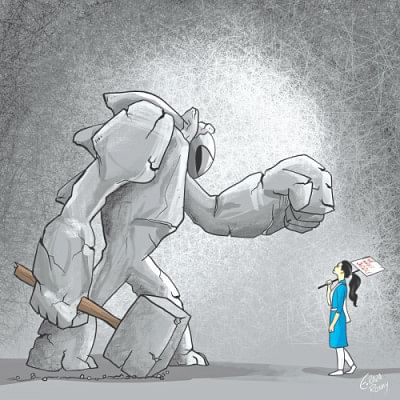 Access to treatment
On social media, the picture of a student with a bandage on his left eye went viral. Star Weekend talked to a friend of that student who got hurt on Saturday at Jhigatola.
"During the protest, when we heard that four students got murdered and four female students were raped (which later turned out to be a rumour), the protesters become very angry, and started moving towards Jhigatola chanting slogans. After the clashes began, he was hit in the face by stones. We took him to Popular Medical College Hospital nearby," says the friend.
"At first, the hospital guards were not letting us enter, fearing that the clashes were getting close and would create trouble inside the hospital. The guards even closed the gate. We tried to make them understand that we wouldn't harm hospital property. But, still when they weren't letting us enter, we started yelling at them and only then, they let us inside to get treatment for our wounded friend," he says.
However, Dr Anharur Rahman, medical coordinator at Popular, argues that when the clash began, some students and pedestrians ran into the cabins and wards where other emergency patients were receiving treatment. Dr Rahman says that they called both the Dhanmondi police station and the 999-emergency helpline, for help in controlling the situation, but they received no cooperation.
 "In fact, we were in a situation where one party threatened us that if we let the students enter, they would harm us. The other party was demanding to be let in otherwise we would face dire consequences. After that, we called all our intern doctors in to control the situation and started giving treatment to the injured," explains Dr Rahman.
Popular informed Star Weekend that they attended between 40 to 50 students on August 4 and 5, 20 of whom were injured. The rest of the students were in shock but had not sustained injuries. When asked about the nature of the injuries, Dr Rahman informs us that most of those coming in had minor cuts and lacerations. "We got only one moderately injured case, where a student of DU had a fracture in his hand. We provided primary orthopedic management treatment."
According to Dr Rahman, the students did not want to stay at the hospital to recover and many of their parents chose to take them home.
On Sunday (August 5), university students also took to the streets in great numbers to protest the attacks on students the day before. A student at the University of Dhaka, A Khan, was seriously injured by police while she along with friends were protesting at Jhigatola. A friend of hers at the scene described the attack on Facebook, saying that they were severely beaten with bamboo sticks.
Star Weekend spoke to another friend of hers who claims that when the DU student was taken to Labaid hospital, the authorities refused to provide treatment. "They told us to leave, saying that they cannot do anything and there is an order from higher up," she says. The injured student is now being treated at a government hospital but her health condition is poor, says her friend. "She is repeatedly vomiting, which according to the doctor, is a bad sign for a patient with a head injury," she adds.
However, when contacted, Saifur Rahman Lenin, assistant general manager of corporate communications at Labaid Group, denies the allegation and claims that no such incident happened. "I was present there and I personally received injured students for treatment here. A total of seven students came to us on these two days, took first aid from us and were released immediately. They mostly suffered cuts and were bleeding," he says. "The most serious case was that of AP photographer, AM Ahad, who needed stitches to his head and an X-ray to check for further injuries."
Other clashes on Monday involved students of East West University (EWU) and Ahsanullah University of Science and Technology (AUST). A fourth-year student at AUST, requesting anonymity fearing problems with his university if named a protester, explains that they were protesting peacefully at their campus from 11am in the morning. "When we heard that students were under attack at East West University, we were moving towards there through Hatirjheel when police from Police Plaza came and blindly started lathi charge and firing rubber bullets."
He was hit from behind and was also hit by a rubber bullet. He and other protesters dispersed into the alleys and roads, trying get back to their campus. But back in front of AUST, they faced another attack from the police and found the gates locked.
Located nearby in Tejgaon, MH Samorita Medical College Hospital saw injured AUST students coming in to the ER starting at around 1pm. Emergency medical officer, Dr Mohammad Zobayer Patwary, treated a total of seven students. "Three of the injured were students of AUST, they bore marks of blunt trauma. We mainly treated abrasions, lacerations, and bleeding."
"One student came in with a severe head injury and had multiple cuts on his face. He was subsequently referred to DMCH for the head injury as he was repeatedly vomiting," he says. Four student protesters were also brought to the hospital by the police.
A student of EWU who was taking injured fellow students to hospitals, including one with a severe head injury, said, "After receiving first aid at a hospital in Banasree, we were trying to take him to DMCH but the roads were blocked. We managed to take him to Holy Family Red Crescent Medical College Hospital, near Eskaton, but the hospital wasn't willing to admit him."
"They only admitted him after signing a paper that the authorities cannot be blamed if the patient's condition worsens. Later that day, we were told to take him elsewhere as he was in a critical state. We then admitted him to a private hospital where doctors say he is not yet out of danger."
His recovery, and that of numerous student protesters injured in the attacks over the past week, is a long road for the students who had started a peaceful movement for road safety.