Poet of profound inspiration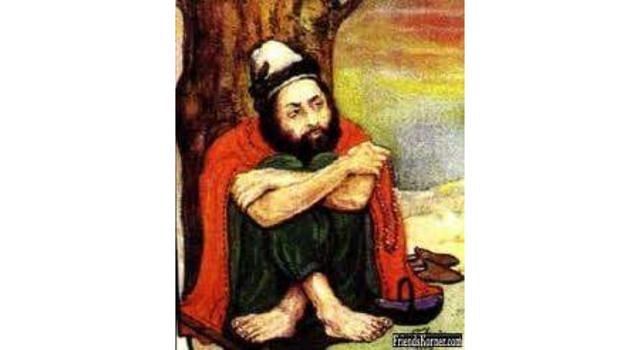 Through out centuries and millennia, poets and prophets have preached love, as it is the strongest binding force in the universe. Shah Abdul Latif of Bhit Shah, Sindh, belongs to this galaxy of the great. His ancestors came to this beautiful part of the world from Herat, a city in the northern Afghanistan near the Iran border. His great grandfather Shah Abdul Karim of Bulri and his father Shah Habib, too, were poets of tremendous repute.
Shah Abdul Latif was born in 1689, about 73 years after the death of Shakespeare. The similarity between the two supreme poets of the world is that both had nothing behind them except their natural genius. It is rightly said that poets are born, not made.
Latif means gracious. His poetry is all graciousness.
As an inheritor of a proud, noble and one of the most ancient civilizations in the world, Shah Abdul Latif believes in the sublime values of civilian's and common man's supremacy and perfect regard for women. While Shakespeare's plays are full of characters, which represent emperors and empresses, kings and queens, princes and princesses, lords and ladies; clowns and jokers; the characters in Latif's poetry are true sons and daughters of the soil: tillers, peasants, herdsmen, fishermen, boat people, mariners, merchants, musicians, workers, wood cutters, weavers, washer men etc
Only three plays, 'Romeo and Juliet', 'Antony and Cleopatra' and 'Troilus and Cressida', in Shakespeare's entire works carry women's names in their title. In all these plays, the names of the heroines come after those of the heroes. Shah Abdul Latif subtly conveys a beautiful message about women's dignity by naming his so many surs by the names of female characters: Sur Suhni, Sur Sassui, Sur Marui, Sur Sorath, Sur Leela Chanesar and Sur Moomal Rano. Only in the last mentioned two surs, men's names are given. But the male names follow, not precede, female names. This shows Latif's firm commitment, and Shakespeare's lack of it, to the universally recognized 'Ladies First' principle.
Shakespeare believes that prosperity is possible through a strong king. But the Sindhi poet diagonally differs from the British bard. A great number of baits in Sur Samoondi, Sur Saarang and other surs reveal Latif's belief that strong people, bold peasantry and skilled workers, expert artisans and enterprising trading community guarantee prosperity.
A unique attribute of Shah as a poet is his characterization of the heroines. Passive suffering is not a theme of his poetry. His heroines are daring and dynamic, not lovesick ladies. They are icons. Of all his heroines, Sohni's, Marui's and Sasui's roles are the most robust and highly inspiring. Sohni is a rebel and a challenger of the status quo. She is the icon of defiance. Marui is non-violent protester par excellence and an icon of resistance. Sassui symbolizes struggle: to keep going ahead in spite of odds and obstacles, to die advancing on.
Sohni's character is rare in all literature. She loves Mehaar, but is married, against her will, to Dam. She does not submit quietly to fate. She never gives Dam a chance to deflower her body. Her body, her soul are for Mehaar.
By around midnight, every night, she leaves Dam to meet her sweetheart on the opposite bank of the River Indus.
Chodhari chara buran bela'en ja
Sutay sanbharan jo payum kann parao
Wehan moun na warao, sunio jha'en jhijay henyon
(I hear the tinkling of the bells (tied to the necks of Mehaar's buffalos)
I cannot sit (with Dam), as the sounds of the ringing bells ecstasies my mind)
About Sohni's attitude towards Dam, the poet says:
Sando Dam dahkar kadahen konhen hunn khay.
Kaaran mundh Mehaar, kaari raat kunn taray.
(She feels least terrorized by Dam's wrath
For Mehaar's sake, in darksome night, she swims through the quagmires)
Ghiree gharo hath karay bahoon niharay bang
Sikandan khay Sayyed chai keen jhaleend jhang
(Pitcher in her hand, she enters the river, watching the flow of waters
No obstacle can hinder the lovers' path)
When the unbaked pitcher dissolves in the water, Sohni encourages herself, saying:
Gharo bhago ta ghrio, taan kee tar hinyaan!
(It is well that the pitcher has broken, continue swimming, my heart!)
Not an expert swimmer, she is caught by cruel currents, quagmires and the beasts of the river. Shah Abdul Latif, with his masterly command on creating imagery, paints the following picture of her drowning in the deadly waters:
Jangh jerkay waat mein, sisi hath sesaar
Choora beera chikk mein, lurr lurihiyas waar,
Lakhein chuhtiyas loohenyoon theiyoon tharoun dhaar
Mirya mach hazar, bhagaan theendi Sohni
(Her leg is in dogfish's mouth; her head is in shark's
Her bangles are twisted, her hair drift in water.
Innumerable dangerous fishes cling to her body
Countless crocodiles have gathered
Now Sohni will be sliced in several pieces)
A genius of Picasso is required to paint the above picture with the brush. And, only a person of Michaelangelo's calibre can create a statue in marble what Latif has drawn in words.
Finally, the two lovers join each other in the river for eternity and subdue death. Sohni proves her self as stainless as moon in its glory. Her character shows that a true woman's love is unconquerable even in death.
Akhiyun manjh ukandh, muya 'ee Mehaar dey.
(With looks of love and longing in her eyes, she is swept to Mehaar)
Latif's other star character, Marui, stands for patriotism, loyalty and non-violent resistance. Unlike Sita in Rawan's captivity in Ramayan, Latif's Marui does not get any outside help against the tyrant.
Na ko eir na ko bher, na ko othi ayo
(No supporter on foot, or riding a camel has come)
Marui's resistance is an epic one. She struggles all by herself, using the strongest weapon of the weak: boycott. She is the pioneer of the method of non-cooperation for winning freedom.
Mendha dhoay na Marui, na khilay na khai
(Marui does not wash her hair. She does not smile or laugh and does not take any food)
An inexperienced girl would easily succumb to the riches and comforts displayed before her. But Marui, a young village girl, refuses even to look at fine food, glamorous dresses and precious jewels brought to her by Omer. She is iron-willed, made of sterner stuff.
Patola panhwar khay Omer aachh ma toun
(Do not tempt me with finer clothes, Omer!)
Kara karayen mein, sonn asaan khay sooi
(We have black threads round our wrists
Gold to us is a sign of mourning)
She calls King Omer 'Ada. Ada is a beautiful Sindhi word, conveying incalculable affection and reverence. But Marui uses it for expressing her extreme contempt for the tyrant and for rejection of his advances towards her. In this sur, Shah Abdul Latif beautifully depicts the powerlessness of the powerful .Marui is the symbol of right against might .Hers is really the superior kind of bravery.
In later centuries, Mahatma Gandhi, Martin Luther King Jr., Leo Tolstoy and the leaders of anti-Apartheid movement in South Africa adopted her method, while making their demand for democracy and freedom.
Through the character of Marui, Shah Abdul Latif teaches that ultimately the forces of good and justice triumph over evil.
Sassui, Latif's an other heroine, suffers because she is not alert enough on a critical night when, after her love marriage with Punhoon, her husband's brothers visit her in Bhanbhor, the place of her dwelling. She fails to understand the real purpose of their visit and their secret designs. While she is in deep slumber, her brothers-in-law get Punhoon intoxicated and take him to Ketch, their father's princedom.
And, then
Moun khay doongar doren aayo, Ketchi Ketch wanjan
(I am left to wander the in the rocks
Ketchis leave for Ketch)
'To act is to be' is the clear message of the five surs concerning Sassui. Latif advises her:
Weh ma mundh Bhanbhor mein, kar ko wako wus
Punhoon uthi pus, sirr bhar halee Sassui
(Sit not quiet and inert in Bhanbhor, Sassui
Move on even by your head to meet your lord Punhoon)
Passy doongar daah, mataan halan mein heeni thi'een
(O Sassui, do not slacken your speed on seeing huge rocks)
She begins her journey to Ketch on the treacherous paths bare-footed, bare-handed with courage, rectitude and resolve.
Peir pataan ee koon'ara,doongar mathey dey.
(With feet softer than silk, she climbs the mountains)
She challenges mountains that stand in her way to Ketch:
Aado takkar tarr mataan roh ratiyoon thi'een.
(Be off from my way, o rock, lest you get broken into pieces)
She is physically weak, but strong in will and determination:
Pabb wijhandius puth tey subah sawero
(I will leave behind the Pabb hills at the break of dawn)
Latif admires her speed:
Chhikey chhina'een pandh miro'ee Pabb jo
(With one bold attempt, she crossed the Pabb hills)
She never considers retreat as an option.
Motee maraan ma ma'o, motan khan agay maraan
(I should not return to die, let me die ere I return, O mother)
She ultimately meets her husband, though after her death.
Waree aayus wer, safar mu'ie ja saab piya.
(Her tribulations bore fruit and her husband returned to her at long last)
Side by side with the message that life means daring action, there is a strong pro-masses element of democracy in Sur Sassui. This is proved by the fact that Sassui is not asked to demonstrate her regal ways. Instead, Punhoon is demanded to prove his expertise in washing clothes, the trade of Sassui's (adopted) father.
Gadiyo dhobien dhoi, Punhal parcho hath mein
(Punhoon washes clothes in the company of washer men)
It would be interesting to compare Latif's 'Moomal Rano' with 'Othello' of Shakespeare. Calling her a villainous whore, Othello kills chaste Desdemona, as he fails to be patient enough after finding in Cassio's hands the handkerchief that he had gifted, as his first token of love, to his wife, which an Egyptian had given to the Moor's mother There is a similar situation of 'doubt' in 'Moomal Rano', when .Rano finds his wife actually sleeping with 'other person', but he exhibits enormous patience. It is later revealed that the other person found sleeping with Momal is none other than Moomal's sister Soomal. Rano just leaves his stick on her bed as a sign, showing that he had visited the palace, while the two were sharing the same bed. The contrast of characters in 'Othello' and 'Moomal Rano' continues further. Othello commits suicide as remorse. But Rano joins Moomal's pyre out of love for his wife.
In his Risalo, Latif sheds more light on his heroines than on his heroes. Among all his characters, Rai Diyach shines very brightly. Latif portrays him brilliantly. Rai Diach is not a hero. He is a super-hero. No character in all literature, hero or heroine, protagonist or antagonist, does cut his/ her own head. Latif's Rai Diyach stand out from the rest as he cuts his head with his own hands and gives it to the master musician Beejal as an act of generosity, in order to keep his promise.
If in Sophocles' play 'Oedipus The King', Oedipus self blinds, it is out of guilt for harrowing acts of murdering his father and marrying his mother. It is a virtual suicide.
One cannot belong to the world, unless one belongs to his own land and his own culture. With his firm belief that all races are beloved races and that all men and women are created equal, Latif sums up his love for his homeland and the whole of the universe in the following bait.
Latif wishes his motherland to prosper and at the same time wishes that the rest of the world and the universe should also achieve prosperity. Thus, in Voltaire's words, 'he is an intelligent patriot and a citizen of the universe'.
The poet expresses the above lofty ideas of universality in Sur Sarang. In just one single bait, he gives the names of more than a dozen cities and countries e.g. Istanbul, Samarqand, Rome, China, Kabul, Kandhar, Delhi, Deccan, Girnar, Bikanir, Bakar, Jesalmir, Bhuj, Dhat, and Umerkot. In some other baits of the sur, places such as Makkah, Egypt, Arafat, Khurasaan and Multan, etc., are also mentioned. This shows his hold on geography.
Latif's Sur Sarang relates to rainy season. The entire animal kingdom including human beings, cattle, wild beasts, birds, even the oysters in the seas long for rain. Latif says:
Sarang khey saareen maanhoon, mirgh, menhoon
Ariyoon abir aaserey, taraa tanwareen,
Sipoon jey samund joon na'ain sijj nehareen
Palar piyreen ta Sanghran such thi'aey.
In this sur, Latif has repeated the phrase Sanghran sukh thi 'aey (Let the herdsmen prosper and be happy) several times, indicating his genuine desire for the uplift and betterment of the honest hard working class. The poet expresses his disliking for the hoarders, who cause famine-like situation by their unfair business practices,
Dour dukariya bhajj meenhan munhuh dekhaririyo.
(Leave the place, O you, the patron of the famine!
The rain is within sight and is about to pour)
Two heroines of Latif, Moomal and Leela, are glamorous and fashionable. Noori, the daughter of Kinjhar, is the most submissive and humblest of them all. She comes from among those, who are dark, ugly and displeasing to look at. Our poet's democratic leanings are at the highest in Sur Kamode.
The king performs personal service for Noori, the fisher girl. King Tamachi, himself a Samo chief, prefers humble Noori to Sama and Soomro ladies of high birth. This is Latif's superb portrayal of democratic values.
As a poet of human emotions, Latif tremendously exhibits a deep understanding of what goes on in the heart of a woman, while her husband is away, through the following baits:
Sey ee jobhan deenhan, jadahen sajjan safar haliya
(Those were my youthful days, when my love went away for a voyage)
Uloren na dey wer widha 'een wanjh khey.
Rah ajoki ratitri lalan moun lai
(She does not let the boat move, holding fast the oar,
Stay with me tonight, oh my love)
Uttar laga, aa'o pireen!
(Northern winds are blowing,
Now do come back, my love)
Ubhran sekara pasiyo wer biyen ja
(Looking at others' husbands, I heave deep sighs!)
Latif's understanding of virgins' love-feelings is equally deep:
Naon neehun lagos,garey a'in galhiyoon karey.
(She has just newly fallen in love,
She is overwhelmed, keeps on sharing her love stories)
It would not be out of place to quote lines from Shakespeare's' Romeo and Juliet'(Act 2, scene II):
See how she leans her cheek upon her hand!
O that I were a glove on that hand,
That I may touch that cheek!
From the above two situations, readers may observe for themselves, whose Latif's hero's or Shakespeare's hero's - wish is strong and daring, and who desires weakly, meekly and cheaply.
Englishmen proudly call Chaucer's 'Canterbury Tales' as the Picture Gallery of England. But, against Latif's natural portrayal of Sindh, Chaucer's Gallery is paled as artificial and engineered. Latif portrays different aspects of Sindhi society as they are and pencils the characters, wherever they are and does not craftily try to bring them together at one place to tell their stories, as does Chaucer in his Tales.
The poems of Homer, says an English writer, differ from all other known poetry in that they constitute in themselves an encyclopedia of life and knowledge of his time. This remark applies with a greater force to Shah Jo Risalo. The Risalo is a perfect encyclopaedia of life and knowledge of the 17th and 18th century Sindh. Latif being the comprehensive soul of this land of beauty, his Risalo completely and vividly reveals Sindh of his day. The Sindhi poet depicts valiant heroes and martyrs of his nation, brave confronters of despots, daring rebels, their deeds of virtue, valor and generosity, countless masses, their energy of passions, desires, hopes, aspirations, masses' facing of dangers, adversity and grief with immense fortitude, myriads of dwellings, calms of the seas, storms of the seas, domestic and international trade by water and land routes, the superb ships with sail-power, fetching and carrying cargoes across the Indian and Pacific oceans, countless items of merchandise ranging from precious pearls and diamonds to aromatic spices and finest textiles, the dread of the deep, prayers of seafarer's wives for safe return of their husbands, Sindh's superior arts and crafts, artisan's expertise and skillfulness in various fields, the cotton spinning damsels, sharing of love stories by bashful virgins in the spinning yards, weavers, brewing maidens, goldsmiths, ironsmiths, potters, animals, steeds - matchless in their speed -, camels, cows, buffaloes, goats, deer, birds, pea-cocks, crows, phoenix, eagles, vultures, falcons, creeping creatures, cobras, common snake, different features of the land, wooded and barren and rocky hills, towering peaks, lofty mountains, great valleys, immense sand dunes, trackless, pathless and boundless deserts ,vast and endless plains, the fertile fields and virgin lands, vegetation sprouts, abundant crops, , immeasurable grazing fields, tall and stately trees, the streams of sacred river Sindhu - the bride and empress of the sea, , wondrous, spacious clouds , beauty of the rain, the sunset, the sunrise and change of seasons, moonlit and star studded nights, and all that was available in this beautiful part of world over three centuries ago is captured in his poetry. This shows how abiding relationship the poet has with his people and the motherland.
Latif Risalo is like a great ocean; without bottom, without shores. In it are pearls of wisdom, glittering on every page. In the works other poets of the world, at the most, only a few hundred lines acquire the status of quotable quotes. But, in Latif's poetry such sublime sayings run not just in hundreds, but in thousands, every word of Latif being a golden word. Such poetry is rated higher than the highest. There is eternal meaning in his eternal baits and va'ees. The poet's confidence is boundless. Only a poet of Latif's stature can dare to call his poetic creations ayats.
Bait ma bhan'eg manhoon' aa, ayetoon aheen
(O people, these are not just baits, but are ayaats)
No work in Europe, not Homer in Greek or Virgil in Italy, not Shakespeare or Milton in English speaking lands, is the national property of the nations to the same extent as Shah jo Risalo is of Sindhis. Latif is a true center of unity and gravity for his nation. The baits and va'ees of Latif have been the cherished heritage of Sindhis for more than three hundred years. They are to the present day interwoven with thoughts and ideas of a community numbering above sixty million living in Sindh and hundreds of thousands others scattered across the planet.
Latif touches almost every aspect of life, including the religion. He advocates the ideas of sufi-ism. Sufi la kufi (Sufi is not limited to religious bounds), he says in a bait. Out of his large heartedness, he makes mention of Islamic holy places and Hindu sacred sites with deep due regard for both. He quotes Makkah, Madina, Arafaat, and Karbala as well as Hinglaj, Dwarka, and Nani, etc., in his Risalo.
Because of the teachings of great men like Shah Abdul Latif Bhitai, ageless traditions of harmonious and peaceful coexistence have prevailed among the people of various creeds in Sindh. Latif's Risalo is a manifesto of international peace. The world must follow it for better tomorrow and day after tomorrow.
Sada Hayat Jalbani is a literary critic. E-mail: [email protected] .