Illegally modified vehicles abound
The human haulier involved in Natore crash was converted from a microbus; bus helper arrested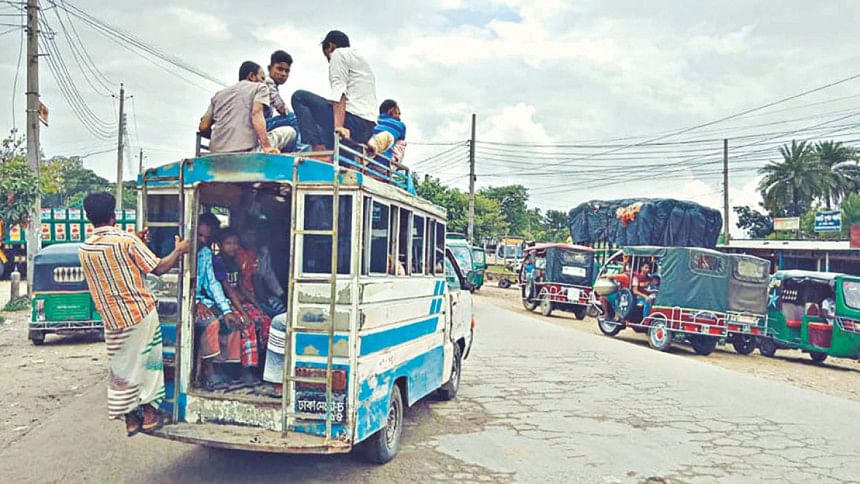 The human haulier, which collided head-on with a bus killing 15 people on Saturday, was actually a microbus illegally modified to seat passengers double its capacity.
The bus also did not have the route permit for plying the roads, investigators found.
The police arrested assistant of the bus Abdus Samad Kamal, 38, from his village in Gaibandha's Palashbari yesterday afternoon, said Farid Uddin, inspector of a police outpost in Bogra Sadar.
The ill-fated human haulier was registered as a microbus until 2009. Its papers were not updated since then, said Mohammad Shahidullah, additional superintendent of highway police in Natore.
The Pabna-bound human haulier was overtaking a truck when the crash took place, said Saidur Rahman, assistant director of Bangladesh Road Transport Authority (BRTA) in Natore.
The Daily Star correspondents in Natore and four of its neighbouring districts yesterday found numerous modified human hauliers and low-speed vehicles plying the highways defying government ban.
At Pabna bus terminal, this correspondent met a human haulier driver and owner named Fazlu Khan. He bought a beat up microbus for Tk 1 lakh a couple of years ago and spent another Tk 1.5 lakh on turning the vehicle into a 16-seater human haulier, doubling its original seating capacity.
A motor vehicle workshop in Pabna's Atghoria upazila did the job violating motor vehicle rules. 
Fazlu was about to leave for Nagarbari with 22 passengers on the rickety vehicle -- 16 inside and six others on the roof.
"Papers of this vehicle were already outdated when I bought it. I never got them updated. Police hardly ever ask for the documents," the 36-year-old said.
"Why would they? I have to let them use my vehicle for patrolling every 15 days. They don't pay me anything."
The human haulier involved in Saturday's crash on Natore-Pabna highway was not much different from the one owned by Fazlu.
Fazlu earns at least Tk 1,280 a day by driving between Pabna and Nagarbari, a distance of 52km. "The business is thriving."
Asked, Rafiqul Islam, superintendent of police in Pabna, admitted using the human hauliers to make up for the shortage of their own vehicles.
"In the time of urgent needs, we don't have the time to look for the documents," he said, "The problem of modified vehicles has been persisting for years.
"Police can't rid the road of these vehicles overnight. All people concerned should take initiatives."
Many drivers of human hauliers in Pabna and Natore said there were at least 500 microbuses-turned-human hauliers in Pabna and at least 200 in Natore. The vehicles ply the highways. 
However, after Saturday's crash in Natore, the administration yesterday forced the vehicles off the highway.
Biplob Bijoy Talukhder, superintendent of police in Natore, said police only used vehicles with proper documents. 
Besides the locally modified human hauliers, over 70,000 low-speed vehicles ply the highways in Rajshahi, Natore, Pabna, Bogra and Chapainawabganj, according to transport workers associations and government authorities.
The low-speed vehicles include human hauliers, CNG-run three wheelers, auto-rickshaws, electric auto rickshaws and locally designed three-wheelers known as Bhotbhoti, Nasiman and Kariman.
Among the 94,254 new vehicles registered in Rajshahi by Bangladesh Road Transport Authority (BRTA) during the first six months of this year, 332 are human hauliers, 556 auto-rickshaws and 443 three-wheelers.
But local transport owners said, around 30,000 battery-run three-wheelers ply the highways and city streets in Rajshahi. Besides, there are about 3,000 unregistered CNG-run three wheelers in the district. 
The owners of these vehicles have associations that are mostly led by ruling party men, they added.
Even if police stop these vehicles and ask for papers, the drivers call the association leaders, who in turn contact more powerful political leaders, and eventually in most cases the driver and the vehicle get away with a small or no penalty.
Mohammad Shahidullah, superintendent of police in Rajshahi, said keeping three-wheelers off the roads was difficult as the number of the vehicles constantly increased.
Many young people with no other income sources drive these vehicles for a living, he added.
At least 24 battery-run auto-rickshaws were thrown into a pond while plying the highway in Rajshahi's Baneswar yesterday, he said.
Mostafizur Rahman, SP of regional highway police, said his teams would take strict action immediately. "You will not see any unauthorised vehicle on highways from now on."
In Pabna, the human haulier drivers have no association, but in Natore, there is Bonpara Human Haulier Owners' Association. The association leaders said they have around 100 human hauliers plying Natore-Muladuli road.
Jabed Ali, president of the association and former president of Kadamchhilan union Awami League, said police never stop their modified human hauliers.
"But we provide the police with our vehicles for free whenever they call us," he said.
The association secretary Jakir Hossain, also Kadamchhilan union AL member, echoed the view.
Passengers find these low-speed vehicles convenient as they drop them anywhere on the road and charge them lower than buses, said commuters and owners.
Human hauliers operate between Bonpara to Muladuli, Dashuria to Ishwardi, Pabna to Ataikula, Kashinathpur and Bera upazilas to Pabna, Baneswar to Rajshahi Court, Rajshahi to Bagha, Charghat and Godagari to Bogra and different upazilas to Chapainawabganj to Shibganj.
Manjur Rahman, general secretary of Rajshahi Bus owner association, said the local administration never paid attention to their demands for removing these vehicles from the highways.
About 200 human hauliers, 1,500 CNG-run three wheelers, and 2,000 auto-rickshaws ply the roads in Natore.
According local CNG owners association leaders, every CNG owner pays Tk 300 a month and Tk 40 daily to police.
Acting president Abdur Razzak of Natore district CNG Owners' Association is the president of Natore Sadar upazila Jubo League. "We had to pay the police. It is normal across the country," he said.
Mokhlesur Rahman, a CNG owner said, "When police intercept us, we call a certain person who we pay regularly, they deal with the police and make sure that we can leave with little problem."
CNG owner Alam Hossain in Natore said he never even applied for a driving licence.
"For a driving licence, I have to contact a broker, it's not easy. Besides, it's not difficult to drive without the licence," he said.
In Chpainawabganj and Rajshahi-Sonamasjid land port highway, locally made three-wheelers Bhobhoti and Nasiman are common.
Nayan Ali, a Bhotbhoti owner of Shibganj upazila said, he drives between Dadonchalk and Chapainawabganj town daily to collect firewood for local traders. "Police intercept sometimes but we manage the situation."
At least 466 human hauliers and over 4,500 CNG-run three wheelers are registered with the BRTA in Bogra. Officials and locals said the number of these vehicles on the roads would be much higher.
The report was prepared by Bulbul Ahmed, Ahmed Humayun Kabir Topu, Rabiul Hassan, Mostafa Shabuj and Anwar Ali.