Paturia-Daulatdia: Almost deserted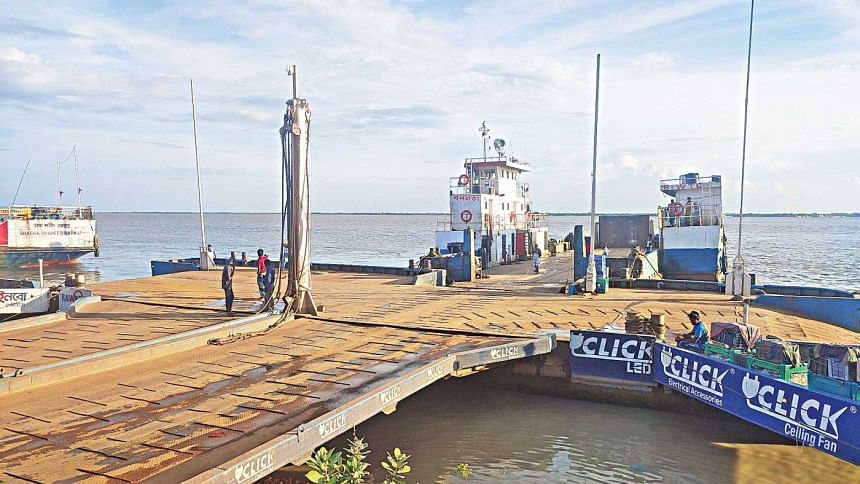 The number of vehicles at the Paturia-Daulatdia and Shimulia-Majhikandi ferry routes significantly dropped as the Padma Bridge opened to traffic yesterday.
Ferry operations remained shut on the Shimulia-Majhikandi route due to a shortage of vehicles, said officials of Bangladesh Inland Water Transport Authority (BIWTA).
Two private vehicles arrived at Shimulia ferry terminal yesterday morning but the authorities asked them to leave as no other vehicle was there, said Ahmed Shamim Al Razi, chairman of Bangladesh Inland Water Transport Corporation.
"We will start operating ferries if [enough] vehicles arrive at the terminal," he said.
The number of launch and speedboat passengers also dropped on the route, said Shahadat Hossain, assistant director of Shimulia River Port Naval Safety and Traffic Management of BIWTC.
Meanwhile, on the Paturia-Daulatdia route, the usual long tailbacks could not be seen yesterday, said officials.
All the pontoons of Paturia ferry terminal were empty by 4:00pm. Only a few trucks were seen on the ferry, they added.
A total of 7,658 vehicles crossed the Padma using ferries on this route between 6:00am Saturday and 6:00am Sunday, said Shah Mohammad Khaled Newaz, deputy general manager of BIWTC's Aricha office.
Hasan Ali, of Rajbari, said he used to face long tailbacks on the Paturia-Daulatdia route, but he did not have to wait even for a minute for boarding a ferry yesterday.
Selim Khan, of Magura, said he used this route regularly and would do so in the future as it became easier due to less traffic.
[Our Manikganj correspondent contributed to this report.]