Moment of pride as Captain and her SI father salute each other in Rangpur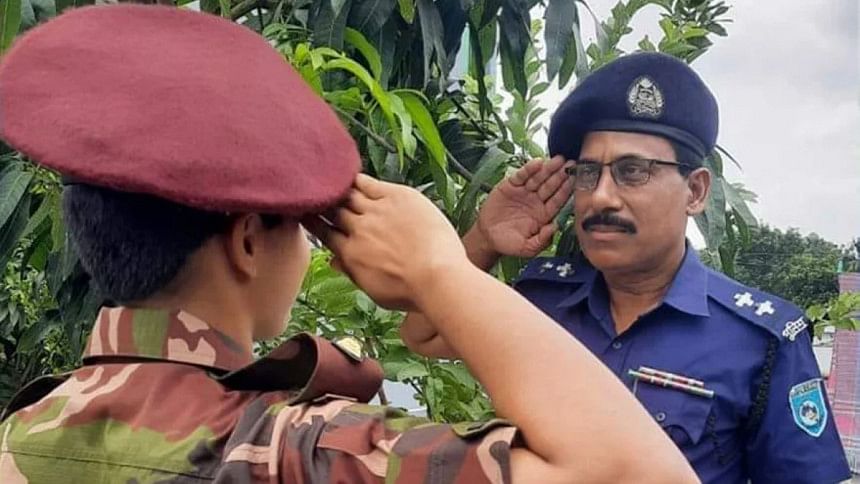 A photo of a father and daughter -- in police and army uniforms -- saluting each other went viral on Facebook yesterday, touching the hearts of netizens.
Shahnaz Parvin, the daughter, is a captain in Bangladesh Army, while Abdus Salam, the father, is a sub-inspector (SI) who is currently assigned to the Gangachara Police Station in Rangpur, our correspondent reports.
Shahnaz recently joined Bangladesh Army as a captain after completing her MBBS at Rangpur Medical College. Shahnaz, dressed in Bangladesh Army uniform, saluted her father, who was dressed in Bangladesh Police uniform, before joining her duties.
Abdus Salam, a resident of Chandrakhana village in Kurigram's Phulbari upazila, joined the Bangladesh police force in 1990 and was assigned to the Rangpur Police Training Centre.
Salam said, he worked at various police stations across the country. His three daughters are his pride and joy. Shahnaz Parvin is the oldest of the three daughters.
Smriti, his youngest daughter, captured the moment a few days ago and shared it on Facebook, where it quickly went viral, Salam said.
Abdus Salam also stated that he has always wanted his daughters to be educated and to pursue whatever career path they desire.
Everyone is very proud of Shahnaz and wants her to have a successful career in the army, Salam added.
Shahnaz's comments were not available.