Diplomats go on fun run for an end to violence against women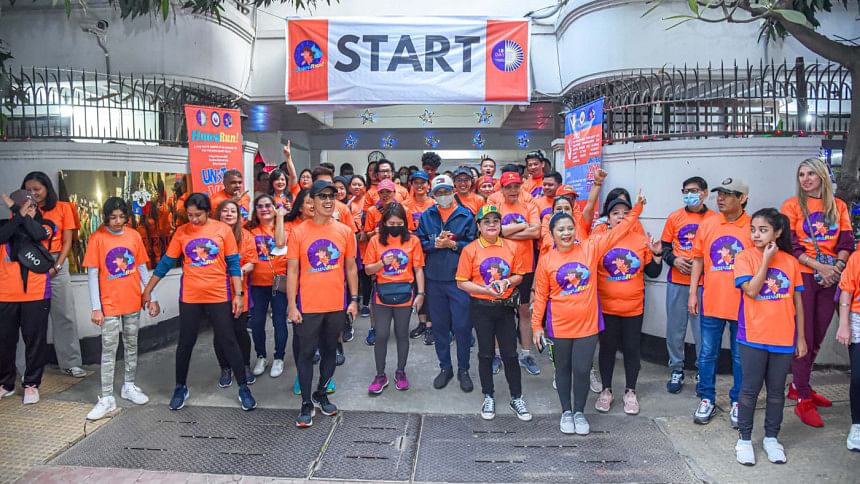 Diplomats, civil society groups and business community today took part in a fun run at Baridhara Diplomatic Zone in the city in support of the campaign demanding an end to violence against women.
It was held in line with the global 16-day campaign against gender-based violence and in support of the Philippine government's goal to protect the rights of women and girls.
Brunei Ambassador to Bangladesh Haris Othman, his wife Suraya Hj Salleh; Indonesian Ambassador Heru Subolo, his wife Sinta Ekawati; Myanmar Ambassador Aung Kyaw Moe; Vietnamese Ambassador Chen Pham Viet Chien and Philippines Embassy Charge de Affairs Christian Hope V Reyes were among abound 150 people who joined the event.
The Philippine embassy in Bangladesh organised the event in partnership with Baridhara Society, Baridhara Society Police, the Diplomatic Police, Kent Gan of Hobnob Café and Yama Hotpot, and Praava Health.
The event was titled "HuwaRUN" which in Filipino means "role model and run".
This year, the Philippines expanded its anti-trafficking in persons act to include violations committed through digital platforms, said Philippines Embassy Charge De Affaires Christian Hope V Reyes in a statement.