They brave queues, chaos
People throng TCB trucks to buy essentials at reasonable prices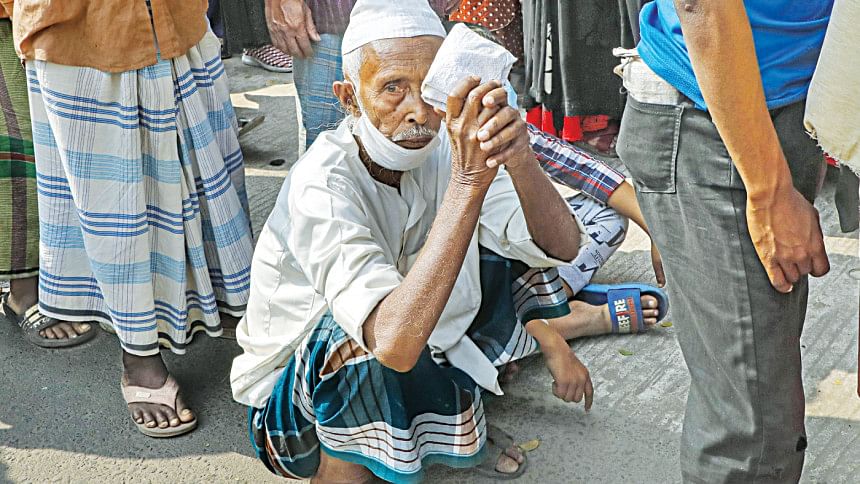 The queues and chaos in front of TCB trucks have only been growing recently due to reduced earnings of low- and middle-income groups and price hikes.
In one such queue, some 200 people were waiting for their much-anticipated TCB truck on Manik Mia Avenue around 11:00am yesterday.
The trucks of Trading Corporation of Bangladesh (TCB) offer daily commodities at a lower price.
Mujibur Rahman, who rents out four to five rickshaws for income, was one in the queue.
He said he was waiting in the line for two hours as he could not afford everyday essentials from retail markets.
"I will purchase 2 litres of oil, 2 kilogrammes of sugar and lentils each and 3 kilogrammes of onions," he added.
About the chaos there, he said, "The truck comes at 10:00am on one day and at 11:00am on another. It does not even show up on some days.
"Although it is troublesome, I still have to wait here as I do not have enough money to buy commodities from a grocer at a higher price."
Seeking anonymity, a woman who works at BTCL's (Bangladesh Telecommunications Company Ltd) telephone exchange building, said it was very difficult to make ends meet against the rising prices of essentials.
"I'm waiting in the queue after checking in to the office," she said, adding that she had been standing there for one-and-a-half hours.
 "The number of products I will buy from here will only save me Tk 200. Even that is a lot," she further said.
A similar situation was seen around 10:00am at Kazipara, with over 100 people waiting for a TCB truck.
Among them, Gulnahar Banu was carrying her three-year-old child.
"The truck arrives at different times each day. Some days the truck is so late and the line gets so long that you might end up finding very little to buy," she said.
Gulnahar said the truck generally does not arrive before 12:00 noon.
Contacted, TCB's Senior Executive and Information Officer Humayun Kabir said about 100 trucks load the goods from two warehouses and starts for different destinations.
"This activity starts at 7:00am. It often takes 11:00am or even 12:00 noon for the last track to start towards its destination," he said.
The poverty level has increased to 42 percent from 21 percent during the pandemic, according to a survey jointly conducted by the Bangladesh Institute of Development Studies (BIDS), PPRC and SANEM (South Asian Network on Economic Modeling).
Although the government denied it, a BBS (Bangladesh Bureau of Statistics) survey published in October 2020, stated that the income level of people has declined by 20 percent.
It is widely believed that the crowds at more than 80 TCB truck sale points in Dhaka are growing because of these reasons.