Rohingya Camps: Arsa, 9 other armed groups found active
Says defence ministry report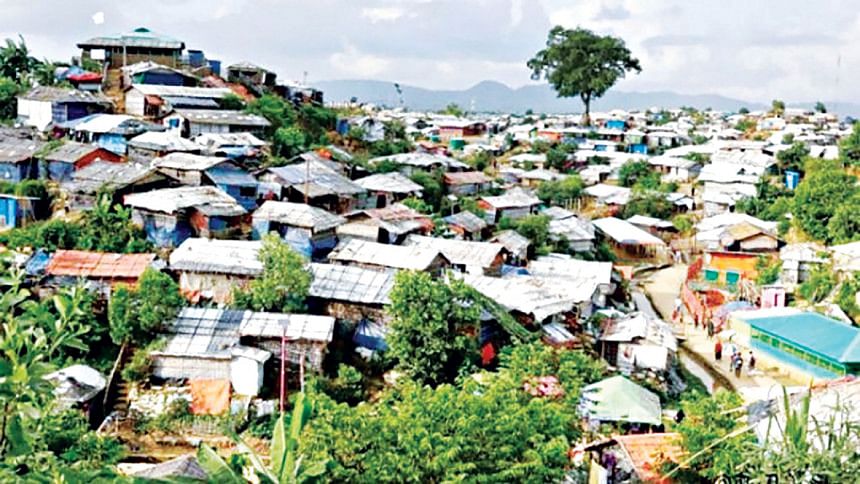 Ten terrorist and dacoit gangs, including the militant outfit Arakan Rohingya Salvation Army (Arsa), are active at Rohingya camps, according to a report placed before the parliamentary standing committee on the defence ministry.
The defence ministry prepared the report and placed it before the parliamentary watchdog at its meeting at the Jatiya Sangsad Bhaban yesterday.
In the report, it was said that Tambru's Konapara camp on the zero line has become the centre point for Arsa's organisational operations, training, and control of drug smuggling and terrorist activities due to a lack of regular patrolling and surveillance.
According to reports, 10 miscreants groups are currently active in Rohingya camps. Among them, Arsa is active in Ukhia, Balukhali, Palangkhali and Whykong; RSO and Master Munna gangs in Ukhia and Palongkhali; Islami Mahaj and Jabu dacoit gangs in Whykong and Chakma dacoit gangs, Nabi Hussain dacoit gang, Putia dacoit gang, Salman Shah dacoit gang, Khaleq dacoit gang are active in Nayapara camp.
Noting that Arsa controls most of the camps, the report said Arsa and Nabi Hussain dacoit gang often engaged in clashes over dominance resulting in incidents of murders. 
The report highlights the criminal activities that took place in 2021 and 2022. The overall crime appears to have decreased to some extent. However, during this period, the number of murders has increased. In 2021, 22 murder incidents took place. In 2022, the number of murder incidents was 32.
Meanwhile, the number of thefts and robberies decreased from 77 in 2021 to 75 in 2022, shootings from 51 to 18, kidnappings from 173 to 86, internal feuds from 11 to one, drug incidents from 268 to 249 and other crimes from 567 to 553.
The report mentions that 222 fire incidents occurred from January 2021 to December 2022. 99 of these are accidental, 60 were sabotage and 63 incidents were unknown.
In the report, it was said that Rohingya areas are vulnerable to HIV/AIDS, hepatitis C, diphtheria, etc. So far, 710 HIV-positive people have been detected in Cox's Bazar and 612 of them are Rohingya.
As of December 22, 61 Rohingya have died of HIV. More than 5 thousand Rohingya women are engaged in sex work in various hotels in Cox's Bazar.
The report also said, 95 babies are born every day in Rohingya camps. In 2025, the Rohingya population could grow to 12-13 lakh, the report said.
Ruling Awami League MP Shubid Ali Bhuiya, chief of the parliamentary body presided over the meeting. Committee members Muhammad Faruk Khan, Md Ilyas Uddin Mollah and Md Nasir Uddin participated in the meeting.