Risky bailey bridges in Bagerhat need urgent renovation
All the 14 temporary bridges on two important roads become severely damaged, accident-prone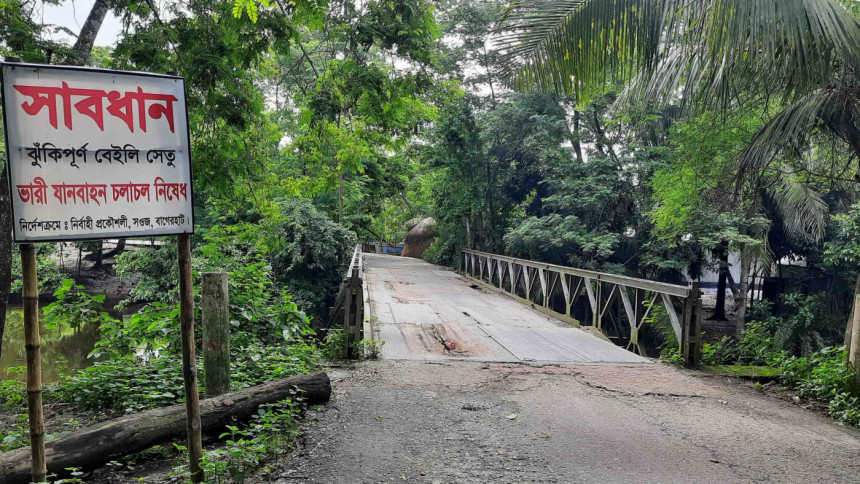 Fourteen bailey bridges over different canals on two important roads in the district have become very risky and severely dilapidated, causing frequent accidents and disrupting vehicular movements.
Locals said almost all the 14 temporary bridges, on Khulna-Mawa old highway and a regional highway connecting three upazilas with the district headquarters, have become unfit for use due to lack of renovation for long and are at risk of collapse that could cause accidents and loss of lives.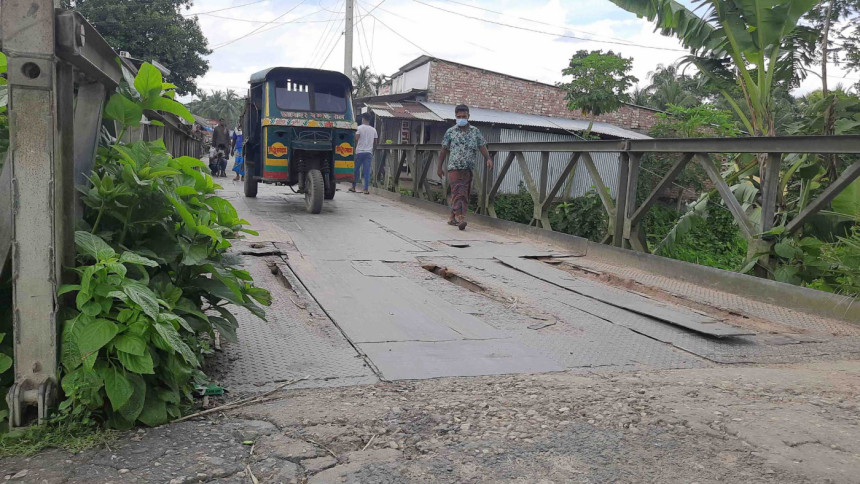 Demanding urgent renovation or reconstruction of the dilapidated bridges, they said sometimes pedestrians and light vehicles ply the bridges risking their lives. Moreover, the cost of carrying goods has also increased for the traders and local farmers. According to Bagerhat Roads and Highways Department (RHD), there are 14 bailey bridges on Khulna-Mawa old highway and signboard-bogie regional highway that connect Mollahat, Morrelgonj and Sharankhola upazilas with the district headquarters.
Condition of most of the bridges have become awfully risky as those were built over half a century ago, sources said.
Of those, the bridges near Nashukhali Bazar and Paglar Bazar, Charkulia Bridge and Haridah Bridge in Mollahat upazila, Teligati Bailey Bridge in Morrelgonj upazila and Nalbunia Bridge in Sharankhola upazila are in worst conditions and may collapse anytime.
Although, the authorities concerned have put warning sign-boards on either side of the risky bridges, heavy and light vehicles are constantly using the bridges risking lives.
Trader Mizanur Rahman of Charkulia Bridge area said Charkulia is one of the biggest markets in Mollahat and thousands of people go there every day to buy and sell their products.
But, they are facing serious trouble in carrying their goods as the bridge lies in dilapidated condition for long, he said.
Tariqul Islam, who lives near the Haridah Bridge, said "Every day, from dawn to dusk, we witness many small accidents on the vulnerable bridge."
For the benefits of pedestrians and motorcyclists, they also renovated the bridge once, by collecting donations from the local people, he said, adding, but that didn't last long.
Requesting urgent repair of the unfit bridge, van-puller Maruf of Teligati area in Morelganj said the bridge itself is a problem now as neither can they pull a van or rickshaw, nor local people can walk on it.
Rezaul Karim, chairman of Gaola union Parishad (UP) under Mollahat Upazila, said there are four bailey bridges under his union and all of those are posing risk of accidents.
Thousands of people from nearby areas use the bridge, taking risk of accidents, he added.
He also urged the authorities concerned to reconstruct or repair the bridge in soonest possible time.
Contacted, Bagerhat RHD Executive Engineer Mohammad Farid Uddin said they have already visited the sites and issued work orders for the 14 bailey bridges.