Militants held in hills: Educated, yet they chose the wrong path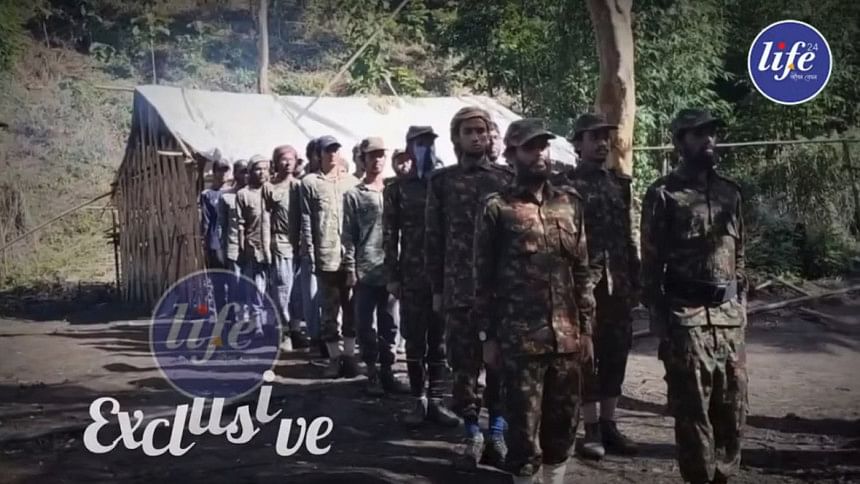 At least seven of the 17 militants arrested in Bandarban on Tuesday following a shootout have good general educational backgrounds. Some of them either hold degrees in business administration and psychology or study undergraduate courses, including engineering.
Rapid Action Battalion yesterday disclosed details of the militants and described how they were motivated to militancy and joined newly formed militant outfit Jama'atul Ansar Fil Hindal Sharqiya.
The Rab also shed light on who motivated the militants, when they fled their homes for Chittagong Hill Tracts and how they were trained in arms and explosives.
Analysing the details, it is found that one of the arrestees has graduated in business administration, one in psychology, two are students of computer science and engineering, one of civil engineering at a polytechnic institute and two others enrolled in honours courses.
Seven of the arrestees have madrasa educational backgrounds. Nine of the arrestees used aliases like the names of Bawm community people to hide their real identities.
The Rab on Tuesday also arrested three members of Kuki-Chin National Front (KNF), an armed group in the CHT, following the daylong gun battle in Remakri bridge area of Bandarban's Thanchi upazila.
The elite force seized 11 firearms, including two semi-automatic AK-22 rifles and nine guns, 54 AK-22 rifle bullets, 90 cartridges, materials used for making explosives, syllabus for combat training, and two binoculars after the gunfight.
Commander Khandaker Al Moin, Rab's legal and media wing director, yesterday briefed reporters at the Bandarban Rab camp and disclosed details of the arrestees and seized items.
Of the 17 arrested Jama'atul Ansar members, five are from Patuakhali, four from Cumilla, two from Barishal, one each from Barguna, Jhalakathi, Munshiganj, Tangail, Habiganj and Magura.
The arrestees are As Sami Rahman alias Saad,19, Sohel Mollah alias Saifullah, 22, Al Amin Fakir alias Mostaq, 19, Zahirul Islam alias Omar Farooq alias Sangwai, 27, Miraz Shikdar alias Ashraf Hossain, 26, Riaz Sheikh alias Jayed, 24, Obadullah alias Sakib, 20, Jewel Mahmud, 27, Elias Rahman alias Thanboang, 32, Habibur Rahman alias Mora, 23, Sakhawat Hossain alias Rising, 21, Abdus Salam Raki alias Dunchuk, 28, Zobair Ahmed Aiman alias Renal, 29, Shamim Hossain alias Chamdur,26, Tawabur Rahman alias Maobok, 20, Mohammad Mahmud Dakua alias Haka, 20, and Mohammad Abu Huraira alias Saiso, 22.
The arrested KNF members are Lal Mole Siam Bom, Flag Cross and Malsam Pankua.
Rab officials said Elias Rahman was inspired to join Jama'atul Ansar by its ameer Mahmud through a messaging app when he was an expatriate in Malaysia. He returned home in October 2021 and left for hills in November that year with a group of 15 militants.
Sohel Mollah, a student of computer science and engineering, was inspired by Rakib, finance and media wing chief of the militant outfit, and joined it.
He used to earn money for the organisation using a height and weight measuring machine on the footpaths of the capital before leaving for the hills on September 18 last year with a group of 12 youths, officials added.
Zobair Ahmed studied at a Quwami madrasa and took part in the Hefajat-e-Islam's demonstration at the capital's Shapla Chattar on May 5 in 2013. He was motivated by the outfit's ameer and left for the hills in November 2021.
During his stay in the hills, Zobair talked with his family members twice and told them that he was in Saudi Arabia, said a Rab official.