Kushtia dam collapses again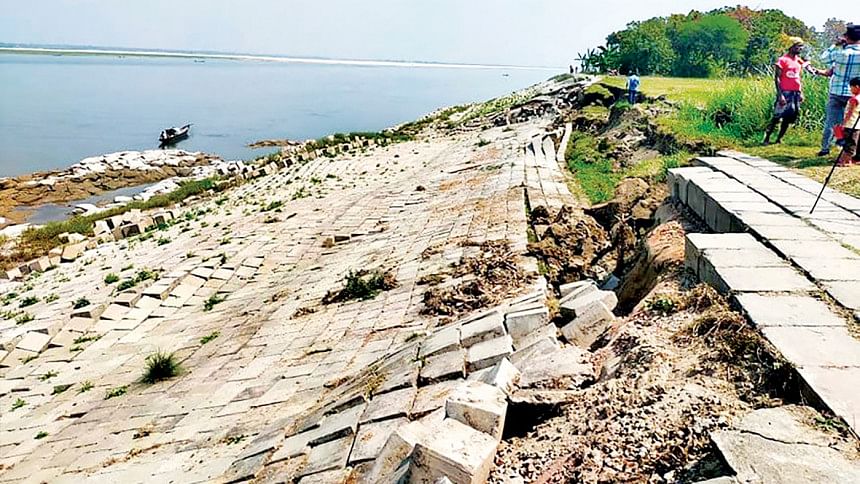 About 100-metre of Rabindra Kuthibari protection embankment on the Padma river in Kushtia has collapsed.
This is the second time the embankment has gone into the Padma since its construction.
In 2016, the 3.72-km-long embankment named 'Rabindra Kuthibari Conservation Dam Project' was constructed in Shilaidaha at a cost of Tk 176 crore.
Sources said within two months of the completion, 150 metres of the dam in Kaloa area was washed away by the river in 2016. Later, the broken part was built.
According to the Water Development Board (WDB), this time crack appeared on the embankment in Komarkandi area on March 1 and it collapsed at the same night.
After visiting the area on Wednesday, it was seen that the part above the embankment has gone up to 100 meters along with the soil.
Afshar Uddin, executive engineer at WDB in Kushtia, said such incidents could happen if holes develop on the top of the dam after the rains.
He said he is aware of the matter and has already informed the higher authorities. A team from Dhaka will visit the spot soon.  There would be no problem if the repair works were carried out before the monsoon, he added. 
Local WDB authorities said initiative to construct the dam was very important to protect the historic Kuthibari in Shilaidaha where great poet Rabindranath Tagore penned some of his most memorable, as it had been at risk of the river erosion.
The government gave priority for construction of a concrete embankment to protect the property besides homes, business establishments and farmlands of around 21 villages under two unions of Kushtia's Kumarkhali upazila.
A vast hectares of farmland were lost to the river. Educational, government and private institutions and religious sites were also under erosion threat.
Bangladesh Army and Bangladesh Diesel Plant Limited jointly carried out the construction work of the embankment in September 2016.