Flood damaged Aush paddy of 22,000 hectares cropland so far
Says agriculture minister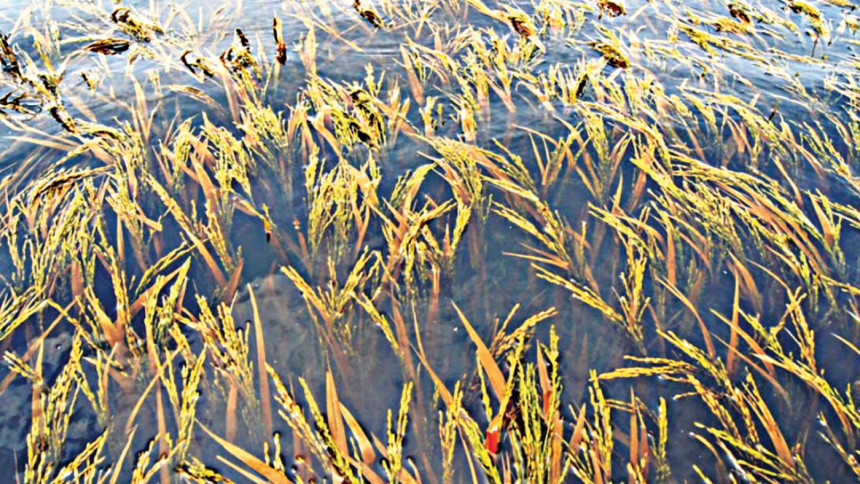 About 22,000 hectares cropland of Aush paddy have been damaged so far due to recent flood situation in the country, Agriculture Minister Abdur Razzaque said yesterday.
"We targeted 13 lakh hectares cropland [for Aush cultivation]. So far, saplings of Aush paddy have been planted in 11 lakh hectares [of land]," he said.
He said of around 3.87 lakh hectares of various vegetable cropland, around 5,000 to 7,000 hectares were damaged due to the flood.
He was addressing a seminar on "Agriculture and Media in the Face of Global Food Security" organised by Agriculture Information Service at the capital's Krishibid Institution Bangladesh.
The minister said at present, there is no crop in the field to harvest in Sunamganj district while there is few to harvest in Sylhet district, adding they were monitoring the situation.
He said there was not much damage done to seedbeds. The government has kept sufficient fund ready to bring damaged seedbeds under rehabilitation programme.
Besides, sufficient amount of seeds have been preserved, he said. He, however, expressed concern that deteriorating and prolonged flood situation may make it challenging for Aman cultivation in the days to come.
Presenting a keynote paper, Prof Emeritus MA Sattar Mandal of Agricultural Economics at Bangladesh Agricultural University said Bangladesh's domestic food production is "reasonably okay" while good yield of next Aman season depends on calamities.
He said recent food price inflation is mainly caused by rising wheat and edible oil prices.
Information Minister Hasan Mahmud said media can unearth different issues and build awareness regarding food security.
Agriculture development activist and media personality Shykh Seraj suggested for introducing liquid fertiliser in the country.