A flimsy bamboo bridge connects two districts
Concrete bridge remains unrepaired for five years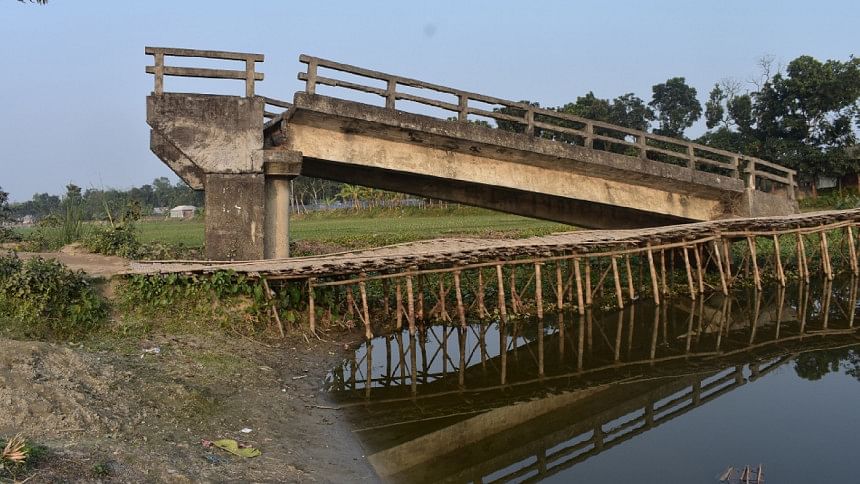 In 1997-98 fiscal, a bridge was constructed over Bhulli river, connecting Nilphamari and Dinajpur. However, over half of the concrete structure washed away into the river following a flood in 2017.
Since then, locals are commuting on a narrow, makeshift bamboo bridge risking their lives, as the damaged concrete bridge hasn't been repaired even after five years.
Few months ago, a motorcyclist succumbed to his injuries after falling into the river while crossing the bamboo structure.
Only pedestrians and light vehicles can use the makeshift bridge, constructed beside the concrete one. Heavy vehicles have to travel an additional five kilometres to reach the other side, taking an alternative route.
Prosanto Kumar Roy, chairman of Nilphamari's Khokshabari union parishad, said it is baffling that two vital northern districts are connected just by a narrow bamboo bridge. "How long does it take to repair a small concrete bridge?"
Visiting the area yesterday, this correspondent noticed that five educational institutions are situated on both ends of the bridge, where around 4,000 students in total study.
Headmaster of Nilphamari's Kukrardanga High School Md Mahatabuddin said, "Several hundred students of nearby villages in Dinajpur come to our school by crossing the narrow bamboo bridge. Many have fallen into the river over the years and had to be rescued by locals. A serious accident can happen any time."
Altaf Hossain (45), a farmer of Paschim Basuli village, said, "Like me, many farmers of the bridge's west end have crops on the east side. In absence of a permanent bridge, we face immense trouble to carry harvested crops."
Monaganj Abdul Alim (55), a grocer of Nilphamari, said he buys goods for his shop from Dinajpur and has to pay more to bring them back to Nilphamari through an alternative route.
Local Government Engineering Department (LGED) of Khansama upazila are the custodians of the damaged bridge.
Contacted, LGED's Khansama upazila engineer Shah Obaidur Rahman said, "We've already sent a project proposal to construct a new concrete bridge over Bhulli river, which is waiting for approval."