Finally free from the clutches of influentials
Local admin now planning to make it a heritage site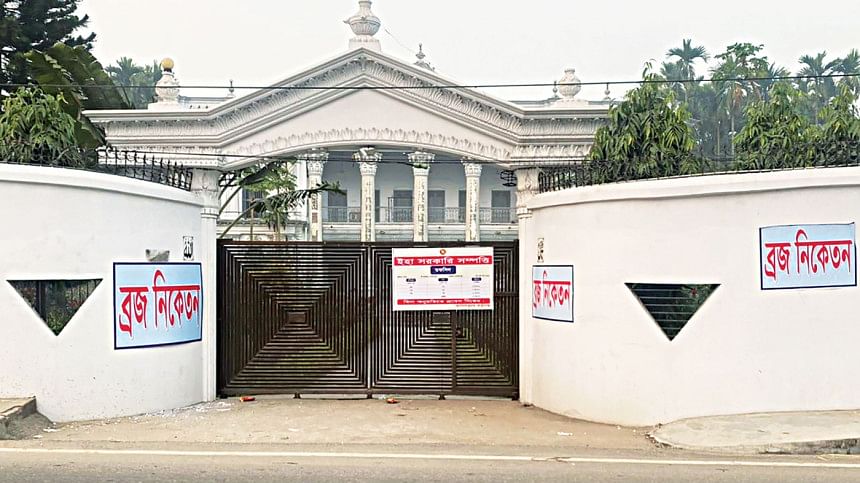 Dhaka district administration is planning to make the historic Brajo Niketan, located in Dhaka's Nawabganj, a heritage site, as authorities recently retrieved it from three decades of illegal occupation.
The government recovered the century-old British-era palace, which stands on 1.55 acres of land in Kalakopa area, from the clutches of a former district judge and his relatives on December 31.
"We have already initiated the process to declare Brajo Niketan as a heritage site through the cultural affairs ministry. Moreover, we have a plan to develop this place as a tourist attraction," Mohammad Mominur Rahman, Dhaka district deputy commissioner, told The Daily Star.
"Some vested quarters had unlawfully occupied this property. We decided to recover this establishment to uphold and preserve the history and culture of our country," he said.
Local influentials had been occupying the palace, originally belonging to a zamindar, for around three decades, locals told The Daily Star.
The grabbers then named it "Judge Bari", they said.
The locals are delighted with the recovery but couldn't express their feelings in public, as the illegal occupants are extremely influential, said a lawyer who lives near Brajo Niketan.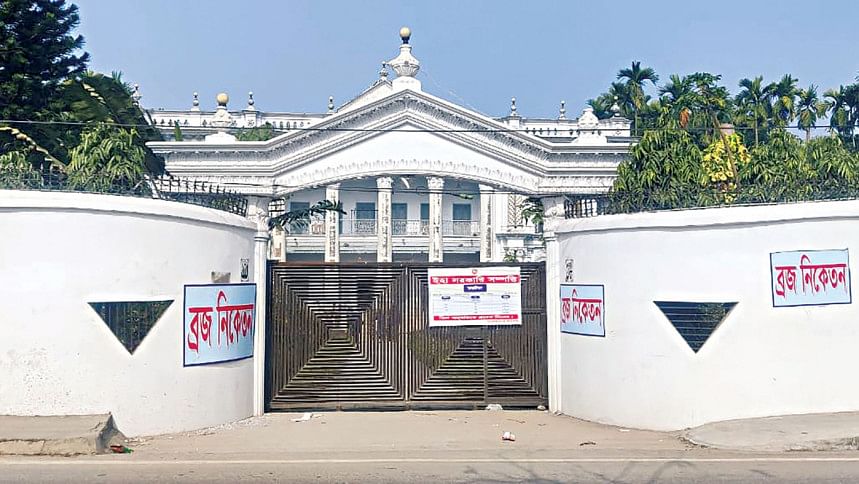 The palace should be declared as a heritage site or be made into a museum, he added.
Wishing anonymity, a local school teacher said the grabbers renovated the palace after occupying it.
Nawabganj Upazila Nirbahi Officer Md Matiur Rahman told The Daily Star, "Due to their power and political influence, Dhaka district BNP president Khandaker Abu Ashfaq, his brothers Abul Hossain, who is a retired district judge, and Abul Kalam Khandaker, as well as other relatives had illegally occupied the palace for a long time."
The occupants made fake documents to grab this historic palace and its adjacent land, he said. "A case filed by the occupiers is now pending with the Vested Property Return Tribunal. Until the case is disposed, they cannot claim ownership of the property."
"Owners of the latest land record and their heirs all migrated to India during partition. It it now enlisted as the government's vested property," the UNO added.
Taimur Islam, chief executive of conservation organisation Urban Study Group, said the authorities should restore the building to its original design first and develop it as a tourist spot.
"Apart from Brajo Niketan, there are several historic structures at Kalakopa. The authorities should take steps to preserve them. After doing so, they can declare the area as a 'heritage village'," said Sazzadur Rasheed, chairman of the architecture department of Primeasia University.
"There are more than 2,000 acres of vested property in Nawabganj now. These properties include some historic structures," said Assistant Commissioner (Land) Md A Halim.
"From July to December last year, some 35 acres of vested property was recovered from illegal occupants and leased as per the law. The government collected about Tk 27 lakh in revenue from this in the last six months," the official added.