Departure of a true luminary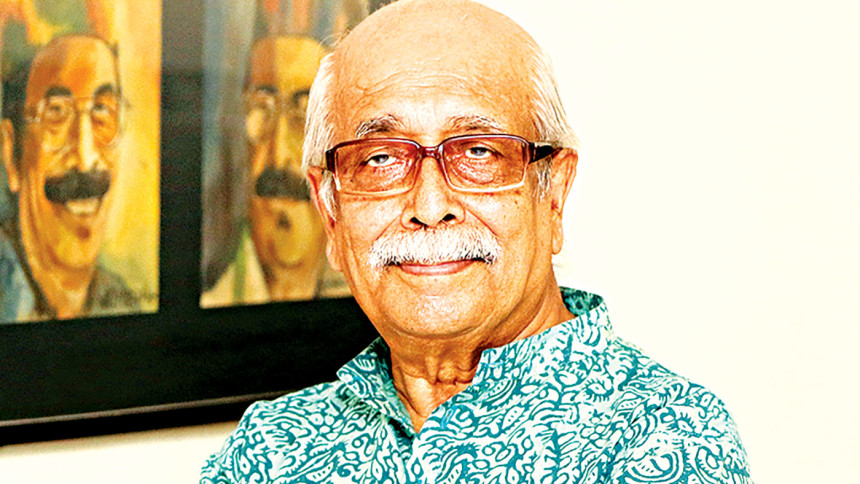 It is not often that an individual comes along with so many accomplishments and accolades -- that even a small sample size has more impact than what many achieve in their entire lives -- all the while being uncannily humble, open and beloved by fans and fellow artistes alike.
Such was the allure of Dr Enamul Haque.
The eminent actor, playwright, academician and Ekushey Padak awardee passed away yesterday around 2:30pm at his Baily Road residence.
He was 78 years old.
The news was confirmed to The Daily Star by his daughter, renowned actor and director Hridi Haq.
Prime Minister Sheikh Hasina and President Abdul Hamid expressed their shock and condolences in separate statements yesterday, citing the actor's death as a great loss to the cultural arena of the country.
 "I cannot believe that he is no more," said distinguished actor Abul Hayat.
"We talked over the phone just 10-15 days ago. I am shocked and I do not know how to take this. He was my friend for 55 years,
"I have never seen a humbler person... His ability to befriend people was unmatched. Everyone loved him. I just cannot believe that we lost him. I haven't just lost a friend but also a great artiste and a confidante."
Eminent cultural personality and Member of Parliament Asaduzzaman Nur told The Daily Star that just before the liberation war, Enamul's house was where they all practiced theatre.
"He was immensely patriotic and brave," he said. "During the movement against Ershad, he and his wife were at the forefront. My kids grew up in front of him, and we always considered each other no less than family. We lost a great soul."
Enamul Haque was born in Feni Sadar's Motobi area on May 29, 1943, to father Obaidul Haque and mother Razia Khatun. He completed his SSC from Feni Pilot High School and HSC from Notre Dame College in Dhaka.
He completed his bachelor's and master's in chemistry in 1963 and 1964 respectively, from the University of Dhaka.
He joined BUET's department of chemistry as a lecturer in 1965.
He earned his PhD degree from the University of Manchester in 1976 in the field of synthetic organic chemistry.
Enamul worked as a post-doctoral research fellow in medicinal chemistry there from June 1976 to May 1977 and served for 15 years as the Dean of the Department of Chemistry in BUET, and two years in the same university as the Dean of Engineering.
Dr Enamul Haque's first acted stage play was "Bura Shaliker Ghare Ro", while "Bibaho Utshab" was the first play that he wrote. In 1968, he wrote his first television drama, "Onekdiner Ekdin",  which was directed by Abdullah Al Mamun.
"He was a gentleman and a model father. Of course, he was incomparable as an artiste, but what made him special was his politeness and humility. He instilled those values in his children as well." said veteran actor Dilara Zaman.
Noted thespian and actor Mamunul Haque said, "I first met him in 1968. He was an incredibly knowledgeable person and always wanted to learn more. His entire family is comprised of artistes and it's not surprising, given his talent. He acted in my troupe, Aranyak Natya Dal's play 'Kobor', originally by Shahid Munir Chowdhury. I directed it that time in 1972. He was absolutely brilliant. He is no more, but his legacy will live on."
Renowned actor Suborna Mustafa told The Daily Star that she had a hard time coming to terms with this loss. "He was my father's friend, so I never got to call him 'bhai' like others in the industry. I always called him 'sir'. Knowing that I can't meet him anymore really hurts."
He debuted on television with the drama "Mukhora Romoni Boshikoron", produced by Mustafa Monwar. Till date, he has written over 60 television dramas and was also a founding member of legendary theatre troupe, Nagorik Natya Sampradaya.
In 1995, he opened his own theatre troupe, Nagorik Nattyangan.
His most famous written work include "Onekdiner Ekdin", "Sheishob Dingulo", "Nirjon Shoikot", and "Ke Ba Apon Ke Ba Por". His notable theatrical productions include "Bibaho Uthshob" and "Grihobash".
Some of the most renowned acting appearances by Dr Enamul Haq include "Emiler Goenda Bahini", "Ei Shob Din Ratri", "Ayomoy", "Brihonnola", "Shuktara" and "Amar Bondhu Rashed".
The actor was working on his autobiography, as confirmed in a previous interview with The Daily Star.
His Namaz-e-Janaza  will take place during Zuhr prayers today, after which he will be laid to rest at the capital's Banani Graveyard in the capital.
He is survived by his wife, noted actress Lucky Enam and two daughters, Hridi Haq and Proitee Haq. Hridi and Proiti are also talented actors. Hridi's husband, Litu Anam annd Proitee's husband, Shazu Khadem, are also renowned actors.