Comments on CCC mayor: Kordata Surakhkha Parishad face off mayor's followers in thoroughfares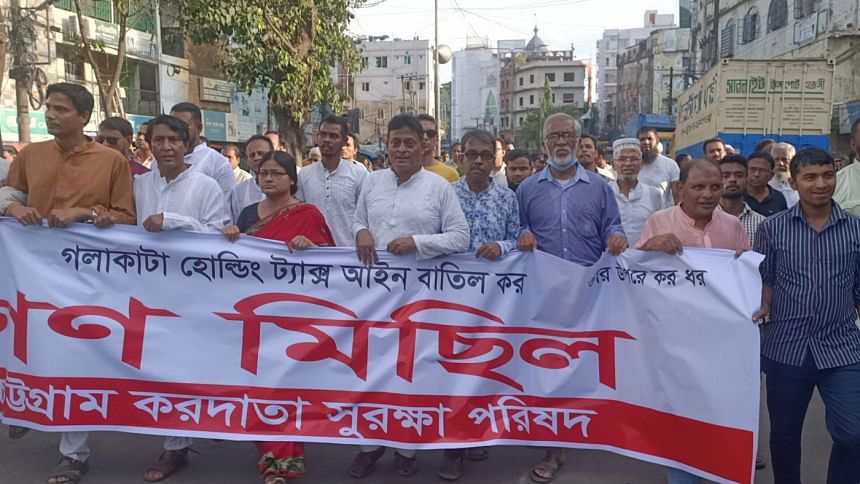 The Kordata Surakhkha Parishad Chattogram face off the followers of Chattogram City Corporation (CCC) mayor Rezaul Karim Chowdhury in the port city's thoroughfares centring a recent speech of the parishad president about the mayor.
Rezaul's followers first went to file case against the parishad president Nurul Absar under Digital Security Act. General diary was also registered in police station against some other leaders of the parishad. Several hundred leaders and activists of Bangladesh Chhatra League (BCL) gathered in front of Chattogram Press Club and formed a human chain this afternoon (September 23, 2022) at Chattogram Press Club demanding arrest and punishment of Absar.
BCL activists from Government City College, Omar Gani MES College, and Hazi Muhammad Mohsin College mostly took part in the rally, sources told our Chattogram staff correspondent.
The speakers from the rally demanded the administration for immediate arrest of Absar and warned to resist Kordata Surakhkha Parishad leaders in the thoroughfares, if they make any "derogatory" comment about the mayor in future.
Meanwhile, the Kordata Surokhkha Parishad could not hold their pre-scheduled rally in front of Chattogram Press Club today due to the programme of mayor's followers.
The parishad organised a mass procession starting from Kadamtoli intersection in the city that paraded some thoroughfares in the city. The procession was supposed to end in front of Chattogram Press Club followed by a rally.
Contacted, Amir Uddin, general secretary of the parishad, who is also an associate professor of Chittagong University, said their procession was heading to Chattogram Press Club but in the way, police requested them not to go to the area in apprehension of creating untoward situation.
"As police requested us not to go to the press club area, we concluded the procession in Kadamtoli area," he said.
The Kordata Surakhkha Parishad Chattogram, a citizens platform to protect the rights of tax payers in Chattogram, has been organising movements for over a month alleging a multifold increase in holding tax due to re-assessment by CCC.
It all started over a speech of Absar about CCC mayor in a meeting organised by the parishad at Pashchim Madarbari on September 19 demanding to stop the initiative of realising re-assessment of holding tax.
A video went viral on social media where Absar, in his speech, warned the mayor to drive out of the city if he does not stop the initiative to realise holding tax as per "re-assessment".
A case under Digital Security Act was also filed against Absar for his speech against the mayor.
Regarding the parishad president's speech about the mayor, Amir said, "We have expressed our regret for this. If the mayor sits in the discussion with us, we will also express our regret to him for the speech but for the sake of Chattogram's residents, we will not make any concessions in our demands."