Bangladesh's greenhouse gas emission
218PC RISE IN 27YRS
Says global report; 77pc of country's energy reliant on fossil fuels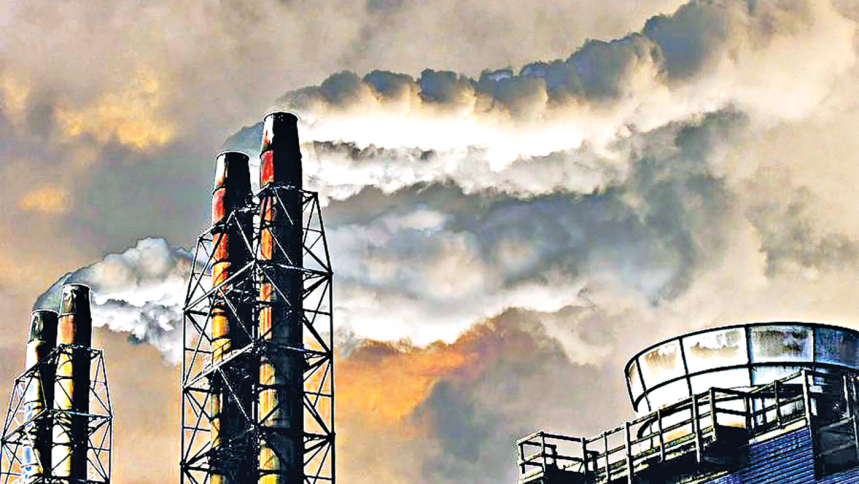 Bangladesh has seen a sharp rise in greenhouse gas (GHG) emissions over the last 27 years, as the country depends largely on fossil fuels for energy, says a report of Intergovernmental Panel on Climate Change's (IPCC) Working Group III.
The rise is a staggering 218 percent over the period, according to the report.
This is a grim picture of the narrowing window to limit global temperature rise to 1.5 degrees Celsius.
The report, published yesterday, shed light on Bangladesh's reliance on coal, gas and oil, which still make up 77 percent of the country's energy mix.
Electricity generation in Bangladesh is heavily dependent on fossil fuels, with 79 percent of electricity generated from natural gas, reads the report, prepared by the world's leading climate scientists.
While the rollout of renewables has increased over time, with the addition of solar power, the much more prevalent use of natural gas has resulted in the share of renewables in the overall mix decreasing by approximately 8.6 percent between 2014 and 2019, it said. The report, however, said the window to limit the rise to 1.5 degrees Celsius has not closed yet.
Globally, human-induced GHG emissions reached 59 billion tonnes in 2019, the highest level since 1990, primarily driven by fossil fuels. About 34 percent of human emissions are from the energy sector; 24 percent from industries; 22 percent from agriculture, forestry and land use; 15 percent from transport; and six percent from buildings, the report said.
AKM Saiful Islam, professor of Institute of Water and Flood Management at Bangladesh University of Engineering Technology (Buet), said a more rapid, deep and immediate reduction of global GHG by 43 percent by 2030, and methane reduction by 34 percent by the aforesaid timeframe would be able to stabilise global temperature rise to 1.5 degrees Celsius by the end of this century.
The report finds that the world's richest countries are overwhelmingly the highest emitters of GHG. The countries that emit the least continue to be the most vulnerable to impacts of climate change.
In 2019, the least developed countries are estimated to have produced just 3.3 percent of global GHG emissions.
Referring to the Paris Agreement, the report says since the agreement, climate change has topped the agenda of politicians and the media, but it is still far from gaining the level of attention and action the crisis demands.
The Nationally Determined Contributions (NDCs), announced prior to COP26, would likely lead to 1.5 degrees Celsius increase during the 21st century. With no increased ambitions after 2030, the world might even see global temperatures rise by 2.8 degrees Celsius by 2100, the report warns.
The report emphasised on investment in renewable energy, saying that net-zero government and corporate pledges are booming, but a stronger emphasis on rapid, near-term action is needed. The scale of the task is vast and transformative, but it is possible, with technological options already available.