India proposes Bangladesh to jointly produce defence equipment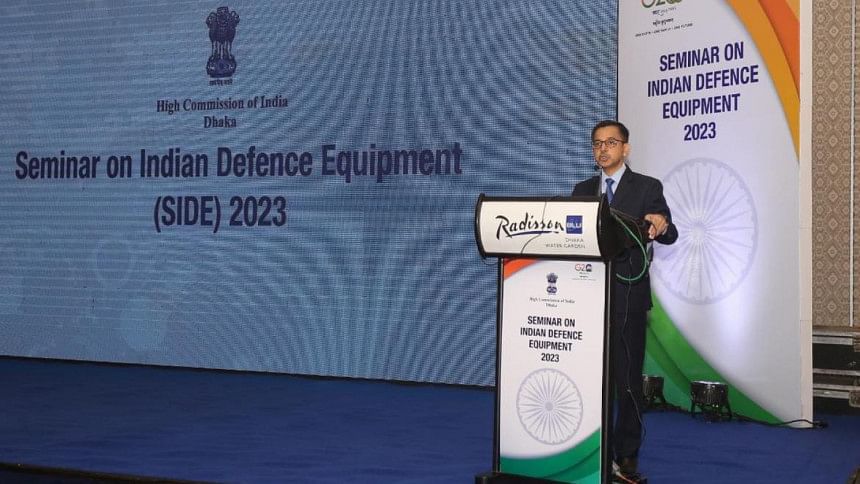 Indian High Commissioner in Dhaka Pranay Verma yesterday proposed Dhaka to develop and produce defence equipment jointly while inviting Bangladesh Armed forces to benefit from India's cost-effective and high quality military gear.
The envoy also expressed India's readiness to partner with Bangladesh in its defence modernisation through the $500 million Defence Line of Credit extended by New Delhi to Dhaka earlier.
Verma made the remark while presenting a keynote speech at a seminar on Indian Defence Equipment (SIDE) in Dhaka as part of the initiative to promote defence industry cooperation between India and Bangladesh, said a press release issued by Indian High Commission here.
The envoy urged the defence industry on both sides to take full advantage of the Defence Line of Credit.
The high commissioner identified defence industry cooperation between India and Bangladesh as an emerging focus area of their defence partnership.
He highlighted the accomplishments of the Indian defence industry over the last nearly a decade driven by Indian prime minister's vision of "Make in India, Make for the World".
Chief of General Staff of Bangladesh Army Lt Gen Ataul Hakim Sarwar Hasan also made a separate keynote speech.
The Bangladesh Army chief praised India's defence manufacturing capabilities and proposed closer cooperation between the two sides for closer defence industry partnership.
Several key Indian defence manufacturers, from both public and private sectors, participated and made presentations on their defence products and platforms.
Representatives from Bangladesh Armed Forces, paramilitary forces, as well as law enforcement agencies were present.
India and Bangladesh have close and friendly defence relationship that covers diverse areas of cooperation and is guided by the spirit of their shared sacrifices during the Liberation War of 1971.