Bloom and grow, forever
Gaibandha man plants tree for every newborn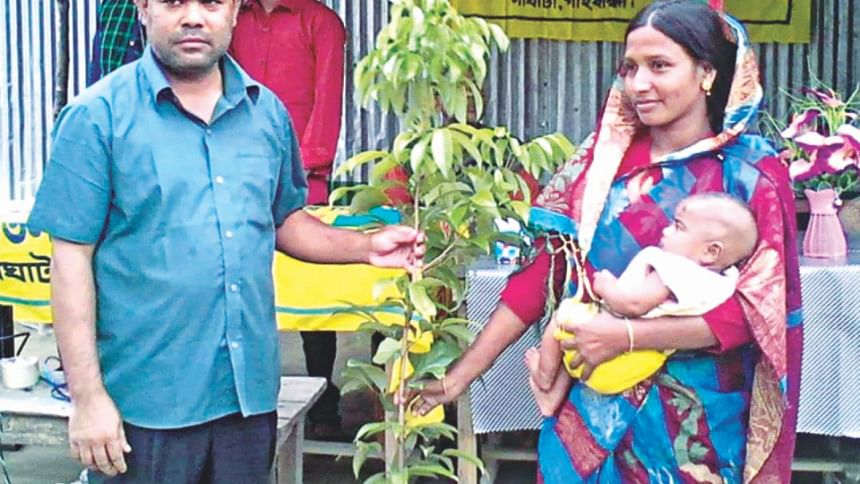 In and around Mathorpara village, in Gaibandha's Shaghata upazila, it's become usual for every newborn child to be welcomed into the world with the planting of a tree. The tradition began three years ago by 28-year-old visual artist Gopal Chandra Barmon, as an extension of a tree-planting hobby carried from boyhood.
"A baby and a sapling have something in common," Gopal says. "Both are free from wrongdoing. I hope that each baby, like each tree, will keep that same reputation as they grow. I want the trees to inspire the children to become enlightened adults.
  "At first I planted trees at people's homes in my village," he explains. "Subsequently people in adjoining villages came to know of it. Sometimes people find me to say that a baby has been born, and invite me to visit that home to plant a sapling."
Gopal is a final-year student of Bogra Art College with ambition. He has established a kindergarten in his locality that provides education for more than 350 children, especially those from the most struggling families, at minimal cost. He is involved in social work activities including advocating against early marriage, dowry and polygamy: the various vices that he believes cripple village communities. Alongside his tree-planting, most of his income is spent thus.
"I buy saplings from different nurseries and stockpile them in our school grounds ready for free distribution," he says. "Sometimes I give trees to our students too."
Unsurprisingly for somebody who has been planting trees more randomly for most of his life, the thought occurred to Gopal to start his own nursery. He did that but as a business it was not a success. Gopal couldn't help himself. He gave too many of his trees away instead of selling them.
"Nobody inspired me to plant trees at the homes of newborns," he says. "It was just an idea that I had. I want families from remote areas to become enlightened citizens."
Gopal has planted over two thousand valuable timber and fruit tree saplings for newborns thus far. It's a tradition he hopes to maintain until death. "Nothing gives me greater satisfaction than to see how eagerly the people in a household, especially the children, accept the sapling to be planted in their yard."