Asia's rising appetite for meat, seafood will 'strain environment'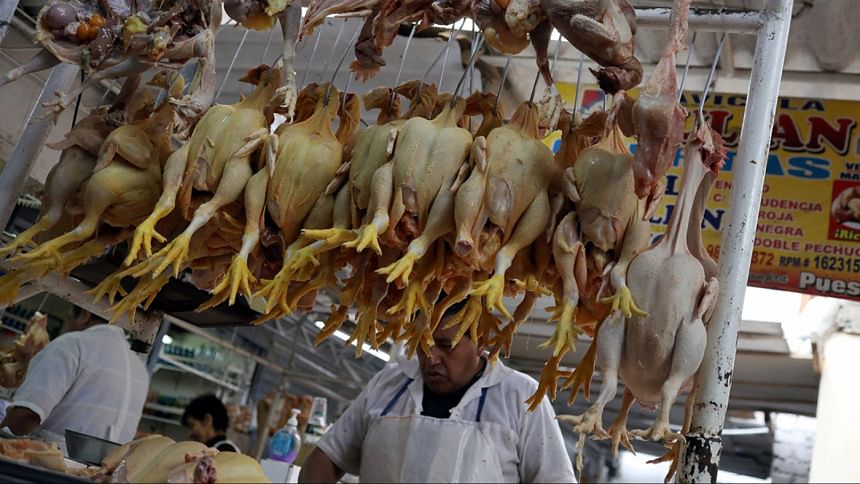 Asia's growing appetite for meat and seafood over the next three decades will cause huge increases in greenhouse gas emissions and antibiotics used in foods, researchers said on Tuesday.
Rising population, incomes and urbanisation will drive a 78 percent increase in meat and seafood demand from 2017 to 2050, according to a report by Asia Research and Engagement Pte Ltd, a Singapore-based consultancy firm.
"We wanted to highlight that, because of the large population and how fast the population is growing, it is going to put a strain on the environment," said co-author Serena Tan.
"By recognising this and where it comes from, we can tackle the solutions," she told the Thomson Reuters Foundation.
With supply chains ramping up to meet demand, greenhouse gas emissions will jump from 2.9 billion tonnes of CO2 per year to 5.4 billion tonnes - the equivalent of the lifetime emissions of 95 million cars - the researchers said.
A land area the size of India will be needed for additional food production, according to the report, while water use will climb from 577 billion cubic meters per year to 1,054 billion cubic meters per year.
The use of antimicrobials - which kill or stop the growth of micro-organisms, and include antibiotics - will increase 44 percent to 39,000 tonnes per year, said the report, which was commissioned by the Hong Kong-based ADM Capital Foundation.
Overuse and misuse of antibiotics in food is rife in Southeast Asia, the Food and Agriculture Organization (FAO) said this year, warning of serious risks for people and animals as bacterial infections become more resistant to treatment.
Growing urban areas contribute to the rising demand for meat and seafood, because people there usually have better access to electricity and refrigeration, said David Dawe, a senior economist at the FAO in Bangkok.
"But income growth is the big driver," he added.
Indonesia, Cambodia, Laos, Myanmar and Pakistan are among nations likely to contribute most to the rise in meat and seafood consumption, while countries with ageing populations, like China, will likely limit growth, Tan said.
Food producers can increase efficiency by implementing rainwater harvesting, using sustainable animal feed and capturing biogas from cattle, Tan said.
Regulators, consumers and investors can also pressure restaurant chains and producers to limit the use of antibiotics in meat supplies, she added.
At meal times, consumers can also choose plant-based foods made to look like meats as an alternative, Tan said.
"You have a lot of people in Asia who don't get that great a diet so animal-sourced food intake will increase," said the FAO's Dawe.
"In many ways it's a good thing for nutrition, but it does raise environmental issues."