Mango festival and cultural programme in Chapainawabganj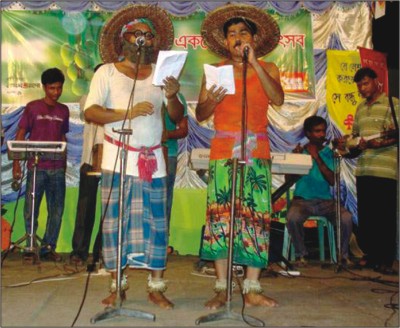 A two-day mango festival and cultural programme was held in Chapainawabganj with much festivity recently. Around 150 varieties of mangoes were put up on display at different stalls.
Bandhu Sabha, an organisation of The Daily Prothom Alo organised the fair and cultural programmes at Horimohn Government High School premises with the financial help of a leading mobile phone company AKTEL.
Regional officer, Rajshahi of AKTEL Mostafizur Rahman attended the inaugural ceremony as chief guest; while Golam Rashid, president of Chapainawabganj district Bandhu Sabha chaired the event. Former Education Officer of Rajshahi Altab Uddin; Head Master of Horimohon Government High School, Nasir Uddin; social activists Shafiqul Alam, Naimul Bari and Monwora Begum addressed the programme.
The speaker said that locals take pride in the popularity of their mangoes, gombhira, alkap and traditional indigenous dance and music. They however lamented the fact that huge quantities of mangoes worth crores of Taka are damaged every year due to lack of fruit processing industries. The speakers also urge to government to set up agro-based industries in the district.
A discussion on Liberation War and Chapainawabganj's heritage were also held at the fair premises. Indigenous freedom fighter Shayam Murmu and other freedom fighters participated in the discussion.
Songs, recitation and gombhira performed by different young artistes and other attractions were indigenous dance and music performed by students of Atahar adibasi primary school of sadar upazila. Prizes and gifts were distributed to the winners and participants in the festival.
According to the organisers the mangoes on display had interesting names such as Kuapahari, Modhuchuski, Jamai shundori, Kalibogh, Dudhsor, Ranisundori, Boubhulani, Khatasi, Jhujhurki, Delshad, Rosbhog and more. Enthusiastic visitors thronged the fair.
The festival attracted thousands from different parts of the district. Many of them expressed the hope that such fairs would be a regular feature. They added that all stops must be pulled out to keep this valuable heritage alive.
Aminul Haque Abir, programme organiser said that they hope to arrange the event on a larger scale in future.