NGOs urge Japan to save Tamil civilians in Lanka
Army advances to last Tiger pockets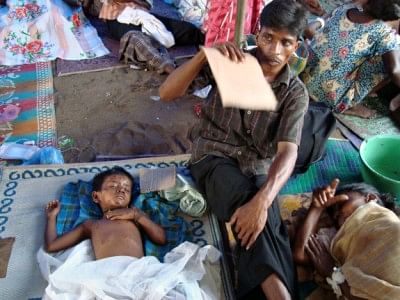 Japan must "shoulder its responsibilities" and use its leverage to prevent a civilian bloodbath in Sri Lanka's ethnic conflict, human rights and conflict prevention groups said yesterday.
Japan, which is Sri Lanka's largest aid donor and holds two thirds of the island's foreign debt, needs to "play a more active role" in confronting the worsening humanitarian crisis there, the groups said.
The appeal was made in a joint letter to Japanese Prime Minister Taro Aso from the heads of Human Rights Watch, the International Crisis Group, Amnesty International, and the Global Centre for the Responsibility to Protect.
"We believe that Japan ... has an important role to play in saving countless civilian lives," the letter said.
"It is time for Japan to show that it is prepared to shoulder its responsibilities," it added.
Meanwhile, a leading Tamil Tiger leader Rasiah Ilanthriyan was believed to have been killed as Sri Lankan troops continued their march into the rapidly shrinking areas held by the rebels.
The offensive is bringing Army troops almost to a face-to-face confrontation with the Tiger top brass. But, the pace of advance appears to have been slowed down by heavy mining and fear of large scale civilian casualties.
Illanthriyan, who was LTTE military spokesman was killed in a skirmish with the troops in Kariyamullivaikkal along with LTTE, Sea Tigers' deputy chief Cheliyan.
As the Army moved deeper into the shrinking rebel enclave in the 'Civilian Safety Zone' in the embattled north, it faced condemnation from UN which said that in two days of shelling at least 430 ethnic Tamil civilians were killed and thousands other injured terming it as a "bloodbath".
The pro-LTTE website Tamilnet had reported yesterday that Ilanthirayan was seriously wounded in clashes. It said he was a senior cadre from Batticaloa and he had been in key positions in the LTTE.
But an army official said the security forces had no confirmation of Ilanthirayan's death, so far.
LTTE fighters have heavily minded the area obstructing the security forces' advance and continue mounting heavy mortars attacks from the guns positioned inside the "Civilian Safe Zone" itself, the official said.
After nearly 40 years of conflict, the Sri Lankan military is on the verge of defeating the Tamil Tiger rebels, having cornered the remnants of their once powerful army in a thin sliver of jungle on the northeastern coast.
Thousands of non-combatants are believed to be trapped in the conflict zone and the United Nations says up to 6,500 civilians may have been killed and 14,000 wounded in fighting since January.
"If the world continues to look away from the suffering of civilians in Sri Lanka, as it has largely done until now, it will be a failure of historic proportions," the letter said.