Kaiser drops Rijkaard hint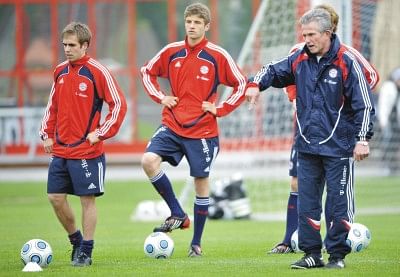 As the quest to replace Jurgen Klinsmann continues, Bayern Munich president Franz Beckenbauer said Wednesday Dutchman Frank Rijkaard is a possible candidate as future coach of the German giants.
Klinsmann was sacked as Bayern coach on Monday after only ten months in charge following a string of poor results with former Munich trainer Jupp Heynckes taking over as caretaker coach for the remaining five league games.
And the 46-year-old Rijkaard, who won the Champions League crown in 2006 with Barcelona, is without a club having been sacked by the Spaniards at the end of last season.
Brazil's Luiz Felipe Scolari, Italy's Roberto Mancini, German Bernd Schuster and Hamburg's ex-Tottenham coach Martin Jol have also all been touted in the German media as possibilities to coach Bayern next season.
"One solution would be Rijkaard, he doesn't have a contract at the moment," admitted Beckenbauer on German broadcaster Premiere.
"It is still a little early to talk about this, but, of course, one must think about possibilities.
"We have to look into who would fit at Bayern and then make our decision."
Beckenbauer, who has captained and coached Germany to World Cup success, effectively ruled out both Chelsea caretaker coach Guus Hiddink and Arsenal boss Arsene Wenger as possibilities.
"I value him over all others, but he will leave Chelsea to concentrate on the Russian team," said Beckenbauer about Hiddink.
"He won't take his place at Bayern."
And Beckenbauer doubted Wenger would want to leave Arsenal, who he has coached since 1996, having turned the north London club into consistent contenders for the Champions League title.
"Naturally he is an option, but we will not get him," said Beckenbauer.
"He has developed the side in England and will not want to leave."
Bayern chairman Karl-Heinz Rummenigge has said they expect to name the new coach within the next six weeks.