Fog disrupts ferry services, flights
Several thousand vehicles stranded at terminals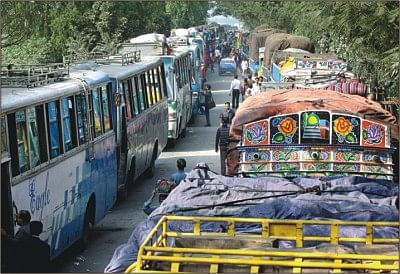 The entire country plunged under a shroud of dense fog yesterday disrupting normal life across the country and affecting the flight schedules, launch and ferry services and vehicular movement especially on long routes.
Several thousands vehicles got stranded on both sides of different ferry ghats including Paturia-Daulatdia and Mawa-Kawrakandi ferry routes due to foggy weather causing immense sufferings to passengers.
The mist patches continued to disrupt flight schedules at the Zia International Airport from Wednesday night till 10 am on Thursday, said sources of the Zia International Airport.
According to the Met Office the foggy condition will start to clear up from today (Friday).
Our Manikganj correspondent said ferry services in Paturia-Daulatdia and Paturia-Kazirhat routes were delayed for 13 hours due to poor visibility caused by dense fog yesterday. Thousand of passengers, particularly women and children, had to suffer a lot on both sides of the Padma.
A ferry, Keramot Ali, carrying vehicles was forced to anchor in midstream of the river.
Around 350 vehicles queued up at Daulatdia ferry ghat and 400 vehicles at Paturia ghat, sources said.
A snarl-up stretching about two kilometers was seen on the road leading to Paturia Ghat at about 5:00pm on Wednesday.
Ferry services resumed at about 10:00 am yesterday when the fog disappeared, AGM of the Bangladesh Inland Water Transport Corporation (BIWTC) at Aricha sector Md. Asraf Ullah Khan said.
Our Patuakhali correspondent said Patuakhali-bound double-decker launches from Dhaka reached their destination after a delay of eight hours.
Three launches reached Patuakhali at about 2 pm whereas they were due to arrive at 6 am while another two launches landed at 4 pm here due to thick blanket of mist.
The launches, which left Patuakhali for Dhaka, were also late due to fog, said source of local office of the BIWTA.
Meantime, operations of five ferries on Kuakata-Barisal road also came to a halt for six to 10 hours. According to the Met Office this situation might continue for the next few days.
Our Munshiganj Correspondent said a total of seven ferries were forced to anchor in the middle of the river of Mowa-Kawrakandi route for over 10 hours.