Ensure equal rights of indigenous people
Speakers tell reception ceremony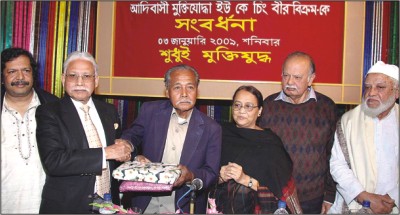 Speakers at a reception ceremony yesterday called for ensuring equal rights of the indigenous people as they also took part in the Liberation War.
A huge number of indigenous people took part in the Liberation War alongside Bangalees with a view to achieving their freedom as they did not see it as something concerning only the Bangalees, they said.
But the people failed to realise that this land is not only for the Bengalees but also for other communities with a diverse culture, resulting in discrimination, conflict and deprivation, they added.
However, it is time to pay due respect to everyone irrespective of caste, culture and community who joined the Liberation War, the speakers said.
'Shudhui Muktijuddho Publications' accorded the reception to freedom fighter Yu K Ching, the lone member from the indigenous community who was awarded 'Bir Bikram'.
Prof Mesbah Kamal of Dhaka University said, "Through this programme, we are also showing respect to plurality and cultural diversity of the country."
The people from other cultures should also have equal rights, he added.
Yu K Ching, a Marma of Ujanipara in Bandarban, was a member of East Pakistan Rifles in 1971. He took part in the Liberation War and fought in Rangpur district as a platoon commander.
But the elderly freedom fighter with his eight family members is now leading a miserable life, as he cannot work hard due to his illness and does not receive any support from the government.
Maj Gen (retd) CR Dutt, a sector commander of the Liberation War, condemned the repression of the indigenous community in Chittagong Hill Tracts and called on the government to ensure their rights.
Col (retd) Sazzad Ali Zahir Bir Protik, Maj Gen (retd) KM Shafiullah, Lt Col (retd) Abu Osman Chowdhury and litterateur Selina Hossain also spoke at the programme at the Liberation War Museum.