Nation eagerly waiting for elected govt
Iajuddin tells 3rd convocation of AUST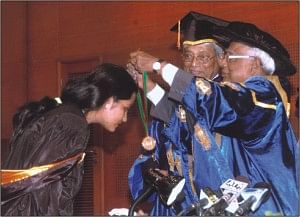 President Iajuddin Ahmed yesterday said the entire nation is eagerly waiting to welcome a newly elected government by December after the general elections.
"I call upon all concerned to extend their full cooperation in this regard," he said.
The president made the call while speaking at the 3rd convocation of Ahsanullah University of Science and Technology (AUST) at Bangladesh-China Friendship Conference Centre in the city.
A total of 1,650 students were awarded bachelor's and master's degrees in seven disciplines, including architecture, electrical and electronic, civil, computer science and textile engineering.
Justice ATM Afzal delivered the convocation speech while AUST Syndicate chairman and President of Dhaka Ahsania Mission Kazi Rafiqul Alam and Vice-Chancellor of the university Prof Dr M Anwar Hossain also spoke.
President Iajuddin, who is also the chancellor of the university, said that in this era of globalisation, the learning of science and technological education is of paramount importance to meet the demand of the 21st century.
"In this context, universities have to provide modern curricula and congenial atmosphere to impart quality education," he said.
Welcoming the new graduates, the president urged them to uphold the truth and justice at every sphere of their life keeping national interest above.
"I hope you are capable enough to shoulder the responsibilities for developing our country in diverse fields," he said. "I believe your sincere efforts, honest persuasion and social commitment would surely help in building a happy and prosperous Bangladesh."
Seven students were awarded Khan Bahadur Ahsanullah gold medals for their outstanding results and other extra curricula activities.
Justice ATM Afzal said, "There is need to support the private universities which deserve it by their record of performance, but there is a stronger need to weed out the commercial outlets which are doing more harm than good."