Citycell Fedaration Cup'08
Arman does it for his mom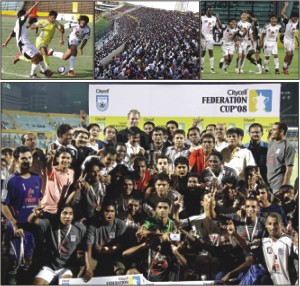 Arman Aziz had a wound during Mohammedan's 3-1 semifinal victory over Chittagong Mohammedan that needed 11 stitches to mend.
According to coach Maruful Haque, the Mohammedan midfielder had five percent chance of playing in the final.
The national booter not only played against the odds but also led Mohammedan to win yesterday's Federation Cup final against perennial enemies Abahani.
"My mother told me to play. I obeyed her," said Arman before rushing to the podium to take the trophy at the Bangabandhu National Stadium.
His bravery was all Mohammedan needed to unite the side after they lost captain Jewel Rana through injury. Aziz was inspirational in the midfield, battling almost alone as Sharif and Egyptian Hazem Khaled failed to provide good support under pressure from their counterparts.
"It was Arman's decision to play and I am happy that he ended up without aggravating his injury," said coach Maruf, who was happy to win a tile in his first season with a top club.
The 40-year-old Maruf is more famous for being theoretically rich but he also proved that he is as able practically.
"I am happy at the team's performance but the job is only half done. I would be able to say that I am successful only at the end of the season."
In reply to a question, he said that his boys followed the instruction to let Abahani attack in the first half. "We played the waiting game. Abahani played consistently well in the tournament but they looked tired and many players had injuries in the final.
"Although playing matches with little gaps and poor ground condition due to rain has taken toll on our players, we played well and hoped to win the game in regulation time," added Maruf.
His Abahani counterpart, veteran Amalesh Sen, was understandably upset.
Despite finishing undefeated, B. League champions Abahani fumbled on the final barrier when three players shot their penalties poorly.
"The match should have not gone to the tiebreakers. Robin was offside when he scored the equaliser. Our defenders were waiting for the assistant referee's signal and hesitated to clear," said a fuming Amalesh after the final.
He, however, rued the injuries in the final.
"Joy was declared fit by the physician but he picked up an early injury. We also lost Sujan, which left us with only one more replacement.
"After going one up, we had absolute domination but could not bring another attacker because Siraji and Samad Yussif were also limping.
"The accidental goal let us down and due to injuries, my team could not really give their best."
Abahani captain Nazrul Islam admitted that going ahead, Abahani were caught for relaxing a bit.
"We dominated till scoring but Mohammedan equally fought back," he said.