<i>Swimming fast gaining in popularity</i>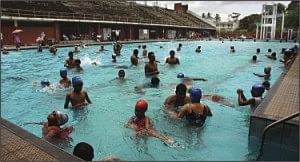 Swimming is fast becoming one of the most popular forms of exercise, entertainment and leisure activity among the Dhaka dwellers.
Choices used to be very limited even five years ago. Today at least 10 government and private pools offer swimming classes in the city.
The two most popular pools are government facilities -- the National Swimming Complex in Mirpur and Bangabandhu Stadium swimming complex.
The pools at Dhaka University and Sultana Kamal Women Sports Complex are also popular among the swimming lovers. These places offer courses at a monthly fee of Tk 1,200 to Tk 1,800. Classes remain open from March to October.
Sultana Kamal Sports Complex in Dhanmondi is exclusively for women. It has been offering swimming facility for women since mid 1980s. The other pools have separate sessions for men and women.
In the Bangladesh Rifles pool at Pilkhana, classes are open to public on a limited scale. The charge ranges from Tk 3,000 to Tk 9,500 depending on duration. However, anyone can use the facility for an hour at a charge of Tk 125.
The BDR swimming pool remains open during winter as they have water heater while other pools remain closed during this season.
Among the private pools, Ashrafia swimming pool in Rampura, Uttara Club and Gulshan Club are also popular.
Some of the major hotels and clubs offer occasional classes mostly for the rich. These include Dhaka Sheraton, Sonargaon and Westin Hotel and Gold's Gym. Some of them also offer classes for children. But there are chances of splashing waters in these pools at working hours all through the year at a charge of Tk 10,000 to Tk 12,000. Officers' Club and Dhaka Club's facilities are only for their members.
Most of these facilities employ swimming instructors trained in BKSP while the two government swimming complex in Mirpur and Bangabandhu Stadium employ SAF Games gold medallist swimmers and trained pool attendants.
Among all these swimming amenities only DU pool used by students and general people offers a lifeguard for safety. Pool owners however claim that the instructors and attendants have special training in first aid.
"I started taking swimming lessons because I have to use waterways frequently to make field visits for research," said a senior researcher of ICDDR,B who is one of the learners at the National Swimming Complex.
"But after taking a few classes I realised that it helps me regain my strength, makes my body fit and keeps me energised," she added.
Rakib Ahmed, a fourth-year student of Mass Communication and Journalism Department at DU, said, "I grew up in a village. I used to bathe in the ponds and rivers. I go to the DU pool just to revive that lost feeling."
Md Golam Mostafa, the national swimming coach, said swimming is becoming more popular among the city dwellers. "Today we have many interested people coming in from all scores of life," he said.
Mostafa said city dwellers now have to depend on swimming pools in absence of natural water bodies. Very few ponds available in Dhaka city, often near mosques, are either restricted or unusable because of pollution.
Mostafa said the learners opt for swimming because it is a very good physical exercise with many health benefits. "Swimming is an exercise with a lower chance of strain or injury. Those who are overweight, pregnant or suffer from back pain can perform it with ease," he explained.
The national coach said swimming develops muscular endurance and stamina, helps reduce risk of cardiovascular disease, stimulates blood circulation all over the body, reduces joint stiffness, high blood pressure and improves lung condition. Swimming can relieve mental stress and tension too.
Mostafa, also the general secretary of Bangladesh Lifesavers Society, mentioned that some people learn it as a lifesaving skill.
"According to Unicef, drowning is a leading cause of death among the under ten children in Bangladesh. And also in a country with regular floods, watercraft accidents swimming can save many lives," he said.
Other than being a lifesaving skill and exercise, it can be a wonderful recreational activity for individuals and families, Mostofa said.
Quamrun Nahar Dana, head of Sultana Kamal Sports Complex said, "During this time of the year many children along with their mother and other family members come to our pool as the schools remain closed for summer vacation."
"There was a social taboo about women learning to swim earlier and there were not many facilities for women either. Today we see many female students, working women, homemakers in our pool enjoying their spare time," said Dana, also the general secretary of Bangladesh Women's Sports Federation.
With all its benefits, swimming has one major drawback. It requires one of the biggest pieces of equipment needed for any exercise -- a pool. Its construction and maintenance, keeping it clean and safe is very expensive, said Dana.
"It is becoming even harder to maintain with water becoming scarce. Keeping it within the reach of the common man is a challenge," she said.