Culinary Industry
Local chefs come to the fore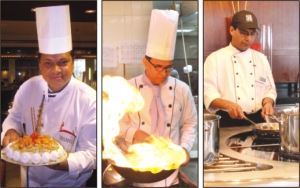 In the Dhaka Regency kitchen, Ahmed Hussain, a Bangladeshi executive chef is busy leading a team of around 30 staff preparing lunch. Amid the shouts and between the gleaming pots, knives and bowls, the white shirted men chop and stir, hammer and pour.
"The key to being a good executive chef is to be creative, but also calm," said Hussain in a brief pause from the action.
A few years ago it would have been unimaginable to find a Bangladeshi in charge of a five-star hotel kitchen. Such leadership positions were solely the preserve of foreign chefs.
But now the barriers are breaking down and Hussain is not a lone example. A little further down Dhaka's airport road, Tony Khan, a Bangladesh-origin Australian, heads the activities in the kitchen of the country's most profitable five-star hotel, the Radisson Water Garden.
Moreover, as the number of five-star hotels has more than doubled in the past three years, chefs, both Bangladeshi and foreign, are finding the demand for their skills has increased sharply, creating a vibrant market for their services.
While foreign chefs may lead the wage league with salary packages worth near $100,000 a year, local talent can still expect to pull down several thousand dollars a month, according to industry sources.
"As the hotel industry is growing rapidly, more opportunities await local people to show their culinary skills," said Tony.
But he said there has been a dearth of institutional facilities in Bangladesh's culinary industry.
Shahid Hamid, general manager of Dhaka Regency, said Bangladeshi chefs are now famous and they have earned credibility.
"It is not mandatory for hotels to appoint a foreign chef as the kitchen leader," he said.
"There should not be any discrimination when it comes to salary structure," Hamid said, adding that in most cases foreign expatriates receive almost double than what locals get.
All five-star hotels in the capital now have Bangladeshi sous-chefs, the second man in the kitchen.
Ranjan Costa, executive sous-chef of Westin Dhaka, said in his early days in 1982 there was no Bangladeshi sous-chef.
He said in 2001 there were only two Bangladeshi executive sous-chefs in the entire hospitality sector.
Ranjan, a former x-ray technician at the Metropolitan Hospital in Mohakhali, Dhaka, had a strong desire to go abroad, and got himself admitted in Practical Cooking Center at Mohakhali in Dhaka and went to Bombay, India in 1982 to be a cook.
He said when he started his career there was not much respect for the profession. "But now the scenario has changed with many educated people turning to the profession," he added.
Now at least six hundred Bangladeshis, who are well educated and efficient, are working in different five-star hotels in the capital.
Rozaiman Mohammad Sahid, sous-chef of 'Taste', an open kitchen restaurant at Westin, said the recent five-star boom in the town has opened up opportunities for chefs in the country.
"Earlier, Bangladeshi chefs had to wait for as long as 20 years to become chef de party, the fifth rank from the top of the kitchen hierarchy," Sahid said.
Sahid said they are thinking of an association for local chefs, which will enhance their bargaining power.
With this new wave, cooking schools have already been popular among people in the country.
Having courses in such schools is a plus point for the students planning to go abroad because it would be helpful to get part-time jobs during their stay in any foreign country.
In Dhaka, at least 50 cooking schools are operating that offer different culinary lessons.
Tommy Miah's Institute of Hospitality Management in Mohammadpur is one of the prominent cooking schools.
Rubina H. Farouq, head of the institute, said the course costs range from Tk 3,500 to Tk 37,000.
The institute offers courses on practical aspects of cooking, theories on cooking with particular emphasis on nutrition, hygiene, food safety and safety at work.
"Courses on information technology and English language are also compulsory," Rubina said, adding that a short meditation session before each class is also held.
The certificate from the institute, which is affiliated with the City and Guilds in England, helps students secure placements abroad.
Some former students of the institute work at local hotels such as the Pan Pacific Sonargaon, Sheraton and Radisson and restaurants such as Heritage, Samarkhand and Pizza Hut.
National Hotel and Tourism Training Institute, established in 1974 by Bangladesh Parjatan Corporation (BPC), also offers courses on food and beverage.