Saudi plane catches fire at ZIA
All passengers, crew survive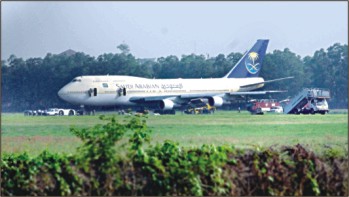 Passengers of a Saudi Arabian airliner had a close shave yesterday afternoon when an engine of the Boeing 747-300 aircraft caught fire during landing at Zia International Airport (ZIA).
Air Commodore Sakeb Khan Majlis, chairman of Civil Aviation Authority of Bangladesh (CAAB) said, "About 307 passengers and crew on board the aircraft were safely evacuated through emergency exits of the aircraft."
However, about 15-20 panic-stricken passengers suffered a few cuts and bruises during the half-hour-long ordeal of descending from the emergency exits, said a security official of ZIA while speaking with The Daily Star.
The Saudi Arabian Airlines aircraft (flight number SV 810), leased from Air Atlanta, arrived in Dhaka from Jeddah via Madina, a flight operations official at Biman Bangladesh Airlines said.
The CAAB chairman told The Daily Star that an enquiry committee headed by Wing Commander Kamrul Hasan, director of flight safety, has been formed to investigate the incident and submit its report within the next seven days.
A team of experts from the Saudi Arabian Airlines is also on their way to Dhaka to investigate the incident, he added.
Sources at the ZIA said engine number 3 on the right side of the aircraft caught fire as it was landing at around 2:27pm.
The pilot of the aircraft however landed the aircraft safely near south taxiway and at the same time informed the ZIA control tower of the fire. The pilot then opened the emergency exit doors for passenger evacuation.
Fire fighters of the CAAB rushed to the landed aircraft, extinguished the fire swiftly and helped the passengers evacuate the plane.
The aircraft has been moved from the south taxiway to cargo hanger area of the airport.
A security official of ZIA said the accident could have been worse if the engine fire spread to the fuel reservoirs of the aircraft.