Blogger brutally killed
Outraged Shahbagh youths drop 7-hour protest plan, vow to continue demonstration in full swing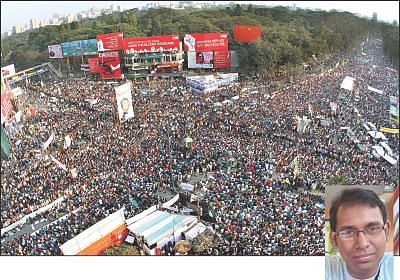 at a Glance:
- Rajib's janaza at Shahbagh intersection today after Asr prayers
- Call made to resist Jamaat's hartal on Monday
- Hoisting of National Flag and singing of National Anthem at all educational institutions Sunday at 10:00am
- Gathering in one hour's notice in case of any untoward incident, violence or compromise over trial
- Grand rally on February 21
- Mass gathering on March 26 marking 20th forming anniversary of People's Court
A blogger and activist of Shahbagh movement was found stabbed dead last night, hours after the organisers decided to discontinue from today the 24-hour blockade.
The killing prompted the organisers to abandon a plan to demonstrate in front of National Museum from 3:00pm to 10:00pm every day.
The victim, Ahmed Rajib Haidar, lived with his brother Newaz Mortoza Haidar at Palash Nagar in the capital's Mirpur area. Police found the body, bearing several stabs, near his house.
Outraged, the Shahbagh protesters demanded immediate arrest of the killers and banning pro-Jamaat blog Sonarbangla that had been carrying out propaganda against Rajib over the last few days.
They also called upon the nation to resist the countrywide hartal called by Jamaat for Monday.
The protesters have also observed one-minute silence last night and they will wear black badges this morning to mourn for Rajib.
His namaz-e-janaza will be held at the Shahbagh intersection after Asr prayers today.
Rajib, 30, an architect, was active on Amarblog under the nickname, Thaba Baba. He posted many blogs on the Liberation War and Jamaat activities.
About eight hours before being murdered, Rajib posted a status on Facebook calling upon the people to boycott Jamaat's media houses, coaching centres, cultural organisations and commercial institutions.
Earlier, blogger Imran H Sarkar at the grand rally yesterday announced a plan to hold seven-hour protest daily, considering sufferings of people, especially patients at two adjacent hospitals.
Imran, also the convener of Blogger and Online Activist Network, reading out the declaration of the rally, said, "This struggle will continue until we achieve victory... none of us will leave the streets."
Imran reiterated they were not dependent on any particular political party, but on the support of the people.
The organisers also announced that they would hold a grand rally on March 26 marking the twentieth anniversary of Shaheed Janani Jahanara Imam-led Gana Adalat (people's court).
Jahanara Imam, the mother of a martyred freedom fighter, set up the court asking for the people's verdict against war criminals of 1971.
The organisers of the movement -- which began on February 5 hours after war criminal Quader Mollah was sentenced to life imprisonment -- called upon all educational institutions to hoist the national flag and sing the National Anthem at 10:00am on Sunday.
The grand rally began a little after 3:00pm yesterday. Songs composed for Shahbagh movement and the National Anthem sung by demonstrators inaugurated the rally.
The protesters commemorated Zahurul Haq, who was killed on February 15, 1969 while he was under trial. He was one of the 35 persons accused in the Agartala conspiracy case.
His murder intensified the mass movement against West Pakistan and the government was forced to withdraw the case seven days after his death.
The leaders of different student organisations addressing the rally demanded justice for war crimes and ban on Jamaat-Shibir activities.
"If the Nazi party can be banned, why can't we ban Jamaat?" said Saiful Zaman, president of Samajtantrik Chhatra Front.
Rabi, a standard-II student of Bangladesh International School and College, came to the rally with a placard reading, "My grandfather was present at the Race Course Maidan in 1971. I am present at Shahbagh."
Tofazzal Hossain, a businessman of Lalbagh area, said he had boycotted Islami Bank, a financial institution allegedly linked to Jamaat.
Shefard Shaon Sarkar, a final year student of Brac University said it is very necessary to boycott all the organisations of Jamaat.
Some Language Movement heroes came to the rally to express their solidarity with the movement.
Foreign Minister Dipu Moni, economist Prof Abul Barakat, writer Mohammad Zafar Iqbal, Vice-chancellor of Jahangirnagar University Prof Anwar Hossain, writer Syed Shamsul Haq, cartoonist Ahsan Habib, writer Humayun Ahmed's mother Ayesha Foyez, among others, were present.
JAMAAT KILLED RAJIB?
Rajib's aunt Nurun Nahar said, "He told me that he will go to Shahbagh after lunch."
"At about 9:00pm, we saw a body about 6-7 feet far from the main gate of the house."
Neighbours could not identify him immediately as his face was marked with indiscriminate stabs.
Local lawmaker Elias Uddin Mollah alleged Jamaat was behind Rajib's killing as the deceased was involved in Shahbagh movement.
Abdul Latif Sheikh, officer-in-charge of Pallabi Police Station, told The Daily Star they were yet to know who murdered Rajib.
Abdur Rouf, a witness, said, "When I saw the body, Rajib's mobile phone was ringing. His laptop was beside him."
"I saw marks of stabs in his chin and cheek", he said, adding "I saw a blood soaked machete near the body."
Locals said people were busy watching BPL match that is why they did not heard any commotion.