Nationwide celebrations of Pahela Falgun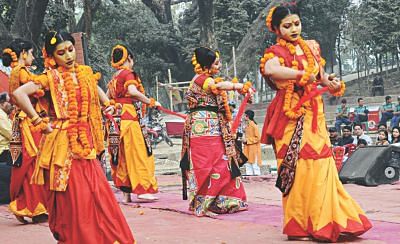 The Port City wore a festive look, celebrating the first day of the Bangla month Falgun, with several socio-cultural organisations arranging programmes, including processions, songs, recitation, dance and more to usher in spring.
Bodhon recital group and Proma Abriti Sangathan arranged two separate daylong programmes in the first hour of spring, at DC Hill premises and Institute of Fine Arts of Chittagong University.
Bodhon started its programme at 9am with an instrumental rendition of "Aha Aji E Bashonte", followed by solo and chorus recitations and songs.
Starting its programme at 8am, Proma brought out a colourful procession which was followed by group dances by School of Oriental Dance and Jhoom Aesthetic Council from Rangamati.
This year Pahela Falgun programmes were organised expressing solidarity with the protesting youths at Shahbagh as well as throughout the country. With the theme of protest, the programmes also demanded speedy trial and capital punishment of war criminals and raised slogans against them.

---
Azibor Rahman,
Jhenidah
A 'Bashonto Boron Utshab' and cultural programme were held at Jhenidah Government Nurun Nahar College complex on Wednesday. Nurun Nahar College, Bihango Cultural Academy and an NGO called Srijony jointly organised the programme. Deputy Commissioner Khaja Hannan was present as chief guest at the event.
The students of Government Nurun Nahar Collge, Poura Model School and College and Bihango Academy brought out a rally in the town. Hundreds of people from all walks of life participated in the rally and assembled at the Nurun Nahar College complex wearing masks and carrying coloured festoons.
---
Jahangir Alam,
Netrakona
A two-daylong 'Bashonto-kalin Shahitya Utshab' (Spring-time Literature Festival) was held at the Mukterpara area of the district town on Wednesday and Thursday, on the occasion of Pahela Falgun. Netrakona Shahitya Shomaj organised the event.
The programme included a procession, discussion and a cultural function at the premises of the Public Library, and was inaugurated by renowned artist Shishir Bhattacharya.
A procession of artistes was brought out from the Bokultola on Wednesday. The procession paraded the main roads of the town. Later in the evening, a discussion was held on Khalekdad Chowdhury's life and contribution to Bangla literature. Presided over by Kamruzzaman Chowdhury, president of Netrakona Shahitya Shomaj, the discussion was addressed among others by renowned writer Professor Jatin Sarker; poet Soruj Mostafa, poet Yeazdani Koraishi and poet Shimul Milky. On the occasion, Netrakona Shahitya Shomaj presented the 17th Khalekdad Chowdhury Literary Award to poet Nurul Haque. Netrakona Udichi Shilpi Goshthi, Shotodol Shilpi Goshthi and Jhankar Shilpi Goshthi performed songs and dance on Thursday, while renowned poets and writers also recited poetry and narrated stories on the day.
---
Sushanta Ghosh
, Barisal
Pahela Falgun, the first day of spring according to the Bangla calendar, was celebrated in Barisal amid much enthusiasm on Wednesday.
People, mostly youngsters, celebrated the occasion carrying flowers. They were also wearing black signs demanding capital punishment for all war criminals.
Barisal Natok and Udichi Shilpi Goshthi's Barisal branch arranged the 'Bashonto Utshab' at Saraswati School ground on Wednesday afternoon, with songs, dances, recitations, talks and exchange of greetings, gifts and presentations.