Jute is golden also for environment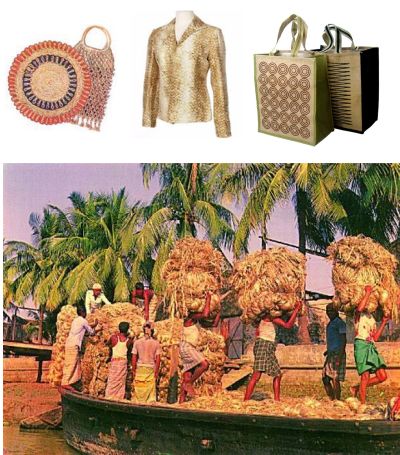 Jute is a natural fibre that has been in versatile use for thousands of years -- in making rope, twine, hessian bags, rugs etc. While it's still being used extensively around the world, it's not as popular as it should be especially considering its outstanding environmental benefits. It is an annually renewable resource with a high biomass production per unit of land area; and jute products being biodegradable are simply environment-friendly. Moreover, the leaves and crop waste, left out in the fields, are transformed into organic materials, thereby reducing the need for supplementary chemical fertilizers for subsequent crops. While the synthetic substitutes are being considered as the root of many problems, the natural fiber products are proven to be absolutely harmless.
Given the increasing focus on today's environmental issues, jute might just be in for a crack at the big time.
Jute is a long, soft, shiny vegetable fibre that can be spun into coarse, strong threads. Jute plant leaves and roots have also been used as food and medicine in some parts of India and Bangladesh. Jute is one of the cheapest natural fibres available, which has a wide range of applications. Jute can be used to make paper, geotextile, fiberglass alternative, particleboard, and more. Jute plants come in two varieties: White Jute (Corchorus capsularis) and Tossa Jute (Corchorus olitorius). It is believed that the word "jute" has been coined from the word jhuta or jota, an Orrisan word. However, the use of jutta potta cloth was mentioned both in the Bible and Monushanghita-Mahabharata. This indicates the ancient uses of jute materials.
Jute plants need a plain alluvial soil and standing water. The suitable climate for growing jute (warm and wet) is offered during the monsoon season. Temperatures from 20° C to 40° C and relative humidity of 70%80% are favourable for successful cultivation. Jute requires 58 cm of rainfall weekly and more during the sowing period. So Bangladesh is ideal for its cultivation.
With golden and silky shine jute is the second most important vegetable fibre after cotton, in terms of usage, consumption, production and availability. Diversified byproducts from jute can be used in cosmetics, medicine, paints, and other products. Jute leaves are rich in betacarotene, iron, calcium, and Vitamin C. The plant has an antioxidant activity with a significant á-tocopherol equivalent Vitamin E.
Jute can be harvested within 4 to 6 months, and it can produce 20 to 40 tons of dry stem per hectare. In comparison, the fastest growing wood trees take 10 and 14 years to mature, which yields only 8 to 12 MT per hectare per annum. This means the biological efficiency of jute is much higher than that of wood plants. And hence the usage of jute in place of wood to make paper pulp will reduce the cost of production to a large extent. It will also reduce the necessity of cutting down trees, i.e. deforestation. Dry stem of jute can be a substitute of wood in many ways such as firewood, fencing and raw-material of particle board.
Jute production is much less harmful compared to the production of synthetic fibres. Many of the farmers that grow jute do not use chemicals, and cultivate it in areas where it grows naturally. Jute cropping system enhances soil organic matter through leaf shedding during the growing season and improves nutrient availability in the soil. Jute is commonly rotated with other food crops like rice and other cereals, vegetables, oilseeds or pulses, all of which are moderately or heavily dependent on nutrients from the native source, but do not normally return them to soil, except in case of legumes. Jute-based multiple cropping thus not only increases agricultural production, but also sustains the fertility level of soil.
Like all plants, jute absorbs CO2 from the atmosphere when it grows and returns it when it decays. Studies reveal that the C02 assimilation rate of jute is several times higher than other trees. Studies indicate that, one hectare of jute plants can consume up to 15 tons of carbon dioxide and release 11 tons of oxygen during the jute growing season (about 100 days). Carbon dioxide (CO2) emissions in the transport and milling of jute fibre also amounts to one-sixth of that generated during PP manufacture.
Jute production processes generate organic acids including acetone, ethyl alcohol, butyl alcohol, and various gases like methane, carbon dioxide (CO2) and hydrogen sulfide. Substances that contribute to global warming in case of jute are CO2 and methane. The latter one is released mainly during retting. It is known that the global warming potential of methane is much higher than that of CO2 and methane is more detrimental as ozone depleting agent than CO2. Since generation of methane is much less in case of ribbon retting for jute, its large scale adoption would much improve the eco-status of jute.
A study on 'Environmental Assessment of Jute Agriculture' concluded that jute life-cycle is environment-friendly, based on the large volume of data collected on the inputs and outputs for jute fibre production. The study further noticed that the 'humidified retting', a new retting method developed in China, can significantly reduce water pollution, the use of water and the generation of methane. When jute is rotated with other crops, it can improve the health of those other crops and reduce their risk of pest attack and disease infestation.
Jute has good insulating and antistatic properties with low thermal conductivity and moderate moisture regain. Unlike synthetic substitute, jute does not cause skin irritation. Production of jute and diversified jute products is considerably less polluting than its commonly used substitute i.e. polypropylene (PP) cloth. Energy use in the production of PP cloth is estimated at 84 gigajoules/ton, at least six times the energy requirement for the production of jute cloth.
Even though jute is advantages to environment, it can cause a few environmental hazards. For the production of jute, farmers use the time-consuming conventional retting process which hampers the quality of the jute fiber as well as pollutes the environment with large amount of biomasses decomposing in the stagnant water. But the temporary gaseous emissions and unpleasant smell do not involve any non-reversible hazard as compared to some other industries.
Jute is known as 'Golden Fibre'. It is not only valuable for economy, but also for environment. From the above analysis, it can be said that producing jute is proven to be environment friendly. The opportunities from producing jute can have a huge positive impact on the environment. The environmental threats from producing jute can be overcome and thus turned into opportunities. Investing in jute industry can be one of the major steps towards green investment.
The writer studies Geography and Environment at University of Dhaka.
Safwan.samin@yahoo.com