2012 In The Rear-view Mirror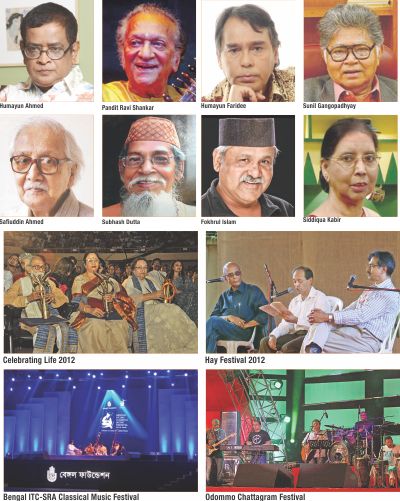 12th Dhaka Int'l Film Fest
Both the Bangladeshi entries -- "Guerrilla" and "Moner Manush" -- bagged awards and Turkish filmmaker Sinan Cetin received the Best Director Award for his comedy-drama "Kagit" (Paper) at the 12th Dhaka International Film Festival 2012, held from January 12 to 20. Iconic Iranian filmmaker Dariush Mehrjui was the "personality of the fest". A retrospective screening of his selected films was one of main attractions.
Bangladeshis shine at ADFEST 2012
Adfest is Asia Pacific's largest annual regional advertising festival celebrating and raising the standard of creativity in the region. The 15th Asia Pacific Advertising Festival, better known as ADFEST 2012, was held in Pattaya, Thailand during March 18-20, 2012. ADFEST 2012 received 24 short film scripts, including five scripts from Dhaka. Of the selected 'Fabulous Four' scripts, two were from Bangladesh.
Dhaka Theatre's "Tempest" at Global Shakespeare Fest
Dhaka Theatre adapted William Shakespeare's "The Tempest" in a Manipuri form and staged the production in London, UK on May 7 and 8 as part of Global Shakespeare Festival 2012. Nasiruddin Yousuff directed the play, translated by Rubaiyat Ahmed. Apart from regular members of Dhaka Theatre, the play featured guest artistes Rubol Noor Lodi (as Prospero) and two Manipuri artistes -- Nilmoni Sinha and Bidhan Sinha. The festival marked the Cultural Olympiad, on the occasion of the 2012 Summer Olympics in London. The Cultural Olympiad featured 37 Shakespeare plays in 37 languages.
Bangladeshi films under spotlight at Swiss festival
A number of Bangladeshi films were screened in Switzerland, at an international film festival. The famed Fribourg International Film Festival (FIFF) 2012 focused on Bangladesh, under a special section called 'New Territory', and screened eight Bangladeshi films from March 24 to 31, 2012. The films were: "Aha!", "Guerrilla", "Meherjaan", "Monpura", "Swopnodanay", "Moner Manush", "Matir Moina" and "Runway". Filmmakers and producers from Bangladesh also attended the film festival.
Celebrating Life Shadhinota Concert
Featuring some of the most renowned musicians of the country as well as an ensemble from Kolkata (India), the Celebrating Life Shadhinota Concert was held on March 31 at the Suhrawardi Udyan in Dhaka. The Daily Star, in association with Standard Chartered Bank Bangladesh, hosted the event that also marked the 41st anniversary of Bangladesh's independence. Popular Adhunik singers, rock artistes and celebrated cultural personalities took part in the concert. A group of contestants from the Celebrating Life competition also performed at the event. Indian musician Debajyoti Mishra, with his 24-member ensemble, performed for the Dhaka audience.
Siddiqua Kabir no more
She modernised the art of Bangladeshi cooking. "Ranna Khadyo Pushti", written by her, is considered a culinary bible by all Bangladeshis who can read. Noted nutritionist and culinary expert Professor Siddiqua Kabir passed away on January 31, 2012. She was 80. She had been involved with cooking shows on television since 1965.
Humayun Faridee passes away
Renowned actor Humayun Faridee died at his Dhanmondi residence in the capital on February 13, 2012. He was 60. Faridee, a popular actor -- in television drama, theatre and cinema -- had been living a lonely life after his divorce with eminent actress Suborna Mustafa in 2008. Born in Dhaka on May 29, 1952, Faridee was well-known for his remarkable performances in dramas and serials like "Shongshaptak" (1987-88), "Pathar Shomoy" (1989), "Dui Bhai" (1990), "Sheeter Pakhi" (1991), "Kothao Keu Nei" (1990), "Shomudre Gangchil" (1993) and "Kachher Manush".
Odommo Chattagram celebrates the spirit of Port City
As a tribute to the glorious past and indomitable spirit of Chittagong, the 12-daylong The Daily Star Odommo Chattagram (Indomitable Chittagong) Festival opened on March 30 in the Port City. The 103-year-old living legend Binod Bihari Chowdhury, who with his comrade Masterda Surja Sen set off the anti-British movement in this part of the subcontinent, inaugurated the festival. Editor and publisher of The Daily Star, Mahfuz Anam, along with distinguished personalities of Chittagong pledged at MA Aziz Stadium to develop the Port City with a view to ensuring the development of the country.
Artist Fokhrul Islam no more
Noted artist Mohammad Fokhrul Islam passed away on April 6 at Ibrahim General Hospital, Dhanmondi in Dhaka. He was 48. He had been ailing from diabetes related complications. Fokhrul started off as a ceramic artist in the early 1990s, but decided to switch to painting in the mid 1990s. Since then, his voyage through paintings where he depicted a spiritual and contemplative world, had been concerned with uninhabited landscapes.
Dhaka Art Summit held
Samdani Art Foundation (SAF), in collaboration with Bangladesh Shilpakala Academy (BSA) and Bangladesh National Museum (BNM), organised the first Dhaka Art Summit (DAS). The four-day event kicked off on April 12 at National Theatre Hall, BSA and drew national and international attention.
Dr. Sanjida Khatun receives Desikottam award
Visva-Bharati University conferred its highest honour Desikottam on Rabindra Sangeet exponent and one of the founders of Chhayanaut, Dr. Sanjida Khatun, at Shantiniketan, India on April 27. The award was conferred at the convocation of the university by Paschimbanga Governor MK Narayanan as chief guest. Among others, noted actor Soumitra Chatterjee and Visva-Bharati Vice-Chancellor Sushanta Datta Gupta were present at the ceremony.
151st birth anniversary of Rabindranath Tagore
Bangladesh and India jointly organised a two-day programme on the occasion of the closing of year-long celebration of Rabindranath Tagore's 150th birth anniversary, and the inaugural of bard's 151st birth anniversary. The function kicked off on May 6. The programme featured an art exhibition and live performances.
Safiuddin Ahmed passes away
Eminent painter and printmaker Safiuddin Ahmed passed away at Square Hospital in Dhaka on May 20. He was 90. He had been suffering from old age complications. The artist left behind his wife, two sons, one daughter and a host of relatives and admirers to mourn his death.
Humayun Ahmed passes away
Popular writer Humayun Ahmed passed away while undergoing treatment for cancer at a New York hospital on July 19. A pall of gloom descended soon after the news streamed into the country. A former associate professor of the Chemistry Department of Dhaka University, Ahmed came into prominence after the publication of his first novel, "Nondito Noroke", in 1974. He was an author, dramatist, screenwriter, playwright and filmmaker. As a writer, Ahmed often displayed a fascination for creating stories around supernatural events; his style was characterised as magic realism. He is regarded as the most popular writer in the Bengali language for a century and according to many, he was even more popular than Sarat Chandra Chattopadhyay.
Farooki beams into Busan with "Television"
As Mostofa Sarwar Farooki's film "Television" brought down the curtain on Asia's biggest film festival in Busan, South Korea on October 13, the movie set off a big buzz internationally. Busan International Film Festival director Lee Yong-kwan said that "Television" was an easy choice as the closing film. "It was first of all very entertaining as a movie, in both its subject matter and storytelling. It was selected by not only BIFF but also representative experts from around Asia for the Asian Cinema Fund, for a reason," he said. "A new trend can be industry-related or artistic, and the fact that a country is creating domestic films through telecinema is monumental. BIFF felt compelled to showcase this movement."
Goya exhibition in Dhaka
Bengal Gallery of Fine Arts, the Spanish Embassy in Bangladesh and the Inditex Chair of Spanish Language and Culture, University of Dhaka, jointly organised the first exhibition of Francisco Goya's artworks in Bangladesh, starting from October 9. About 84 Goya prints were on display at Bengal Gallery of Fine Arts in Dhanmondi, Dhaka. The collection included works ranging from his first etchings, through which Goya mastered this difficult technique.
Sunil Gangopadhyay no more
With Sunil Gangopadhyay's death on October 23, an era in Bangla literature came to an end. The author passed away at the age of 78. Sunil -- a poet, novelist, short story writer, journalist and columnist -- was born in Bangladesh's Faridpur district on September 7, 1934. His first poetry collection, "Eka O Koyekjon", hit the stalls in 1958 and his first novel, "Atmaprakash" followed after eight years. His memorable works are "Ami Kirokombhabe Beche Achhi", "Jugalbandi", "Hothat Nirar Jonne", "Ordhek Jibon", "Aranyer Dinratri", "Prothom Alo", "Shei Shomoy", "Purba Poshchim" and "Moner Manush".
Bangladeshi film opens 'Dok Leipzig'
"Shunte Ki Pao!" (Are You Listening!), a documentary by Kamar Ahmad Simon, opened one of the oldest documentary festivals, Dok Leipzig, in Germany. The film was also nominated (among 12 films from all over the world) for the festival's 'International Documentary Competition'. The weeklong festival began on October 29. "Shunte Ki Pao!" zooms in on a small village near the Sundarbans. It was the first film from Bangladesh invited to the 'Editing Lab' of 'Campus Studio' at Berlinale 2012.
Celebrating Life 2012
The Daily Star held the Celebrating Life competition for the fifth year in 2012, with the theme 'Celebrating the Youth in Bangladesh'. The gala event, held at Shaheed Suhrawardy Indoor Stadium at Mirpur, Dhaka on November 2, awarded young and gifted filmmakers, lyricists and photographers who sent in their submission on the theme. Celebrating Life also honoured four icons by presenting them Lifetime Achievement Awards: Firoza Begum for her contribution to Nazrul Sangeet and modern Bangla songs; Abdur Razzak in films; Amanul Haque in photography, and Ferdausi Rahman in playback and Bhawaiya songs. The event also featured classical music maestro Pandit Ajoy Chakrabarty along with his daughter Kaushiki Desikan in their first-ever duet performance in Bangladesh. Noted Bangladeshi singer Sabina Yasmin also performed at the grand event.
"Ghetu Putro Kamola" at Golden Globe Awards
A special screening of Humayun Ahmed's last film "Ghetu Putro Kamola" was held at the Beverly Hills Wilshire Auditorium in Los Angeles, USA on November 10. The screening was part of the 70th Golden Globe Awards that will take place in January next year. This was the first Bangladeshi production to be part of the prestigious ceremony, which along with the Academy Awards culminates the US film industry's awards season.
Hay Festival Dhaka puts Bangladesh on global literary map
The 2nd instalment of Hay Festival Dhaka was held from November 17 to 19. This year's arrangement, sponsored by The Daily Star, was bigger and drew much international attention. The Hay festival, now 25 years old, is the pre-eminent global festival of literature and ideas. This year's Hay Festival Dhaka, hosted by Bangla Academy, boasted presence of noted Bangladeshi and international literary personalities like Syed Shamsul Haq, Selina Hossain, Anisul Hoq, Vikram Seth, Kamila Shamsie, Kuldip Nayar, David Davidar, Mohammad Hanif, Philip Hensher and others. The festival was a bi-lingual, cross-cultural, inter-generational celebration of literature and ideas.
Film fraternity laments the demise of Subhash Dutta
Eminent filmmaker Subhash Dutta died on November 16. Besides being a noted director, Subhash Dutta was a brilliant actor, and acted in numerous films, including "Rajdhani'r Bukey", "Shurjo-snan", "Chanda", "Talaash", "Nodi o Nari" and "Shona'r Kajol". Among the most acclaimed films directed by him are: "Shutorang", "Kagojer Nouka", "Aaina o Oboshishto", "Arunodoyer Agnishakkhi" and "Bashundhara".
Bangladeshi artists take part in Art Asia Miami
For the first time, Art Asia Miami (Art Basel Miami Beach) in the USA invited Bangladeshi artists to display their installations, paintings and video art to fellow artists and art lovers from around the world. The fair opened on December 5. Artists Kalidas Karmakar, Rokeya Sultana, Monica Jahan Bose, Nazia Andaleeb Preema and Biswajit Goswami represented Bangladesh at the event.
Bengal ITC-SRA Classical Music Festival in Dhaka
Dedicated to the memory of Sangeet Samrat Ustad Allauddin Khan, the four night-long (November 29-December 2) Bengal-ITC SRA Classical Music Festival 2012 was held at Bangladesh Army Stadium in Dhaka. Bengal Foundation and ITC Sangeet Research Academy, India jointly organised the festival with Prothom Alo, The Daily Star and Maasranga Television as partners. About a hundred classical musicians and dancers including Pandit Hariprasad Chaurasia, Pandit Shivkumar Sharma, Pandit Birju Maharaj, Vidushi Girija Devi, Pandit Ajoy Chakrabarty, Ustad Rashid Khan, Pandit Buddhadev Das Gupta, Pandit Rajan and Pandit Sajan Mishra, Vidushi Alarmel Valli, Ustad Ali Ahmad Hussain Khan, Pandit Kumar Bose, Pandit Tejendra Narayan Majumdar and Ustad Shahid Parvez Khan performed at the grandest event of its kind in Bangladesh.
12th International Short and Independent Film Festival in Dhaka
The 12th International Short and Independent Film Festival began at the Central Public Library in Shahbagh, Dhaka on December 13. Featuring over 200 films from around 30 countries, the weeklong festival was a platform for young filmmakers who want to see themselves in global film competitions and want to take cinema ahead. Bangladesh Short Film Forum (BSFF) has been arranging the festival biennially since 1988. It is one of the oldest film festivals in the country.
Pandit Ravi Shankar passes away
Indian sitar maestro Pandit Ravi Shankar died on December 13 in San Diego of United States. He was 92. In many ways the maestro launched Indian classical music at the world stage and showed the world, indeed many in India as well, its sheer power. He re-wrote the rules of Indian classical performances and took it beyond its traditional and limited boundaries. Pandit Ravi Shankar was a humanist with a deep sense of concern for the oppressed and deprived. He, along with Ustad Alla Rakha, performed at the Concert for Bangladesh in Madison Square Garden, New York City in 1971 and was one of the key movers, along with George Harrison, of this landmark concert.
Chhayanaut's Classical Music Fest wraps up
Chhayanaut's two-day (December 20-21) classical music festival was held at its main auditorium in Dhaka. Dedicated to world renowned sitar maestro Pandit Ravi Shankar, the festival, comprising three sessions, featured a number of prominent and promising classical artistes including Priyanka Gope, Ustad Mohi Bahauddin Dagar, Satindranath Haldar, Swarnamoy Chakraborty, Asit Dey, Anup Barua, Rezwan Ali, Khairul Anam Shakil, Rajrupa Chowdhury, Mortuza Kabir Murad, Ebadul Huq Shaikat, Yakub Ali Khan and Arnab Chatterjee of Bangladesh and India. The festival was extremely well attended by enthusiastic listeners who were duly rewarded with captivating performances by artistes.
Sohrab Hossain passes away
Eminent Nazrul Sangeet exponent Sohrab Hossain breathed his last at Square Hospital in the capital on December 27. He was 91. Hossain was born in Ayeshtola village, near Ranaghat of Nadia district, West Bengal, India on April 9, 1922. The artiste and guru earned accolades and medals for his single-minded dedication to preserving and performing Nazrul's songs. He was honoured with the Swadhinata Puroshkar by the Bangladesh government in 1980.