Summit inks energy deal with Chinese company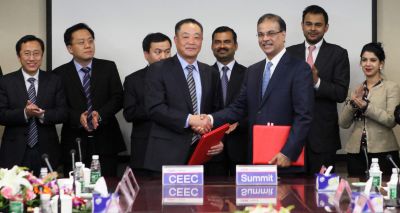 The country's Summit Group has recently signed a deal with the largest government-owned Chinese company, China Energy Group, to develop Bangladesh's energy sector.
The deal was also signed to support Summit's foray into neighbouring countries, including Bhutan and Cambodia, according to a statement of Summit yesterday.
Abdul Motaleb Sarkar, charge de affairs of Bangladesh in China; Qian Xuegang, president of Northeast Electric Power Engineering Company (NEPC); and Muhammed Aziz Khan, chairman of Summit Group, attend the deal signing ceremony.
Pan Li Guo, Tieling city party secretary of Communist Party of China, welcomed the Summit Group chairman while a team of Summit was visiting Shenyang, the fourth largest city of China.
"This is a great beginning of electricity cooperation between the private sector of China and Bangladesh," said Sun Delan, deputy mayor of Tieling Municipal of Liaoning Province.
She also assured of providing full support to implement Bibiyana and Meghnaghat projects on time.
Summit is now working to generate hydro electricity in Bhutan while China Energy was involved in implementing Three Gorges Dam, the world's largest hydro power generator of 22,500 megawatt in China.
Earlier, Summit Bibiyana II Power Company, a venture of Summit Group, and China Energy Group and First NEPC, a group member of China Energy, signed a $220 million deal on engineering, procurement and construction (EPC) of a 341MW power project in Habiganj.
Meanwhile, another of Summit's company, Summit Meghnaghat Power Co, signed an EPC agreement with China National Electric Engineering Co (CNEEC) worth $250 million.
Zhao Ruolin, CNEEC president, and Xuegang of NEPC along with the Summit Group chairman voiced their confidence of making the power plants ready to supply electricity to the national grid of Bangladesh on schedule.